On the Radicalization of Robert Anae and the BYU offense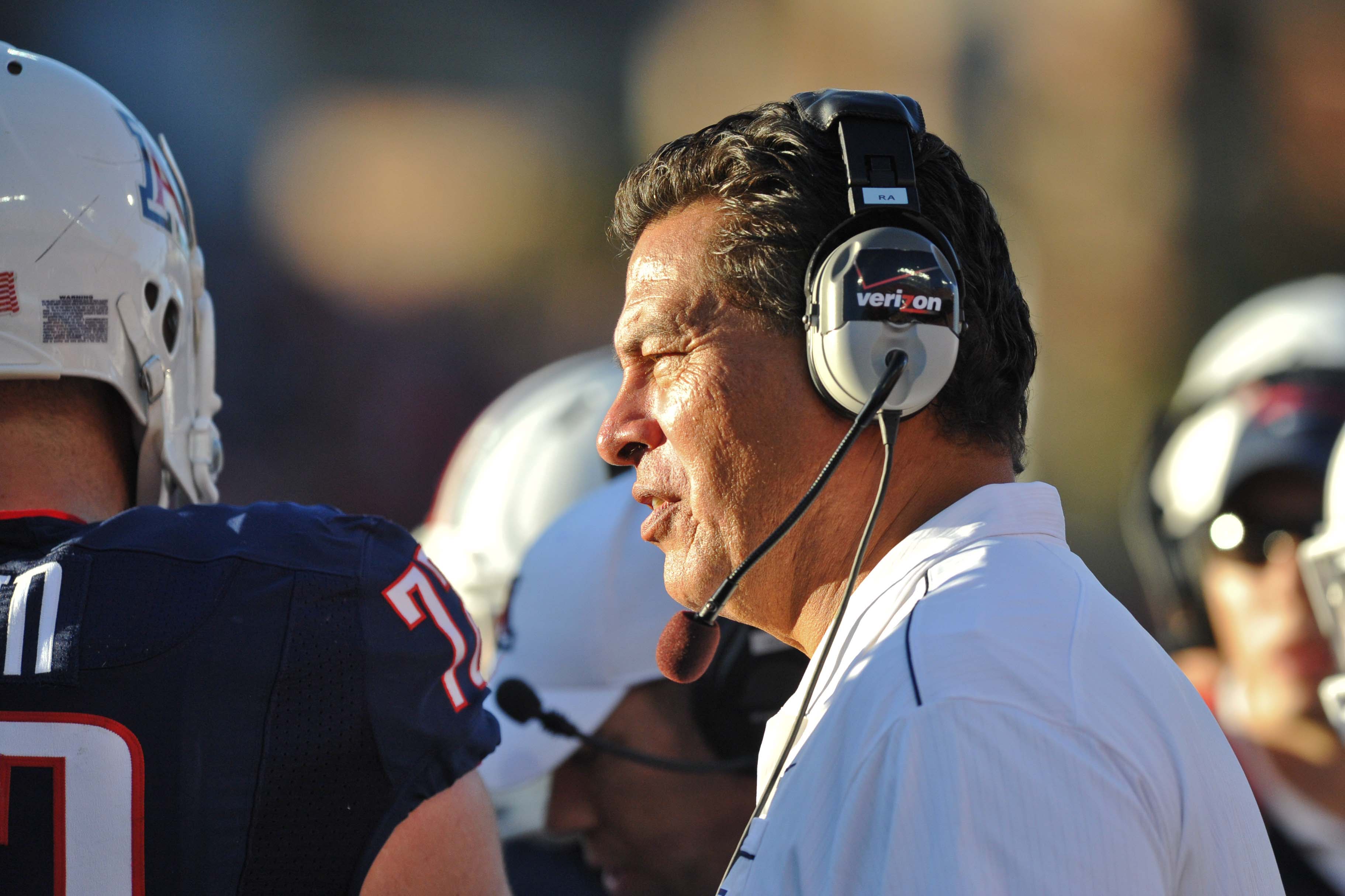 Robert Anae appears to have undergone a radicalization in Arizona.
That's a good thing.
BYU rose to national prominence not by being mundane and safe; BYU rose to the top of college football by being rebels, by being radicals, by being aggressively and intentionally peculiar.
It seems that at some point in the early '70s Lavell Edwards and his staff came to the conclusion that if they wanted to win a lot of games at a religious school in the Rockies they needed to try some unconventional things. They decided to commit to passing the ball more and better than any other team in the country.
Being that committed to the pass was unusual and a gamble at the time, but consider the payoff: In the ten year span from 1976 to 1985, BYU ranked #1  in the NCAA in passing an astonishing EIGHT TIMES. Being that dominant for that long is the kind of thing that wins a teams a lot of games and garners a lot of national respect. That respect and winning culminated in a national title for BYU in year nine of that Golden Age of BYU football.
Interestingly, BYU has never led the country in passing again since 1985. By the late '80s, college football caught up with BYU on the passing game and what was once a radical offense, relying heavily on the pass, became the norm.
Fast forward to 2013. The prodigal son, offensive coordinator Robert Anae, has been welcomed back into the BYU fold. He returns after the BYU offense has suffered through three straight dismal years. Before Anae left he was all about methodically dissecting opponents with three things: execution, execution, and execution. Anae was so sold on the idea of execution in his first stint that he seemingly didn't even care if the defense knew what play was coming.
I suppose he figured that with proper execution the plays would work even if he telegraphed them. With the right kind of talent in place Anae's Babe-Ruth-Calling-His-Shot approach worked pretty well. But his offense had limits too. BYU's offense was generally good under Anae in his first stint but no where near as dominant as the offenses of the BYU Golden Age.
But Anae in 2013 is not the same man that left BYU after 2010. He spent a year being tutored by a modern football radical — Rich Rodriguez. As a result, Anae has apparently been radicalized too. He undoubtedly will still be obsessed with execution in his second stint as offensive coordinator, but now he wants pair execution with a breakneck pace of play. Based on his comments, it appears Anae fully expects the new BYU offense to play at a faster pace than any other team in the country. Faster than Arizona, faster than Oregon, faster than any of them. He wants BYU to be #1 in the country in pace of play. The goal is clearly to combine blistering pace and execution to overwhelm defenses, confuse them, wear them out, and score gobs of points.
There is no denying the "Go Fast Go Hard" approach is a gamble. At its worst, it could become the Go Three-and-Out Fast offense. But if Anae can pull this off, going that fast would make BYU aggressively and intentionally peculiar on offense again. But I believe that is the point: again. Anae was a player when BYU used radical new schemes that led to amazing offensive success. He seems to have come to the conclusion that if BYU is going to get back to the top again, it will have to try a risky, radical new thing again.
Is this Go Fast Go Hard thing guaranteed to succeed? No. But Anae seems to know that if you want radically better results you have to try some radical methods.
I sense Bronco Mendenhall (a football radical himself — don't forget his roots) loves it. I hope the football radical with his name on the stadium will appreciate the attempt too. And if it succeeds, there is no doubt that all of Cougar Nation will love it as well.
MORE FROM LOYAL COUGARS
On verge of records, Hoffman approaches Collie, Pitta in BYU lore
2013 Women's soccer preview
Assessing fallout from BYU's miss on Jamal Aytes