Texas win is Bronco's latest "Kitchen Sink" victory for BYU
Updated: September 9, 2013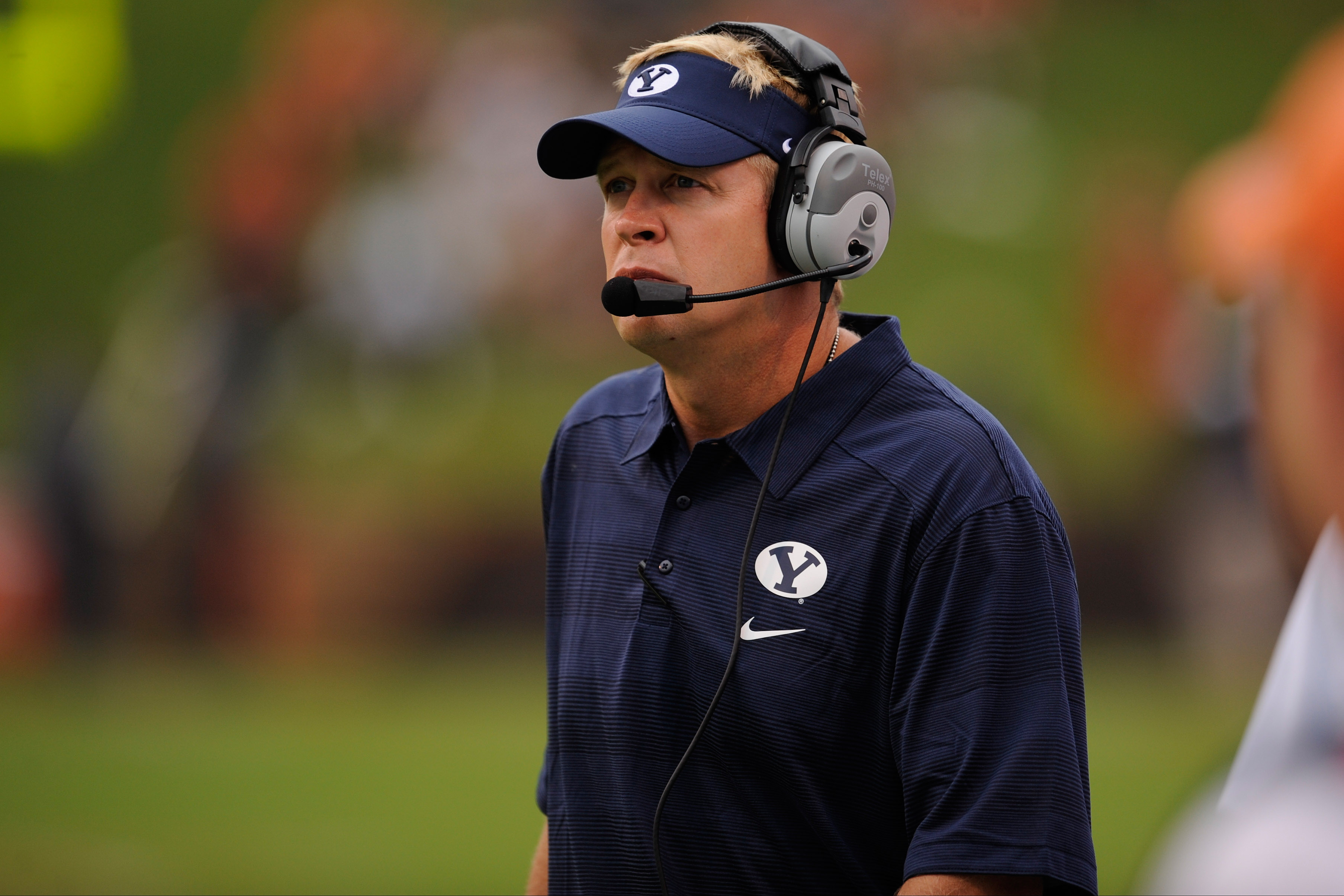 When the tide appears to be turning, Bronco Mendenhall has secured victories at crucial times.
Always trying to make sense of the football world, a few years ago ESPN's Bill Simmons asked, "Sometimes I wonder if the NFL is less complicated than we think." He went on to propose the Kitchen Sink theory.
"I'm not claiming that the (other teams) didn't care about losing; it's just that the (winners) needed those games just a little bit more, so they basically had to break out the kitchen sink for that extra somethin'-somethin'. That's why they won."
This year's Texas game is the latest example of Bronco Mendenhall getting himself and his team off the mat and pulling out a big win. Certainly no one enjoys losing, but looking back over Bronco's tenure, the eight bowl games in eight seasons speaks to his ability to not let one hurtful loss turn into a losing season.
After the Virgina loss, few were optimistic about BYU's chances for Texas. Looking at the schedule, some local and national college football observers were wondering if this would be year things completely fell apart for the Cougars.
BYU needed this win. Like Simmons, I'm not saying Texas didn't care about getting this win, but one would be hard-pressed to argue Texas was the one who needed this game more.
Certainly there have been games that would have been nice to have when it just wasn't BYU's day. But knocking off 15th-ranked Texas wasn't the first time Bronco was able to pull out a win in a situation where, perhaps, BYU just needed the game a bit more than the other team.
2005 at New Mexico
Bronco's first season got off to a rocky start. Coming into the game with a 1-3 record, a victory over an FCS team as well as a tough loss to Boston College in the opener, where the offense didn't show up, a tougher overtime loss to TCU where the entire defense got injured and a crushing defeat that caused a lot of soul searching at San Deigo State.
Late in the game, New Mexico fumbled on the doorstep of nearly sealing the game and winning back-to-back games against the Cougars for the first time in 34 years. Markell Staffieri recovered the fumble. John Beck went 5-for-5 on the ensuing drive, hitting Matt Allen for the go-ahead score.
What if BYU lost this game? Gary Crowton had just resigned for going 4-8 the season before. Missing a bowl for the fourth straight year would have seemed highly like had BYU lost this game, falling to 1-4 with a trip to Notre Dame still left on the schedule.
2006 at #15 TCU
This game kicked off on a Thursday afternoon (not Thursday night, since the Versus Network was already broadcasting Bull Riding in the primetime slot). That ended up giving BYU about a day and a half to get ready to face TCU's nation-leading 13-game win streak.
John Beck came into the game with two injured ankles after missing the Utah State game entirely. BYU's best cornerback, Justin Robinson, was injured on one of the last plays against Utah State. Like this year's Texas game, there were a lot of questions.
The way the 2006 team got rolling, it's hard to imagine that team missing a bowl, but falling to 2-3 wouldn't have helped. Would Harline and Beck gotten rolling the way they did in the rest of the year without having everything click the way it did if Fort Worth? Would the 2006 or 2007 championships have happened without this win kicking everything off? BYU needed this game.
2010 vs San Diego State
Like the 2005 New Mexico game, given where the BYU team was at this point, this game seemed to hold the chance to play in a bowl game in its balance. After Utah State, BYU was looking at a 1-4 record, with a trip to TCU looming. TCU's 2010 defense was unreal, giving up 12 points per game by season's end.
Bronco's Monday morning press conference is interesting to look back on. Knowing how well the defense has performed since Bronco took over, it's fun to see quotes like, "Adversity and challenges bring out not only the best but the worst in people and also forces you to look hard at everything you're doing and how you're doing it, but maybe more importantly why you're doing it. In terms of redefining, I've got to be able to continue to inspire, motivate and get to our team's heart."
As for the San Diego State game itself, the box score is still funny to look at. BYU held the ball for 45:01 to SDSU's 14:49 and won the game by three points. I imagine Bronco almost channeling the creepy coach from Friday Night Lights drawing up the game plan, telling his quarterbacks, "You see, when we run the ball, we control the clock."
It was a radical departure for BYU. Di Luigi and Kariya combined for 44 carries, while Jake Heaps threw only 22 times. It was a desperate gameplan, but it knocked off what was probably SDSU's best team in a decade and it's a game that to this day chaps the hide of Aztec fans who blame a questionable third quarter fumble replay for the loss.
BYU needed that game. It wasn't that BYU was in the clear and would be free of bumps and issues for 2010 and 2011, but once again, if BYU was going to go to a bowl, they needed that win. Bronco put in the extra hours and got to the heart of his team and won it.
Now, in a perfect world, it would certainly be easier to somehow not lose the games leading up to these kitchen sink games, but I have to give credit where credit is due. Bronco preaches effort and hard work. When the chips have been down and the season is on the line, Bronco has been able to pull the team back from the brink of disaster. Bronco has yet to miss a bowl. While playing in a bowl isn't exactly the feat it once was in college football, he's still gotten his team there year after year.
We will see what 2013 brings. The loss at Virginia won't go away, but if BYU is going to perform the way they did against Texas for the next 11 games, it will at least be some highly entertaining football. If the defense and offense that showed up for Texas keeps playing like that, it should be 11 games well-worth the price of admission.
MORE ON LOYAL COUGARS
Writers, fans, Texas itself react to BYU beatdown
And It Came To Run: BYU plows over Texas
Brandon Davies takes next step in NBA journey