Not Just Another Game: A former player's perspective on BYU-Utah rivalry
Updated: September 17, 2013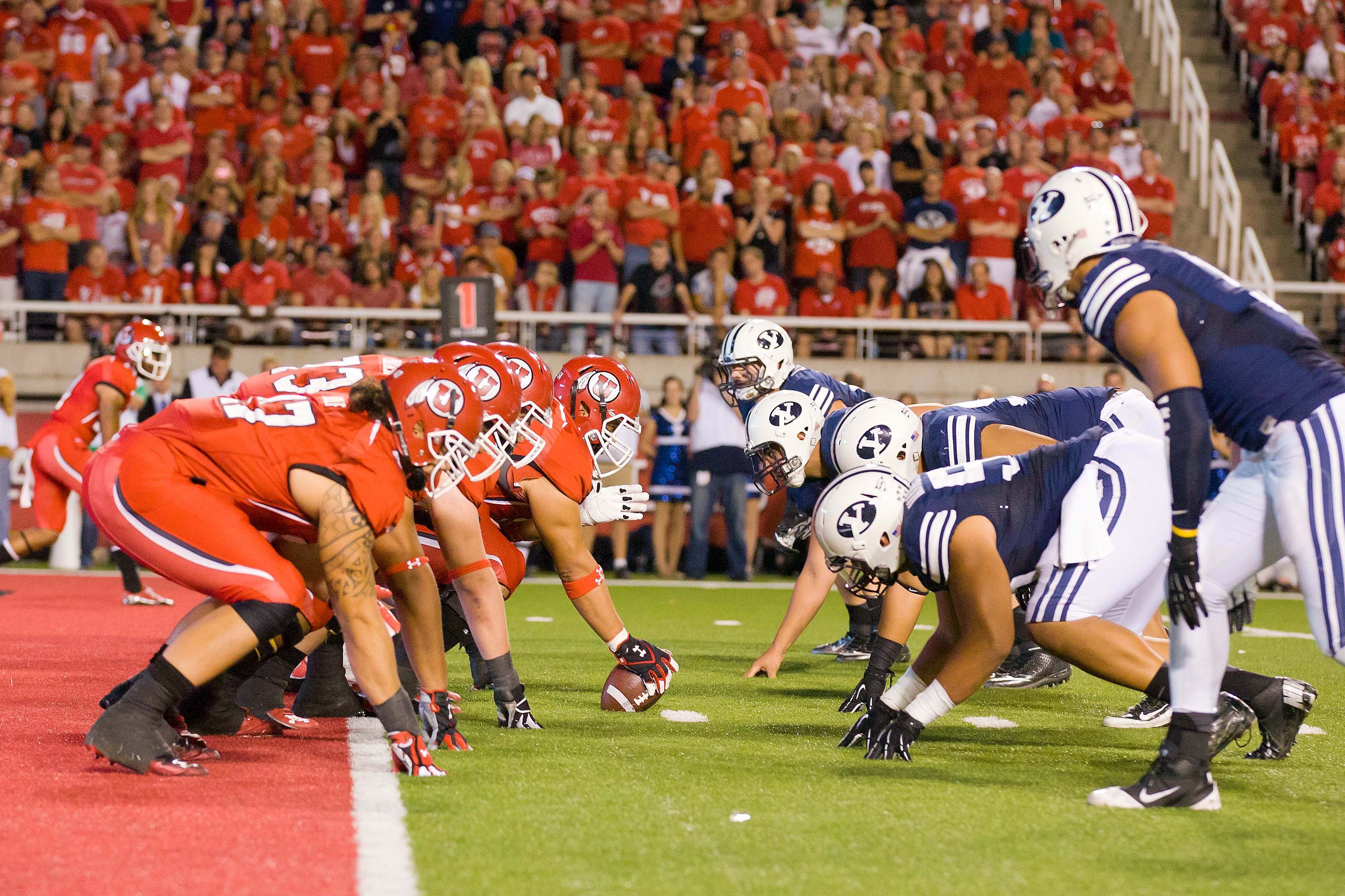 Former BYU cornerback Brian Logan reflects on his experience playing in two rivalry games — and explains why this year might be different.
This rivalry game has been one of the most thrilling and heart-pounding experiences that I have ever had playing football in my life. So many good memories come to mind when thinking about the two games I played in back in 2009 and 2010. In 2009, I can still remember Corby Eason whispering in my ear as I was on one knee with my hands folded pleading with God for a win.
"Hey Brian, make sure that when we win the game to run straight into the locker room, because the fans are going to storm the field and things are going to get crazy," he said. At that moment I could care less about the fans, the locker room, or things getting crazy. All that was on my mind was the outcome of the game.
When Max threw the touchdown pass to Andrew, I immediately leaped in the air overwhelmed with excitement and ran to the endzone to celebrate with my team. Once I got to the already 20-player dogpile, I looked around and saw nothing but BYU fans surrounding me. It was at that very moment that I remembered Corby's words about heading straight into the locker room.
I couldn't see any of my teammates anywhere, just die hard BYU fans congratulating me on the win and ripping off my gloves and wrist bands. Starting to feel claustrophobic, I tried to make my way to the locker room but had no luck. At this moment, I had so many thoughts racing through my mind. I was happy that we won but I was also nervous that I would never make it to the locker room.
Finally, a few fans saw the distraught look on my face and decided to help me out. They picked me up on their shoulders and passed me from one fan to the next until I finally made it to the locker room. I felt as if I were a rock star being passed around by fans at a concert.
Another experience during the 2009 game truly touched my heart. Late in the game, I ended up having a huge cramp in my calf. I was in so much pain that I didn't even want the training staff to rub it out. While on the ground, I slowly started to hear the crowd say my name.
"Logan, Logan, Logan."
The chant started off very faint, then grew louder and louder to where I was confident that all 64,000 fans were yelling my name. At that very moment, I knew I had to suck it up and play through the pain. When I got to the sideline, all can remember is plugging my nose while gulping down a bottle of pickle juice. (For those that don't know, pickle juice is one of the fastest ways to relieve muscle cramps.) I had to consume two or three bottles of pickle juice throughout the night just to stay in the game. Even though it was one of the nastiest encounters that I have had drink-wise, it was well worth it knowing that I had the support of our fans.
The "Holy War"
The BYU-Utah rivalry is one of the more interesting rivalries in college football. The "Holy War" is one of the country's oldest rivalries, dating back to 1896. Utah currently leads the series 56-34-4, and also has a three-game winning streak from 2010 to 2012.
When I first heard that this game was called the "Holy War," I scratched my head with confusion. Growing up in an Evangelical church, I always thought of a holy war like the conflict between Palestine and Israel. This type of war made sense to me. You have two different religions fighting over what they believed in. But BYU and Utah believe in the same thing right?
Even though Utah isn't owned and administered by The Church of Jesus Christ of Latter-day Saints, many coaches and players are LDS — which means they believe in the same doctrine, have the same family values, and they believe in the same God. The Holy War title would make a lot more sense when it comes to BYU and Notre Dame. You have two different religions with two different belief systems. So why is this game called the Holy War?
I had to ask myself a question. "Why do those in the two fanbases and groups of players who share the same religious beliefs hate each other so much?"
Many BYU fans will say that Ute fans may be LDS, but they don't live the lifestyle the way it should be lived; and many Utah fans will say that Cougar fans are arrogant and portray a "holier than thou" persona. Whatever these judgments are, I suppose they are the very thing that separates two institutions that share a common religion and belief system. It's obvious that Utah doesn't hold their students to an Honor Code like BYU, but it's also obvious that Utah is a state where the religious belief is predominantly LDS.
Just Another Game?
With the Holy War being such a historic series, and such a meaningful game throughout the BYU community, why is there not a bigger emphasis on this game within the BYU program? Almost any Ute fan and player will say that the BYU game is not only the biggest game of the year, but one of the games they look forward to the most. I can't say that was the case for me when I played in 2009 and 2010.
For obvious reasons in 2009, the biggest game on the schedule that year was against Oklahoma. They came into the season ranked third in the nation and had the Heisman Trophy winner coming back for another season in Sam Bradford. Utah was the last thing on our minds. Towards the end of the season, it was a lot easier to look ahead to Utah and get excited about the rivalry. However, there was no special speech or anything like that about the game.
In 2010, we were just trying to keep our heads above water and just make it to a bowl game. When rivalry week came, I was excited to have a chance to end my career against the Utes 2-0, but again there was no special emphasis on the rivalry itself. Just the fact that every game is important to win and this was just another game that we had to win.
Coach Mendenhall doesn't treat this rivalry game like the Super Bowl like Utah does. I've heard crazy stories from past Utah players that they would put BYU jerseys on tackling dummies during the week of practice to prepare mentally for the game. As much as I would have loved for our teams to do this, I could never see it happening with Coach Mendenhall being the head coach because he treats it like any other game.
Playing under Bronco, I definitely see his point of view. As a coach you have to not only make sure that your players are physically and mentally ready for each game, but you have to also prepare your players to be ready emotionally.
Any college football game is emotional, but even more so when playing against your in-state rival who you absolutely hate. Games like the "Holy War" can potentially lead to a significant number of personal fouls and possibly even some ejections. Personal fouls are huge because of the amount of yardage a team can quickly gain or give up. Coach Mendenhall does a good job of eliminating a lot of those personal foul penalties in these games by not hyping the importance of winning a rivalry game.
Don't get me wrong — Bronco wants to win more than any other coach in college football. He knows the importance of winning in general and the importance of beating the Utes. More than anything with beating Utah, he stresses the in-state recruiting war. "It's a huge advantage for us win these games for our in-state recruits," Bronco would explain to us from time to time. He's definitely right. There are so many in-state recruits that have their eyes on this game, and the result could potentially help sway their decision on where to play their college ball. I know it's a different school, but that was a huge deciding factor for me when it came to choosing between Utah State and BYU. Taking a look at the past years between the two schools made it a lot easier to choose BYU.
Get Personal
When I first arrived in Provo in spring of 2009, I remember walking into the weight room wearing red basketball shorts and a red pair of Nike shoes and was immediately yelled at by half of the training staff.
"What in the world are you doing wearing that color in here? Did you not get the memo about the color red?"
Those were the questions that were being shouted at me while I was walking around the weight room. I thought to myself, "This has to be a joke. No rivalry is that serious where I can't even wear the other team's colors."
Because there was no added emphasis on the rivalry itself, I went into rivalry week as just another game and another team. I didn't really know what I was getting into. When I asked my teammate Brandon Bradley how the game would be, he said, "Not too much of a difference here at home. You'll hear more trash talk and the game will be more physical but other than that it will be another game."
On the way to the stadium that morning, I remembered looking out the window on the bus and seeing a lot of Utah fans tailgating. We stopped at a red light and saw Utah fans yelling at us, throwing things at the bus and displaying some not-so-friendly hand gestures. With that encounter, the BYU-Utah rivalry became real to me and I couldn't wait to step on the field and leave my mark on one of college football's most heated rivalries. At that moment, it was no longer just another game — it was personal.
A New Sense of Urgency
I expect the atmosphere around the team to be different this year, mainly because of Coach Mendenhall and how different he seems to be. In the past, Bronco hasn't been as emotional and expressive when it comes to the media. This year, however, has been a different story.
This season is the most that I've seen Bronco laughing, smiling and being the goofball that he is around anyone other his players and coaches. Coach Mendenhall has always had the mindset of "Us vs. Them," meaning that anyone that is outside of the BYU football program doesn't have our best interest in mind. I think this mentality has led Bronco to be a little more uptight public than his normal self. What people are seeing now — the joking with the media and the emotion on the sideline — is the coach that I have grown to love and admire.
With this new, more energetic personality that Coach Mendenhall now has, I would expect there to be more significance placed on the rivalry. I would expect — for the first time in the Bronco Mendenhall era — for this game not to be just another game, but a game that means more than just getting a win.
You can already feel the change in how Coach Mendenhall feels about the game. "I wish that we played Utah two weeks ago instead of playing Texas," he said. This statement shows how badly Bronco wants to win this game. I believe that the desire and excitement he has to beat Utah on Saturday will spread throughout the team like never before. I expect players to hit harder than they've ever hit, run faster than they've ever ran, and play with more emotion than they've ever played with.
MORE ON LOYAL COUGARS
3 realizations about the Holy War
Podcast 122: The Rivalry
Spencer Hadley suspended 5 games