Lackluster Cougars fall to Utah, lose Jamaal Williams to scary injury
Updated: September 22, 2013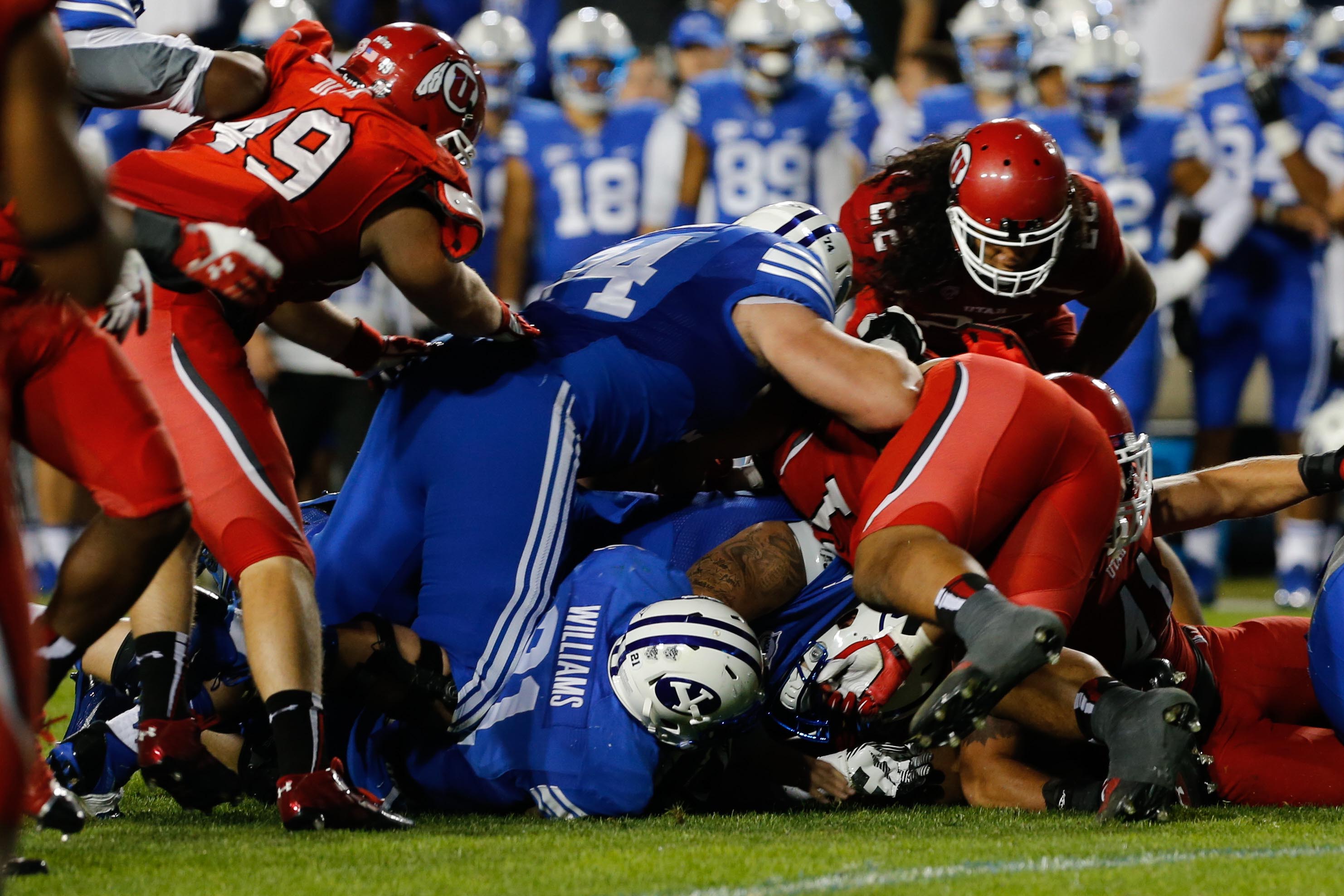 BYU struggled and lost to the Utes yet again — but Jamaal Williams' health should be a much greater concern.
Confession: I started writing this recap in the second quarter — it was obvious where the game was headed.
I had an entire introduction comparing this rivalry to the early modern wars between France and England, and tonight's game was Waterloo. The decisive battle in which Kyle Whittingham once and for all banished BYU — and their Napoleonic leader Bronco Mendenhall — to Saint Helena Island to write their memoirs and die of stomach cancer.[1]
There were also the usual gripes that have become all too familiar during BYU's four-game losing streak in the Holy War: terrible offensive line play, perplexing play-calling[2], stupefying clock management[3], and frustrating quarterback play. There was a general despair over the remainder of the season, ambivalence towards Robert Anae 2.0, and a lot of "It could be worse — we could have to go to school at the University of Utah" jokes.[4]
The game went exactly according to script, BYU — as has been their M.O. the last few seasons — came out extremely tight against Utah, tried to battle back, and in the end came within a few breaks (and an insane no-call on the last play) of sending the game into overtime. Kyle Van Noy was spectacular, Taysom Hill was lackluster, the coaches were outcoached, and not a single ball bounced BYU's way — resulting in a 20-13 Utah win.
For the next two years, every BYU fan will carry a bitter taste in their mouth from the last four seasons, a bitter taste that is starting to blight the Bronco Mendenhall era. Over the last three seasons, BYU has brought a more talented team into the rivalry game — and lost every time. The Utah fans will, conversely, get a lot of mileage out of this game over the next two years[5], driving anyone who bleeds blue crazy. For the weeks, months and years ahead, we'll argue about these games, the lack of offense, 54–10, the not-quite-muffed punt, rushing the field, Adam Hine's return called back, Van Noy's greatness, Travis Wilson's ascendance, Bronco Mendenhall's defiance.
None of that matters.
In the third quarter, Jamaal Williams took a handoff from Taysom Hill, running to the left side, crashed into a pile of human bodies and collided helmet to helmet with a Ute defender, promptly collapsing to the turf and remaining prone on the ground, seemingly lifeless, as 63,000 fans watched in horror, silent, as medical officials treated him for an apparent neck injury, carting him off the field, motionless, on a stretcher.
I spent the last year on the BYU football beat as a credentialed media member, covering the team from spring football, media day, through fall camp, the entire 2012 season, spring football again, media day again, and then this season's fall camp. During that time, no player was more gracious, more entertaining, more beloved, and more likable than Jamaal Williams. His youthful optimism was infectious. It was impossible to ask anyone on the team a question about Jamaal without them smiling. He's like their little brother, the 18-year-old wide-eyed kid who, for much of last season, couldn't believe he was actually there.
ESPN reported during the game that Jamaal—thankfully—was able to move his hands and feet as he was loaded onto the ambulance. As of the time of this writing, BYU has reported that his condition continues to improve, but there has been no official word as to the extent of his injuries.
But as Jamaal lay there on the ground, his helmet getting taken apart, I had to ask myself why we do this? Why we let 18-year-old kids put their lives on the line to play this violent of a game? Is it so we have something to argue about over Thanksgiving dinner? Something to waste time with at the water cooler? A way to kill three hours on Saturdays? In those few minutes, I had to ask myself, what about this — if anything — actually matters?
I'm not sure I have that answer.
But I do firmly believe that sport can be a force for good. That watching athletes elevate themselves can inspire us to elevate ourselves. I believe that sports is a microcosm of human existence — an arena in which the same drama, boredom, pain, joy and transcendence of daily human life are magnified and played out in front of millions. And I believe that — as divisive and as contentious as this rivalry can be — in moments like Jamaal's injury, when 63,000 people were so silent that crickets could actually be heard over the ESPN broadcast, we can stop hating each other for just a few moments and unite.
Yes, the rivalry is on hiatus for the next two years. Yes, BYU lost the last four. Yes, it's disappointing. But what I'll remember from tonight wasn't the pass interference no-call, the quarterback's inaccurate arm, or the strange coaching decisions. I'll remember the moment that reminded me when the game ends we can still like each other, laugh together, even love each other. I'll remember an 18-year-old kid, full of potential, his entire life ahead of him, motionless on the cold ground. I'll remember that silence.