Disappearing Act: 3 on-field things BYU is suddenly missing
Updated: September 23, 2013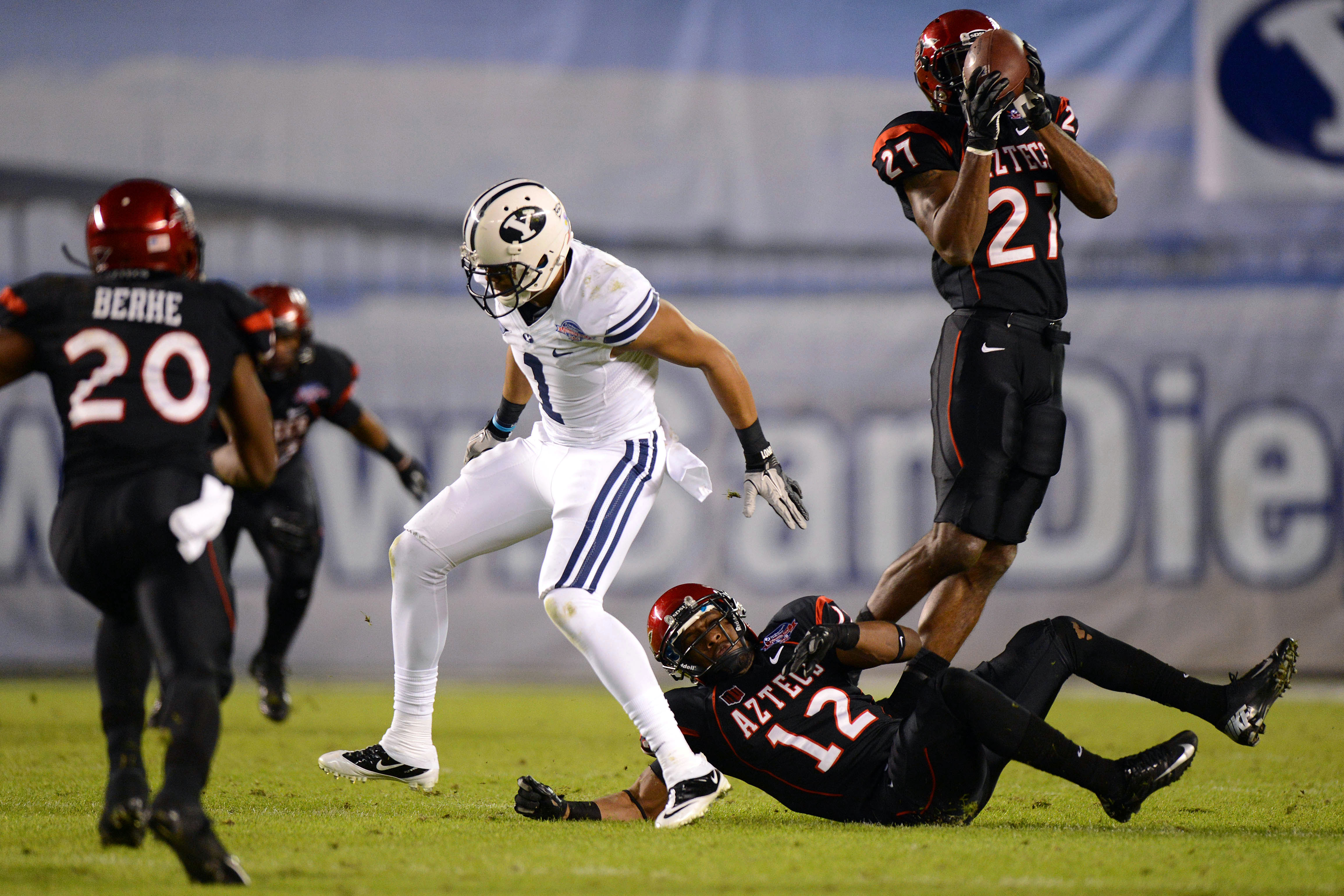 Some things have gone missing for BYU. Brett puts out an APB on three on-field items we aren't seeing for the Cougars.
"Fire Bronco!"
"Pac-12 Refs!"
"Taysom can't throw!"
None of these things are takes I am about to make — though man, was the last play of the game weird. After Arizona State-Wisconsin and Saturday's game, at what point does the Pac-12 send a bullpen crew with those refs to take over with about 5 minutes left?
That third declarative — I'm not ready to say Taysom Hill is a bad passer. Yet. As a freshman, Hill played what totaled to be around 2.5 games. He completed 59% of his passes, throwing four touchdowns to just two interceptions and had a quarterback rating of 122.4.
This season, through three games, Hill has completed two less total passes in an astonishing 43 more attempts, and has thrown just one touchdown to three interceptions.
In my eyes, Hill has shown plenty of competence mixed with frustration, caused by much more than the lazy "Riley Nelson 2.0" take. Nelson threw a poor ball, and how many times did you see him outrun defensive backs? Which takes me to the first of three things that have disappeared from BYU's on-the-field performance this season:
SHORT THROWS
Short passes do a lot for an offense, which is why their disappearance from BYU's plan is a key part of how the Cougar offense can run over 90 plays and only score 13 points.
Short throws can build a quarterback's confidence, diversify the offense, and help in more consistently creating third down situations that have a better chance for conversion. Instead, Taysom Hill is asked to throw 12-15 yard outs for what feels like 35 times per game. [Insert preferred Hill replacement here] would look pretty bad if he was asked to throw across the hashes all night with no other choices.
Think about it: BYU's offense didn't start moving well against Utah until a few 8-10 yard throws showed up — Hill quickly threw to J.D. Falslev a couple times in a row, then the next possession the throws were gone. And they disappeared until the fourth quarter when Anae finally dialed up a few quick slants to Cody Hoffman and a short swing pass to Falslev — all quite successful.
Sometimes it feels that Anae thinks the only way to get Hoffman the ball is on long, hard-to-catch 15-yard outs. He was rarely targeted until the fourth quarter. Yes, Hoffman is great at coming down with deep outs or long fades that he can come back on. But he's also a big, physical receiver who can be counted on to go across the middle, secure a slant, and then make a play.
Hill is being asked to do too much, or at least throw the wrong throws. Every single yard through the "throw game" (c. Kyle Whittigham) is put on Hill's arm. Every one. Anae 1.0 would throw to the fullback. He would run the running back eight yards deep on an option route at least four times per game and it would work every time, and for seasons on end. This season, of Hill's 40 completions, five have gone to running backs.
There were quick slants to Michael Reed. There were crossing patterns to Austin Collie. There were bubble or inside screens to O'Neill Chambers. All of these passes would give BYU's skill players a chance to pick up yards after the catch — and open up the more difficult throws for a better chance at success. That takes a lot of burden off the quarterback to make big throws 100% of the time.
Last night, BYU ended up in way too many 3rd-and-6 or worse third down situations. My memory is probably somewhat tainted from the loss, but those long third downs seemed to always result in a hugely difficult pass or Hill scrambling a half-yard short of the sticks (I swear that happened 6 times on Saturday).
Has Hill struggled? Yes. He's missed a few throws. But he's hardly the duck-throwing Riley Nelson. Anae needs to find a better way, or at least a more diverse way, to get the ball to BYU's playmakers through the air and help Taysom Hill help himself. No QB can get north of a 50% completion rate when his only throw options are 15+ yard routes nearly 100% of the time.
FORCING TURNOVERS
I hesitate to lay any sort of criticism on the defense, because once again, Bronco Mendenhall is doing fantastic things. For how many plays the opposing offense has opportunity to run because of BYU's break-neck pace, the defense is still only giving up 20 points per game and is doing almost everything possible to give the offense a chance to win games.
Except one — create turnovers. Neither Texas nor Utah turned the ball over once. Virginia had two turnovers, but one was on special teams when BYU forced a fumble on a kick return. BYU's defense, amazing as it is, has forced just one turnover in three games and has played 10+ quarters since that one takeaway — an interception of David Watford with nine minutes left in the second quarter of the season opener.
By my count in 2012, BYU forced 16 turnovers in 13 games — relative to other good defenses, still an inordinately low 1.25 takeaways per game — but much better than this season. I don't believe, if memory serves, that any of last year's turnovers came on forcing special teams fumbles, so in appropriately comparing the two seasons, taking away the fumbled kick by Virginia puts BYU at 0.33 takeaways per game so far this season.
There has to be more disruption than that. The only such disruption I can recall this season is by Daniel Sorensen, who has come close to a few interceptions as he's shown great instincts at safety. The defense is doing well to keep points off the board, which is its primary job. But secondarily, it sure would be nice to give the offense a short field or two each game to help things along.
ROSS APO
Has there ever been a more invisible top-flight recruit? Apo was rated as a four-star recruit by both Rivals and Scout and was listed as the 13th-best receiver-recruit in the nation. And here he sits, three games into his junior season, and he has less than 900 career receiving yards.
When I searched the USA Today Sports database for a picture to use with this article, only 6 pictures of Ross Apo were available: two as a freshman, four as a sophomore, and none from this season. He's invisible.
This is less about "why isn't Apo being used?" and more about "what happened?" I can't say Apo was on the field against Utah for more than one snap — that one where Hill threw a short out (hey!) but Apo was running … something else. And then we saw much more of Skyler Ridley, Brett Thompson, and Eric Thornton the rest of the game.
The prospect of having two athletic, 6'3″+ receivers bookending BYU's offense for three seasons was sure exciting and unprecedented — until we found out that one of them was …. what? Soft? A poor route-runner? Lazy in the weight room? Unmotivated?
Whatever it is, Apo is inches away from crossing the line between "struggling" and "bust." I'm not trying to cast stones at Apo, because I truly don't know why he isn't more of an impact player. It's baffling. With only rumors to inform us, we can only guess as to why Apo's career has looked like this so far.
It's clear that Guy Holliday doesn't trust Apo, for whatever reason. He's barely seeing the field, and I don't blame coaches for that. We joked about it because of how often it was called, but Brandon Doman showed Apo could be useful in a screen game. Maybe we can start there and help out the "short throws" problem too?