Author Benedict pens moving Spencer Hadley piece for SI
Updated: September 25, 2013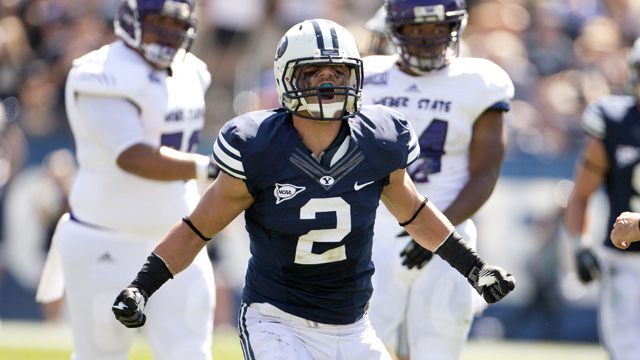 The entire Spencer Hadley story is told in today's Sports Illustrated article by Jeff Benedict.
This morning, The System author Jeff Benedict published an exceptional article on the Sports Illustrated website providing additional details about Spencer Hadley's recent five-game suspension and the difficult path toward redemption that he's already begun. While the information may not be newsworthy to diehard Cougar fans — news of the prison fireside gained traction last week on CougarBoard — details of the fireside, the honor code, and perhaps even Hadley's suspension itself will reach a worldwide audience through Benedict's latest offering.[1]
Hadley, a senior leader on the 2013 football team, was suspended for five games last week after BYU coaches learned of his involvement in several trips to Las Vegas during which he consumed alcohol on more than one occasion, thereby violating the school's honor code.
However, Spencer's misdeeds seem to stand out as an exception to his otherwise shining example. Spencer Hadley is revered by teammates as a leader because he exemplifies key qualities of leadership: service and hard work. From his diligent work growing up on a farm in Connell, Wash., to hours spent teaching as a missionary in the California Roseville Mission, to his tireless work ethic on the football field in practice and game situations, Hadley had earned the respect of teammates and fans alike. He is an example to many, not the least of which is his younger brother, Matt, currently serving a mission of his own in Salvador, Brazil.
BYU's media relations staff should be applauded for allowing Benedict the required program access to gather the quotes and background information necessary for this article. Indeed, it appears fortunate that aside from the main purpose for Benedict's visit to Utah last week — the promotion of the new book he co-authored with Armen Keteyian — he was also given access to delve into the Hadley story, allowing him to relate it on a national stage in a way that is fair to all involved.
Though rumors of Hadley's Las Vegas indiscretions were posted soon after BYU announced the suspension, this is Sports Illustrated. And at the end of the day, it is this story that shines the brightest.
Hadley (left) as a missionary serving in the California Roseville Mission 
---
Full disclosure: Loyal Cougars and CougarBoard share ownership, but operate independently.   ↩