BYU newcomer Frank Bartley knows the importance of family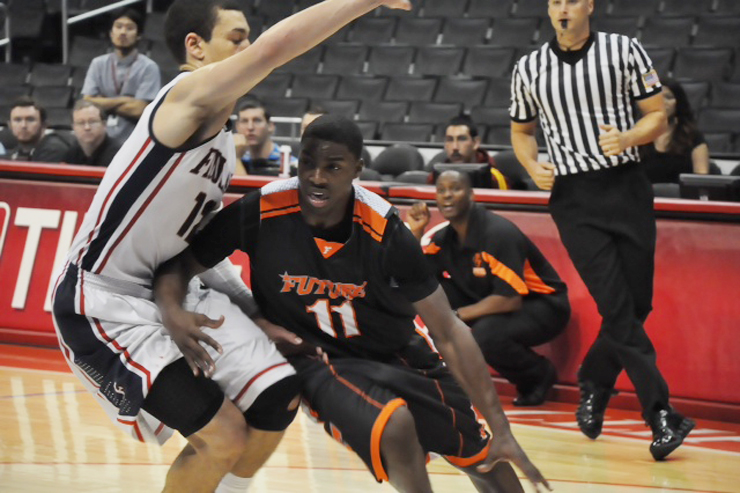 As part of our ongoing season preview, Loyal Cougars will profile each member of the 2013-2014 BYU basketball team. These profiles may include statistics, roster breakdowns, off-the-statbook observations, or memories and first-hand experiences. In this installment, Brandon Jones looks at freshman guard Frank Bartley IV.
Louisiana native Frank Bartley IV knows a thing or two about adversity and family.
In the summer of 2005, 11-year-old Frank, his parents, and his three sisters were forced to evacuate their New Orleans home in anticipation of Hurricane Katrina. Their home, schools and churches destroyed, the Bartleys were forced to start a new life in Baton Rouge. They did not forsake their most prized possessions — their family relationships and Christian values, which took center stage as they lived in a home with 16 others for more than two months.
Luckily for Cougar fans, Frank also knows a thing or two about basketball — and it's his talents in that area that have brought him unexpectedly to Provo, eight years after the storm.
Growing up, Frank always talked about his dream of playing basketball at the Division I level. He made it his goal and worked hard to accomplish it. That type of Jimmer-like work ethic will no doubt ring familiar to BYU faithful.
His talent became evident early in his high school years, as he helped Christian Life Academy win the Class 1A Louisiana State Championship in his sophomore season. By the time he graduated in 2012, Bartley had worked his way to averages of 14.2 points, 6.2 rebounds and 3.3 assists per game, leading CLA to a 26-7 record and another state championship — capturing Louisiana 1A MVP honors along the way. (You can see his high school highlights here.)
Not receiving the amount of D-I attention he felt his play merited, Frank took a gamble after high school and left his family for a year to play at Future College Prep in Carson, California. The gamble paid off in a huge way.
Bartley led Future with 19.0 points, 3.3 steals, and 1.0 blocks, while also finishing second on the team with 8.5 rebounds and 6.7 assists per game. He was named co-Most Outstanding Player as he led the squad to a 52-13 record and a West Coast Prep Championship title. By the time the season ended, Bartley had finally garnered the attention of several major programs — including Gonzaga, St. Mary's, Auburn, New Mexico, Louisiana State and San Diego State.
Late in the recruiting process, Frank had all but decided to commit to Auburn when BYU coaches visited Future College Prep in pursuit of one of his teammates. The Cougar coaches were impressed by Bartley's game and felt that his basketball skills and Christian values made him a good candidate for a scholarship as well. Though not a member of BYU's sponsoring LDS faith, Frank noticed the school's Honor Code was similar to the standards he'd always embraced as a Christian.
In May, Frank and his parents made the trek to Provo for an official visit. Expecting only the cold climate, the Bartleys were surprised by the warmth of the people they met. They fell in love with the beautiful and peaceful environment. Above all, they noticed a strong sense of family among the coaches and players, and the people in general. On May 12, Mother's Day, Frank brought his mother to tears as he concluded his visit by signing a scholarship agreement to play basketball for BYU, becoming the final addition to the Cougars' 2013 recruiting class.
At 6-foot-3 and 205 pounds, Bartley is known primarily as a defensive stopper. However, as evidenced by his statistics at FCP, his offensive game is nothing at which to scoff. His previous coach, Les Bean, noted that Frank is an "ultimate athlete, strong defender and competitor who is electrifying in the open court and a mismatch in the half-court."
Bartley is a good end-to-end player who should be able to fit quickly into BYU's up-tempo system. Similar to teammate Matt Carlino, Bartley has a great ability to move without the ball on offense and break down passing lanes on defense. He can penetrate the defense to create his own shot, but has the necessary court vision, decision-making, and unselfishness to pass the ball off if a teammate can get a better look.
Cougar fans should expect to see Bartley get the majority of his playing time at shooting guard, either to provide a quick breather for Tyler Haws or in multiple guard lineups, which may come frequently with coach Dave Rose's guard-heavy roster. Frank also envisions himself playing some point guard, though fellow newcomer Skyler Halford is likely better suited for backup reps at that spot.
Though it remains to be seen how his talent will translate with upgraded competition, it shouldn't be unrealistic for BYU fans to expect 8 points, 3 rebounds, and 2 assists per game from Bartley, which would be solid numbers for a role-playing true freshman.
Frank is excited to contribute immediately to this Cougar team.
"We've got something special going on," he told KSL's Greg Wrubell recently. "In these next couple of years, we're going to make a run and surprise some people."
Though he's only been on campus for four months, Bartley should adjust well to both the family environment at BYU and the adversity of the fast-paced Division I game. After all, he's been preparing for this moment his whole life.
Photo used with permission from BYU Basketball.
Want more hoops action? Get your fix by reading more player profiles from our 2013-2014 season preview:
The cerebral Kyle Collinsworth
Next Level: Cougars need polarizing Matt Carlino to make 'the leap'
Non-traditional Anson Winder a perfect fit for BYU system
The Tyler Haws Offense: Can BYU's star scorer carry them alone?
What's Cooler Than Being Cool: Nate Austin and the 3-point shot
Freshman Eric Mika expected to fill big shoes
Josh Sharp: Come for the dunks, stay for the dirty work
Skyler Halford: More than just a deep threat
Happy Days: Luke Worthington and the power of fun