Hill throws 3 touchdowns as BYU routs Utah State, 31-14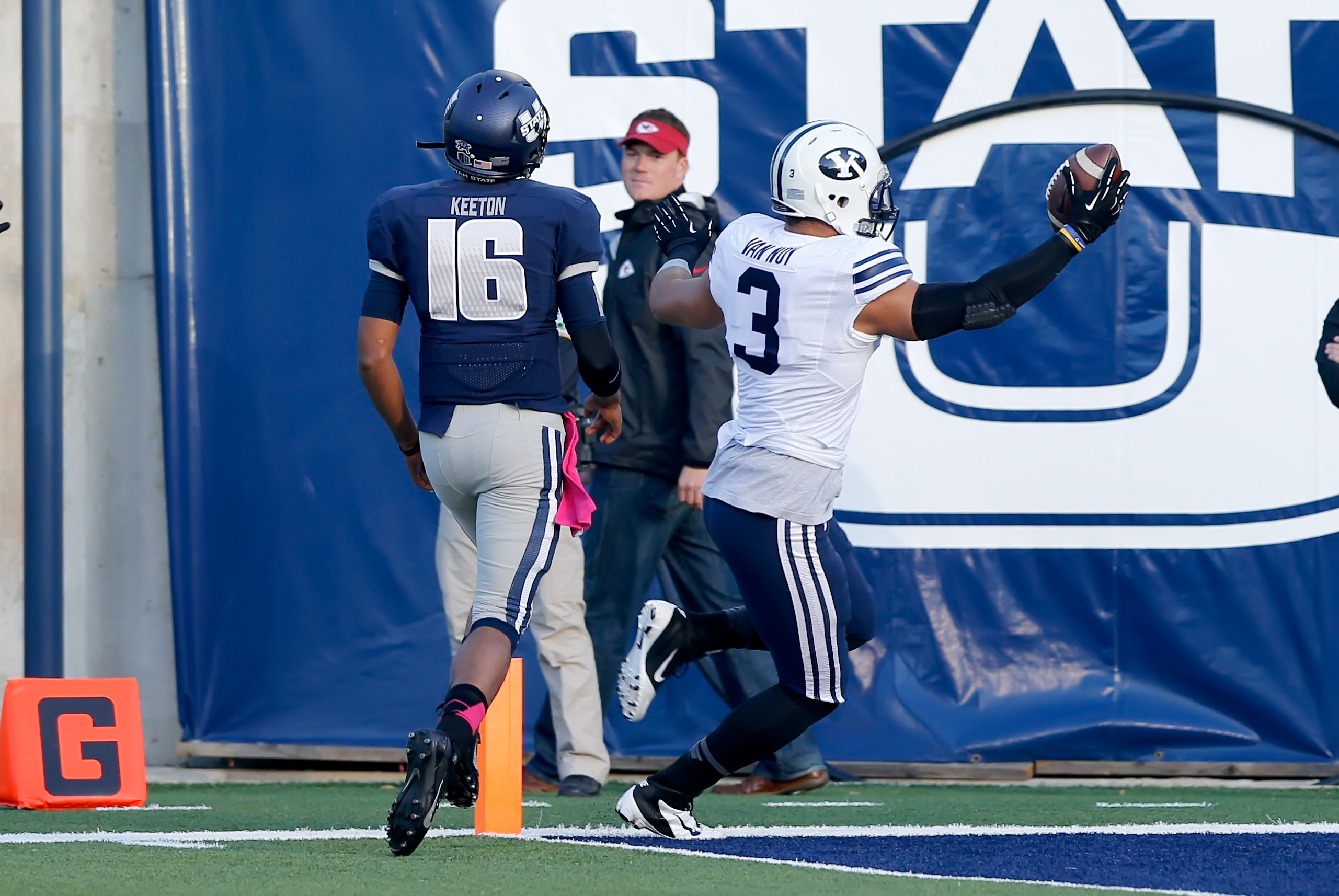 Taysom Hill threw for three touchdowns and points were scarce for Utah State, as the BYU Cougars rolled the Aggies, 31-14, on Friday night in Logan.
A flattened Aggie crowd watched BYU take control when Hill hit Mitch Mathews on a 30-yard, play-action touchdown strike to give BYU a 17-7 lead. Late in the first quarter, Utah State star Chuckie Keeton injured his knee on an eight-yard scramble, sucking the life out of the stadium and the overall buzz for the game — even for those not at the game — was stifled.
With Keeton on crutches on the sideline, the game continued as backup quarterback Craig Harrison failed to make in impact against BYU's energetic defense.
That defense opened the game with points. Who else but Kyle Van Noy intercepted Keeton on the first play of the game, rising up at the line of scrimmage, reading a quick throw to the outside and stopping it in mid-air. Fifteen yards later, BYU led 7-0 and KVN once again scored points all by himself.
The Cougars began the second half with the ball and quickly slammed the door on the deflated Aggies. On BYU's best drive of the night, Hill was 4-5 for 40 yards through the air, rushed for 27 more, and put BYU up 24-7 on a beautiful six-yard fade to Mathews. Hill would connect with Mathews one more time in the quarter on a 43-yard score.
BYU's defense was its usual strong self. Utah State's only points came on a 15-yard field after a Taysom Hill fumble and in garbage time, as players like Michael Davis and Dallin Leavitt got their feet wet together in the secondary. The USU passing game was held completely in check. Keeton was 4-10 for 26 yards before leaving the game, and Harrison finished 18-41 for 185 yards — an overall average of 4.1 yards per pass.
I've likely become too obsessed with this, but Hill was credited for an interception after throwing a touchdown to Cody Hoffman which should have given BYU a 38-7 lead. After Hoffman landed in the endzone with Quinton Byrd's hands also on the ball, Byrd wrestled the ball away and then fell out of bounds — after Hoffman completed a catch. After review, the play stood as called — interception — despite the rule that simultaneous possession goes to the offense. Hoffman remains two touchdowns behind Austin Collie on BYU's career touchdown receptions list.
Ironically, Utah State's fourth-quarter score came when Utah State receiver Ronald Butler came down in simultaneous possession with Leavitt, correctly called a touchdown.
It wasn't all a loss, though. Because BYU hadn't quite put the game away, Hill remained in the game later than expected and bombed a 60-yard completion to Kurt Henderson, which resulted in this fun moment:
Guy Holliday, y'all.
This time, it was the rushing offense that was sort of an afterthought for BYU. Jamaal Williams returned from injury for a solid 79 yards on 14 carries, while Algernon Brown added 45 yards on 14 carries. Hill surprisingly finished the game with only 14 net rushing yards.
It was a solid performance from BYU in an important swing game. Now at 3-2 and with the offense slowly growing (though pass protection is still a concern), the Cougars can move forward and build a solid season.
BYU turns to homecoming preparations against Georgia Tech on Sat., Oct 12 at 5 p.m. MT.
* * * * * * *
Random notes:
In the last two outings, Hill is 31-50 for 455 yards, three touchdowns, and two interceptions (but really, four touchdowns and one interception). His season completion percentage now stands at 43.3%.
BYU is now 28-4 in the last 32 meetings with Utah State. #AggieTears
The Cougars ran 82 plays on offense tonight, a decently high number given how much Utah State slowed it down in the second quarter to break in Harrison.
Somewhere, I need to write the name of Daniel Sorensen. Chasing down punt returners, downing punts, breaking up passes, he has been all over the place this season.
J.D. Falslev did fumble another punt return tonight, which he recovered — though he was asked to field 10 punts on the night. Falslev was once a rock at this position, but four fumbles in two games (two lost) is alarming.
Scott Arellano has been beyond solid as a punter, though it does feel like he takes too long to get off punts. Overall, though, he is the same 12th man to the BYU defense that Riley Stephenson was last year.
In addition to KVN's pick six, BYU forced two more turnovers tonight, a welcome sight. One of them came on the first series after Keeton's injury. After an eight-yard scramble from Harrison got Utah State to midfield, and it seemed the Aggies might be able to gut through the loss of Keeton, Uani 'Unga stripped Harrison on the next play.