Non-traditional Anson Winder a perfect fit for BYU system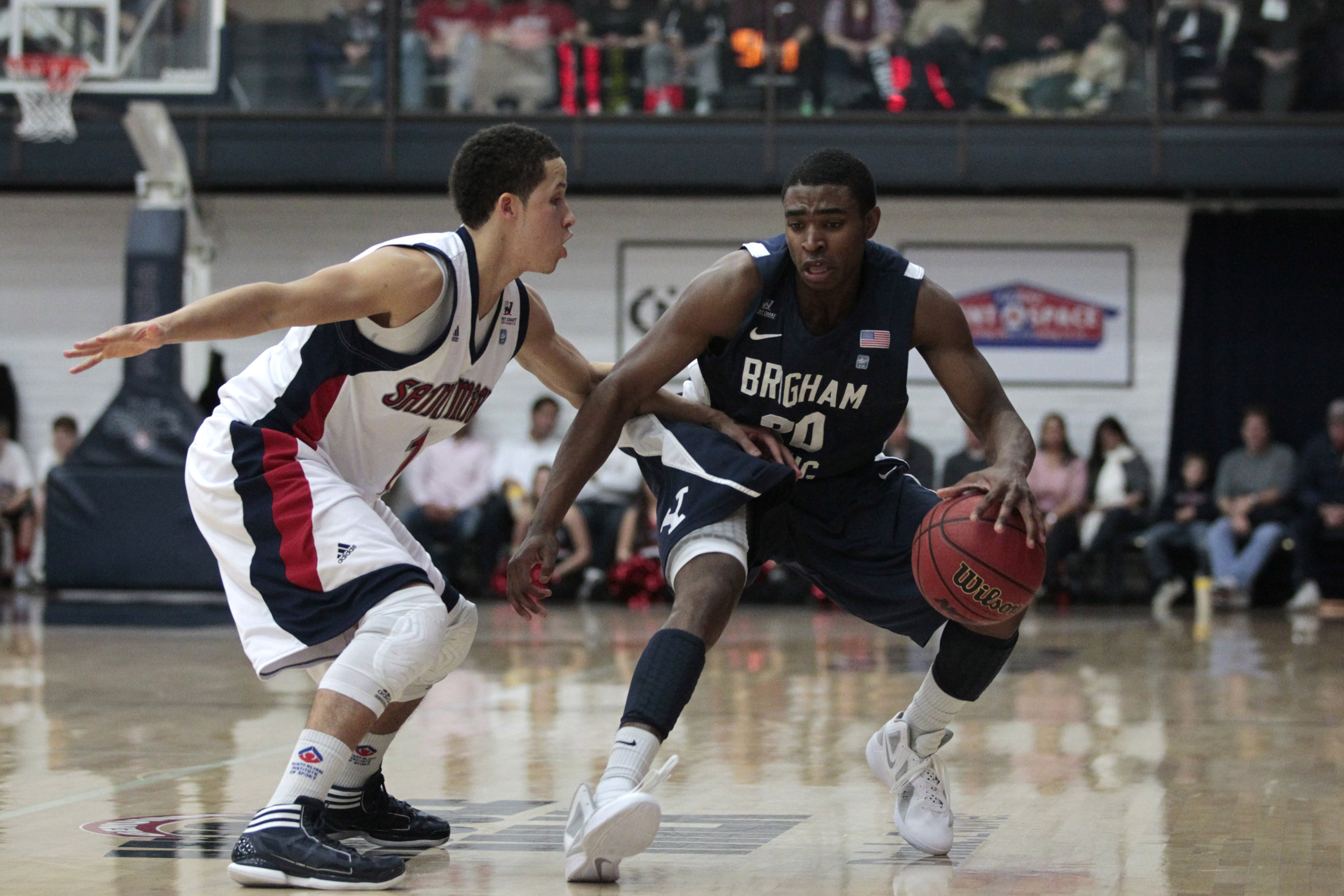 As part of our ongoing season preview, Loyal Cougars will profile each member of the 2013-2014 BYU basketball team. These profiles may include statistics, roster breakdowns, off-the-statbook observations, or memories and first-hand experiences. In this installment, Sean Walker examines the versatile Anson Winder.

Anson Winder was never the typical BYU men's basketball recruit.
He didn't serve a mission; he's not even LDS. He wasn't highly touted coming out of high school; his skills and talents were often overlooked by the presence of higher scoring teammates. He isn't from Utah, and has very few ties to the Beehive State.
But his style of play fits in well with this year's team, and Winder should get a chance to shine in his junior season.
The 21-year-old wing from Bishop Gorman High School in Las Vegas played sparingly in 2012-13, a mere 31 games that saw him score in double figures only once — a blowout win at Santa Clara. His biggest contribution came against the Broncos, where he totaled 10 points, four rebounds, a block and a steal while most of the full-time starters rested.
But as the season wore on, Winder's playing time grew more and more dim. He was replaced by other options off the bench as his shooting stroke faltered and his connection with the staff seemed to hit a dry spot.
Winder came to BYU with a strong family connection. His high school coach, Grant Rice, informed older brother Dave, BYU's former associate head coach, of a shooting guard who teams were noticing more and more as opponents focused on containing standout point guard Johnathan Loyd, who now plays at Oregon. Winder saw time at the point, backing up Loyd even in the Nevada Class 4A state tournament when the latter was battling nagging injuries and other issues.
When Rice left BYU after Winder's first year in Provo to take over the program at his alma mater UNLV, the redshirt freshman stayed in school and averaged 4.3 points, 1.7 assists, 1.6 rebounds and 1.0 steals in 34 games, including 15 starts. He finished 14th in the fast-paced WCC in steals while coming off the bench, and led BYU in assists seven times, including a career-high nine helpers against Northern Arizona and six more in a neutral site game against Oregon.
But his redshirt sophomore season ended on the wrong foot, as playing time dropped dramatically following a 25-minute performance at Pepperdine on January 31, when he dropped six points and three steals. He averaged fewer than six minutes in the final 13 games, including a total of eight minutes during BYU's run to the NIT semifinals.
With the return of wing players Tyler Haws and Kyle Collinsworth, Winder should see no pressure to step into a starting role. But what he will bring as an upperclassman is leadership and an experienced hand to guide an exceptionally young team.
Winder's versatility will be tested in 2013-14, which will likely see him vacillate between the shooting guard and small forward spots, and even potentially running the point behind starter Matt Carlino and junior college transfer Skyler Halford. Winder's speed and ability to get out in transition will be critical if he wants to maintain a strong presence on this team.
Winder may have taken a step back last year after a promising freshman campaign — but the former back-to-back state champ and All-Region award winner has shown his ability to fit into multiple spots in BYU's system, and this year should be no different.
Want more hoops action? Get your fix by reading more player profiles from our 2013-2014 season preview:
The cerebral Kyle Collinsworth
Next Level: Cougars need polarizing Matt Carlino to make 'the leap'
BYU newcomer Frank Bartley knows the importance of family
The Tyler Haws Offense: Can BYU's star scorer carry them alone?
What's Cooler Than Being Cool: Nate Austin and the 3-point shot
Freshman Eric Mika expected to fill big shoes
Josh Sharp: Come for the dunks, stay for the dirty work
Skyler Halford: More than just a deep threat
Happy Days: Luke Worthington and the power of fun