The Tyler Haws Offense: Can BYU's star scorer carry them alone?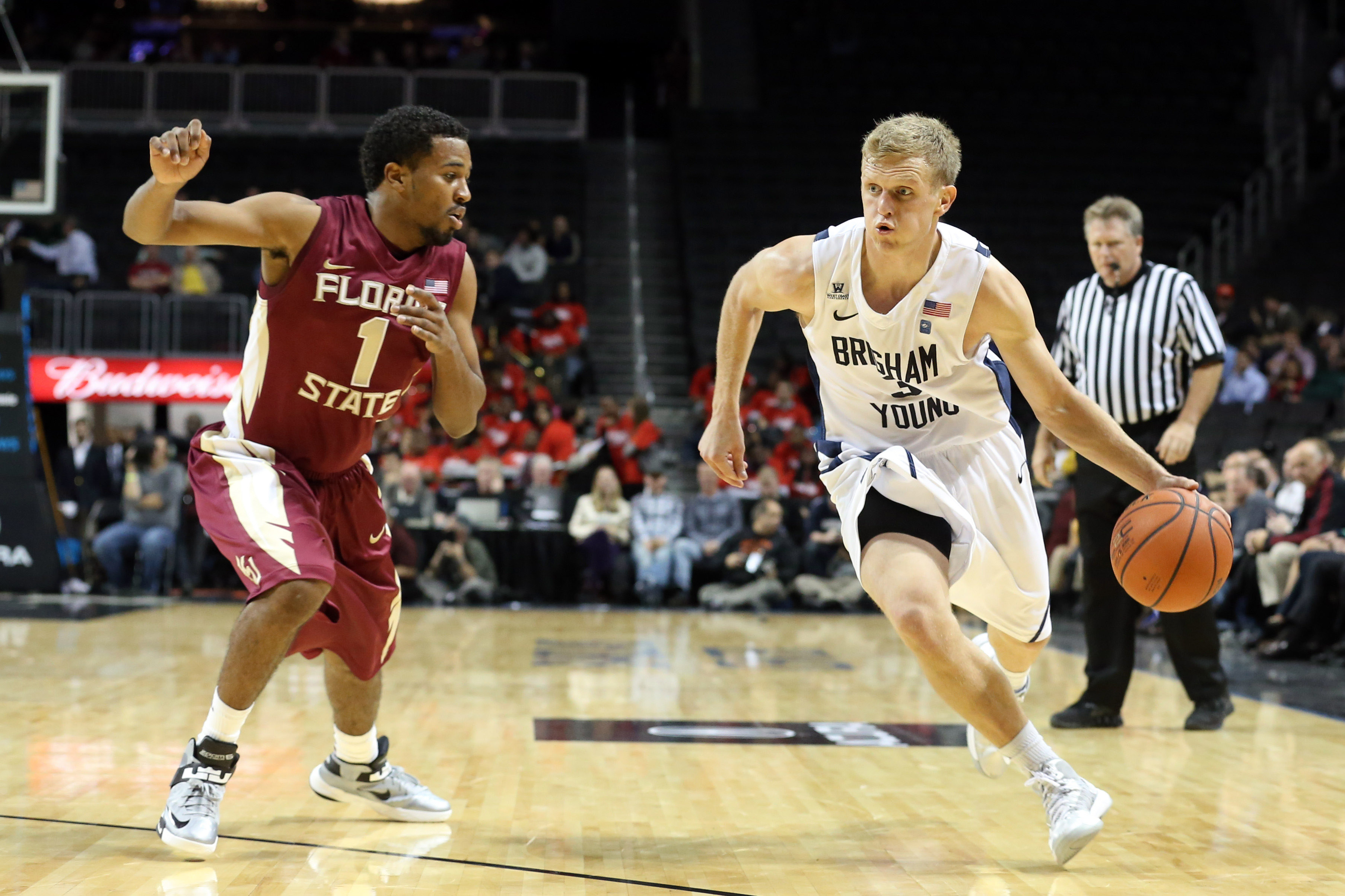 As part of our ongoing season preview, Loyal Cougars will profile each member of the 2013-2014 BYU basketball team. In this installment, Evan Hall considers Tyler Haws' status as an elite offensive player and whether it's possible to rely too heavily on his considerable talents.
There's this thing we'll call "the Stephen Curry conundrum," which is important in a consideration of Tyler Haws and which goes like this: Is a deep three really a worse shot than a shot at the rim when the player shooting the three shoots it at a higher percentage than most players shoot at the rim? Well, obviously not. Because a three is worth more points than a two, and because the implicated benefits of someone shooting that well and that frequently from three on your offense is probably incalculable.
It's not really a conundrum when you have Stephen Curry though. The answer is always, "Yes. Let Stephen shoot as much as he wants from wherever he wants." But that's because he's Stephen Curry, and good crap, look at this YouTube video if you want or his Basketball Reference page if that's more your flavor. In short, if you have Stephen Curry, you give him the green light and design the rest of your offense as appendages to his everything.
But the issue becomes more complicated as we move away from the otherworldly basketball savant territory where Curry dwells and toward Division I college players in the WCC. In fact, where exactly does it become more complicated? Where in the progression from Stephen Curry to Jonathan Tavernari does a coach start limiting his players' shot selection? Or when does he alter the design of his offense to maximize a singular phenom's talent?
The best BYU basketball team since the Danny Ainge days was the 2010-2011 team — a team designed around Jimmer Fredette's specific set of offensive skills. Even the zone defense, as coach Dave Rose would publicly admit, was designed to allow Jimmer to save energy for his offense. The scheme was tactically brilliant and philosophically justified.
Enter Tyler Haws: the crazy efficient, turnover-immune, shot-making automaton whose form never falters and whose decisions are almost always appropriate. He is not Jimmer — by which I mean his skill set, though impressive, is fundamentally different, and consequently so should be any expectations imposed on him. But he is by far the best player on this BYU team, and the distance between him and the next best may be more vast than was the disparity between Jimmer and Jackson Emery, the second-best player on the Jimmer-era teams. So at what point is it a good idea to design an offense around supplying Tyler Haws with as many shots as he can plausibly shoot?
Haws is not particularly adept at creating his own shot from the perimeter, and his elbow-post game, though entertaining, would require a certain revamping to be the center of the offense. Unfortunately, the biggest obstacle to building an offense around Haws is that he is actually more effective operating without the ball in his hands for larger stretches of the offense.
Most of his points come from his quick, pre-conceived moves toward a more effective shot: his fadeaway, his mid-range jump shot, his Dirk Nowitzki-esque roll to the basket after showing high. All of these require him getting the ball in the proper place on the floor, typically the job of an effective passer. Whereas Jimmer could create offense simply by holding the ball, Haws works best as a function within the offense — coming off screens, spacing out zone defenses by cutting to the elbow and then down to the post.
Still, the question remains: Could an effective offense be built around getting Haws as many touches and looks as possible within the confines of his effective areas on the court? I'm not really sure, but here are some things to consider:
As we mentioned in our Carlino preview last week, this team currently lacks trustworthy scoring options.
Also in that preview, a certain degree of chucker-tude is tolerable in college basketball, where teams struggle with basic fundamentals of half-court offense, like getting a shot up.
Even with the sixth highest usage rate in the WCC last year, Tyler Haws still had the sixth best true shooting percentage in the conference at 58.1 percent.
Taking into account the number of attempts, he was the best free throw shooter in the conference (89% on 211 attempts).
He was third in the conference in win shares at 6.3, which was more than Elias Harris, Brandon Davies and Kevin Pangos.
He was second in the WCC in points produced and turnover percentage, fourth in PER, and first in offensive win shares.
If you happen to be a statistical traditionalist, he was first in points per game, first in field goals made, and fourth in field goal percentage.
Those facts may seem slanted, but I'm being honest when I say I really don't know if Tyler Haws is the kind of player around whom you can design an offense. I merely use them to show that Tyler Haws is really good at basketball in a really specific way. The statistics don't even unearth his kind of greatness particularly well (but how do you expect them to when his primary weapon — a distilled kind of mid-range jump shot with no wasted motion that looks EXACTLY THE SAME every time he shoots it — is worth the same amount of points as a lay-up?). They merely point toward what we already know, which is that Tyler Haws is incredible, and remind us of what we don't know, which is whether, as incredible as he is, he's a Kevin Durant-at-Texas brand of offensive weapon whose game can hold up under the burden of an entire offense.
Want more hoops action? Get your fix by reading more player profiles from our 2013-2014 season preview:
The cerebral Kyle Collinsworth
Next Level: Cougars need polarizing Matt Carlino to make 'the leap'
BYU newcomer Frank Bartley knows the importance of family
Non-traditional Anson Winder a perfect fit for BYU system
What's Cooler Than Being Cool: Nate Austin and the 3-point shot
Freshman Eric Mika expected to fill big shoes
Josh Sharp: Come for the dunks, stay for the dirty work
Skyler Halford: More than just a deep threat
Happy Days: Luke Worthington and the power of fun