What's Cooler Than Being Cool: Nate Austin and the 3-point shot
Updated: October 14, 2013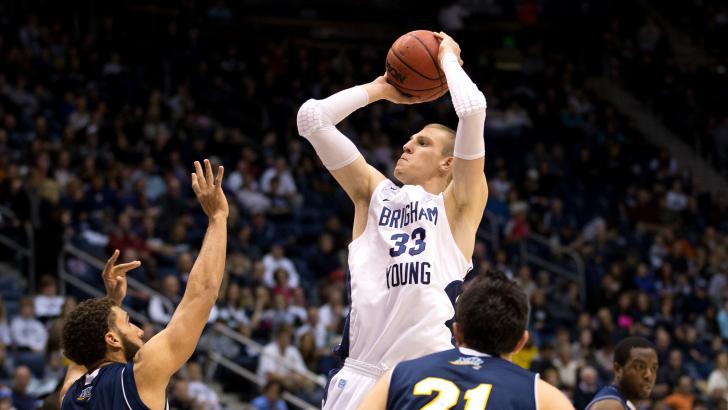 Ben Wagner dives deep into the stats to discover whether shooting threes is really the best use of Nate Austin's abilities. This is the latest installment of our ongoing season preview, profiling each member of the 2013-2014 BYU basketball team.
On November 30, 2011, BYU played Northern Arizona in Prescott. Little did then-freshman Nate Austin know, but this seemingly meaningless non-conference game would shape his basketball career for the next two seasons.
At that point — the seventh game of the season — Austin had seen relatively little court time, playing just 42 minutes and taking only six shots through six games. With BYU leading big against Northern Arizona, coach Dave Rose pulled the starters, letting the bench clean up the last few minutes of a blowout.
With 4:20 left in the game, after an NAU miss, the BYU offense swung the ball around the perimeter to the 6-foot-11 Austin, who — after just a moment's hesitation — squared up and shot the ball for the first three point attempt of his career, which, remarkably, went in.
That shot began a stretch of four consecutive games in which Austin hit a three-pointer, shooting 4-for-7 from deep during the streak. Before that stretch, Nate Austin had been a freshman struggling to get on the court. By the end, he was an established rotation player and an important part of BYU's frontcourt, finishing the season averaging 13 minutes per game.
His impressive three-point shooting, apart from earning him more minutes, firmly established his offensive role as what is known in basketball parlance as a "stretch four" — a power forward whose ability to shoot the three forces defensive big men out to the perimeter to guard him, freeing up space around the basket for guards to penetrate either for layups at the rim or passes out to open shooters. In the mind of the BYU coaches, fans, and Austin himself, Nate now had the proverbial green light — the go-ahead to shoot a three whenever he was open.
But the story doesn't end there. In fact, it becomes a sad story pretty quickly. Since that successful 4-for-7 stretch to open his career, Austin has shot 6-for-31 from behind the three point line — a dismal 19 percent.
Yet that 4-for-7 hot streak still informs the way we think about Nate Austin. Every time I bring this up with fellow BYU fans, the consensus seems to be that "Nate is a good three-point shooter." Once last season, on Twitter, someone told me he was just having a rough shooting patch, but that "he's shown he's capable of shooting threes" — all this despite the fact that if Austin were a baseball player, he wouldn't be able to get off the bench in single-A ball, much less start in the majors.
This unwillingness to embrace the math is found in coaches, too, who somehow continue to give Nate the green light despite overwhelming statistical evidence that a possession ending in a Nate Austin three point attempt is — 81 percent of the time over the last 61 games — a wasted possession.
Just last week on media day, Rose talked about Austin in terms of his ability to "stretch the defense" — or in other words, his ability to shoot threes. And this week, at the program's Boom Shakalaka skills competition, Nate will compete in the three-point shootout alongside Tyler Haws, Matt Carlino, Skyler Halford, and other members of the team who should actually be shooting threes on a regular basis.
In a sense, this is a small problem — Austin only attempted 15 three-point shots last season, making three. Over the course of an entire year, 12 missed shots may not seem like such a big deal. But BYU lost 5 games last season by seven points or fewer, and the team's scoring differential for the entire season was only +7.6 points per game. In most of the Cougars' close losses, Austin did shoot and miss a three, which is, in essence, a completely wasted offensive possession.
In an increasingly competitive West Coast Conference, not to mention BYU's strong non-conference schedule this coming season, the team simply cannot afford to waste offensive possessions — a single bad shot has and will cost the team valuable wins.
Furthermore, the loss of Brandon Davies and his fantastic post game leaves a gaping hole for this team. Rose needs Nate Austin to contribute more this coming season than he ever has in the past, especially on the offensive end. Yet, Austin has previously been a liability on offense. He has shown absolutely no post presence, and his most reliable move at this point is a baseline fadeaway jumper. At 6-foot-11, Austin should be able to dominate most other power forwards in the West Coast Conference by sheer length alone. With his height and wingspan, even a simple baby hook move in the post would be worth a few buckets a game in conference play.
Instead, Austin has relied heavily on offensive rebounds, mid-range jumpers and three-point shots to produce points — offensive strategies that, for him, range from inconsistent to borderline impossible. The three-point shooting remains the most troubling — after that hot start, every three-point attempt has been less likely to go in than the previous one — a discomforting trend. With Austin expected to contribute more to the offense and play more minutes this season, his shot volume will likely increase significantly — and if a large chunk of those shots are low-percentage three-pointers, the team could be looking at a lot of wasted offensive possessions.
This is most frustrating because Nate Austin does some great things on the basketball court. He's a tenacious rebounder and defender (despite a proclivity for foul trouble), and he has the uncanny ability to produce offensive rebounds in those moments when BYU seems to need them most. Any program in the country would want a player like Austin, whose heart and hustle are of the absolute highest caliber.
Nate clearly has the potential to be a solid offensive player if he can make a big leap forward in terms of his post game. But on a team with players like Kyle Collinsworth, Matt Carlino and Tyler Haws, possessions cannot and should not be wasted on shots with a 30 percent chance of going in, much less shots with a 19 percent chance of dropping.
Austin will be an important asset for Coach Rose this season — his defense and rebounding are going to be critical for a team with real depth problems at the post positions. On media day, Austin did say he focused on his offensive post game during the offseason. If he can demonstrate early in the year that he's truly developed a go-to post move, he could be a real weapon for BYU. On the other hand, if he keeps shooting low-percentage three-pointers without contributing down low, he'll continue to be a liability and a possession-waster on the offensive end.
Of course, I suppose it's always possible that Austin shot 50,000 three-pointers this summer, allowing him to come in and shoot 35 percent from deep this season. But until that happens, the statistics in no way support allowing Nate Austin to shoot another three-pointer. Ever.
Want more hoops action? Get your fix by reading more player profiles from our 2013-2014 season preview:
The cerebral Kyle Collinsworth
Next Level: Cougars need polarizing Matt Carlino to make 'the leap'
BYU newcomer Frank Bartley knows the importance of family
Non-traditional Anson Winder a perfect fit for BYU system
The Tyler Haws Offense: Can BYU's star scorer carry them alone?
Freshman Eric Mika expected to fill big shoes
Josh Sharp: Come for the dunks, stay for the dirty work
Skyler Halford: More than just a deep threat
Happy Days: Luke Worthington and the power of fun