BOOM SHAKALAKA: Newcomers shine in hoops fan fest
Updated: October 18, 2013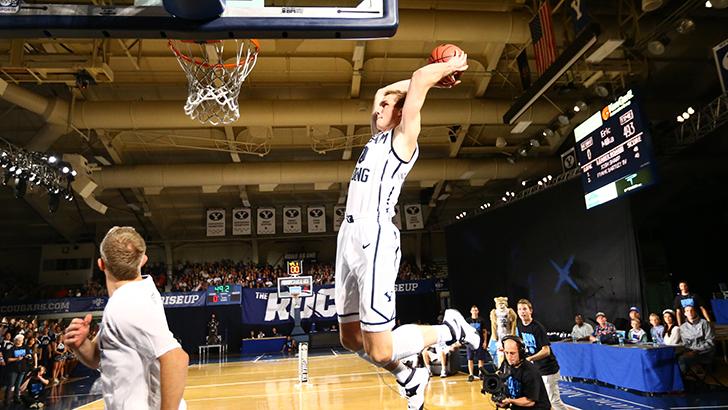 Newcomers Eric Mika and Skyler Halford walked away with top honors at BYU basketball's first ever Boom Shakalaka event.
BYU was trying something new: a Midnight Madness-inspired event for fans to get a look at the 2013-14 men's and women's basketball teams.
It didn't take long for a packed Smith Fieldhouse to see the raging success of Boom Shakalaka.
Junior college transfer Skyler Halford won the 3-point shooting contest, Matt Carlino's three-man squad won the skills competition, and freshman center Eric Mika swiped the slam dunk title from freshman roommate Frank Bartley IV in front of a wild crowd in Provo on Friday night.
Mika settled the score in the finals with a two-handed slam over a mini-dirt bike, set up by an alley-oop pass from freshman Luke Worthington for a score of 45 to top a winded Bartley. Mika also completed a pair of alley-oop dunks from fellow Lone Peak alum Tyler Haws, including a jam from behind the backboard that bounced off the underside of the hoop.
Josh Sharp set the crowd on fire with a one-handed jam over his wife, following the dunk up with an even rowdier PG-13-rated kiss.
Halford started the 3-point contest off by doing nothing but draining treys. The Salt Lake Community College transfer hit five of his first six 3-pointers in the first round to top the board with 17 points, setting up a matchup with standout Haws in the finals. Chase Fisher (12), Matt Carlino (13), Anson Winder (11) and Nate Austin (6) couldn't keep up.
Haws went first in the final round, and he finished by banking six of his final eight shots to set the standard at 16 points in the final shoot-off. Halford stepped to the line and struggled in the early going, shooting 50 percent through the first 10 shots.
But then the JuCo All-American caught fire, swishing nine of his last 10 shots — including a 2-point "Money Ball" to finish with 19 points and the long-range title.
A team comprised of Carlino, women's star Lexi Eaton and a fan unbothered by shot selection blitzed the field in the skills challenge to win in 47.4 seconds. Haws' team finished second in 1:04.2, followed by Worthington's squad in 1:06.4. Beset by a five-second judges' penalty, Winder's squad finished in 1:06.5.