Taysom Hill carries BYU to a win in Houston, 47-46
Updated: October 19, 2013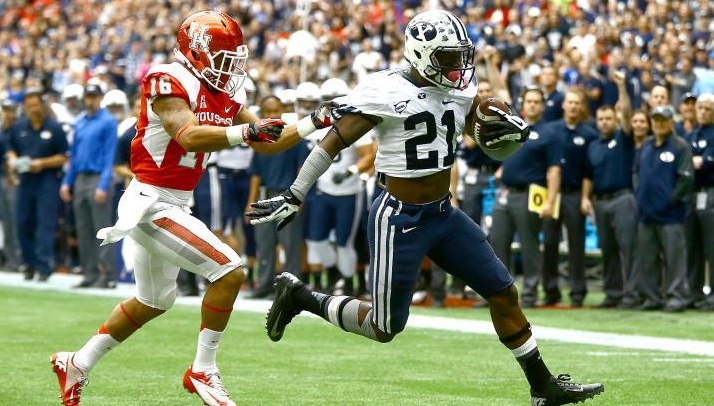 BYU survived a roller coaster, claiming a 47-46 win over Houston on the strength of Taysom Hill's monster day.
Taysom Hill's massive offensive outing lead BYU to a victory over previously-undefeated Houston today.
Hill finished the game with a 162.6 passing rating, accounting for a career-best 421 yards through the air. In addition to that, Hill ran the ball more than any other BYU player, with 143 yards on 33 rushes. All told, Hill accounted for 564 of BYU's 685 yards of offense.
The go-ahead score was provided by a back-shoulder fade pass from Hill to team captain Skyler Ridley late in the fourth quarter. Alani Fua's interception then sealed the victory after Houston had the ball with a chance to win the game with 1:08 left in the game, giving BYU their fourth straight win this year.
The game was a marathon, featuring more than 1,100 total yards, 60 first downs and six turnovers between the two teams. The 115 plays from scrimmage set a new BYU team record and tied an FBS record.
After the game, Bronco Mendenhall told BYUtv, "That was the wildest football that I've ever been part of. That was amazing. We didn't play well in terms a mistakes, but we made enough plays to win the game."
According to CougarStats.com, it was only the third victory in 48 tries that BYU has given up 46 or more points and still won. BYU is now 3-44-1 in that situation with other wins over Utah State in 1980 and New Mexico in 1994.
Cody Hoffman tied former BYU great Austin Collie with a BYU record 30 career touchdown receptions. Both he and Ridley caught 7 passes each and scored a touchdown.  Texas native Ross Apo added four catches and two touchdowns. Houston's freshman quarterback John O'Korn threw for 363 yards three touchdowns.
Both teams made big plays and big mistakes. Some of the miscues Mendenhall alluded to could be the 123 yards on 13 penalties or the three turnovers, one of which was an interception that was returned for a touchdown. The Houston Cougars had been one of the best teams at forcing turnovers all season and showed why today, now having forced 21 total on the season.
BYU opened the game strong, opening up a 17-7 lead in the first quarter, but points were given back easily as BYU gave up a 69-yard touchdown as well as a kickoff return by Demarcus Ayers.
By halftime the game had already passed most football games in terms of yards and points. Hill had engineered scoring drives of 41, 68, 75, 75, 76, and 73 yards in the first two quarters and BYU went into the break with 456 yards and 34 points, while Houston countered with 245 and 38.
The defenses took over briefly for the third quarter as the only scoring was provided by a Houston safety.
BYU was able to win the game by surviving the mistakes they made. One of those mistakes as giving up a 76-yard fourth-quarter pass, the longest of the season. After setting up the Houston offense on first and goal from the 4-yard line, the defense was able to hold. Houston kicker Richie Leone missed a 40-yard field goal, made much more difficult after a corner blitz by Mike Hague gave him his first career sack on the previous play.
Even after missing the field goal, Houston had gone ahead after again gashing BYU's defense. Houston lead 46-41 with 5:20 to go, but its two-point conversion try was dropped, leaving the door open for a single touchdown to take the lead.
Even after giving up 46 points, the time BYU's defense made plays was when it needed it the most. BYU elected to punt with 3:26 left with the ball near midfield, putting the game in Kyle Van Noy's and the rest of the defense's hands. After losing six yards, Houston punted back to midfield, setting up BYU's eventual go-ahead pass to Ridley.
BYU's defense missed safety Craig Bills, who was concussed early in the Georgia Tech game and did not play at all against Houston. After getting headaches during warmups trainers held him out. Jamaal Williams also suffered a hip pointer during the game and was held out.
Taysom Hill passed Steve Young for career rushing yards by a quarterback. He is now only trails Virgil Carter and the non-traditional Eldon Fortie.
BYU improves to 5-2 on the year while Houston falls to 5-1. Houston remains undefeated in American Conference play. BYU now returns to Provo play Boise State on ESPN on Friday night.