Freshman Eric Mika expected to fill big shoes
Updated: October 21, 2013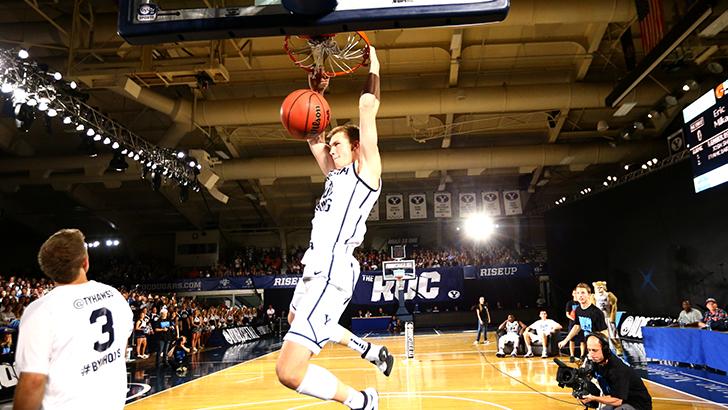 Sean Walker looks at BYU's most-heralded newcomer this year, big man Eric Mika. This is the latest installment of our ongoing season preview, profiling each member of the 2013-2014 BYU basketball team.
Fitting in as a freshman on any Division I basketball team can be a challenge. There is always a new offensive scheme to learn, new teammates to get to know, and more plays to master than the Jamaican bobsled team before the 1988 Winter Olympics in Calgary, Alberta.
Throw in the possibility of starting in an already thin frontcourt, as well as preparing to serve a mission for the LDS Church, and BYU freshman center Eric Mika has a lot of work to do between now and the Cougars' first exhibition game on October 26 against Colorado College.
But the big man from Lone Peak High School (Utah) is up to the challenge.
"I think I've gotten a lot stronger, and a lot faster," Mika told KSL.com after Wednesday's practice. "We did a lot of conditioning and a lot of weight lifting over the summer, and I think it's paying off. The pace that we run in practice, if I wasn't in good shape, I wouldn't be able to keep up."
Mika will have to keep up, as he is the likely starter in the middle of the paint. His freshman status won't matter to coach Dave Rose — the Cougars won't play a single senior this season, because they don't have any of those luxuries. Experience will be found in juniors Nate Austin, Matt Carlino, Tyler Haws, Anson Winder and Josh Sharp. Recently returned missionary Kyle Collinsworth, a sophomore, will also be forced to add leadership. Paired alongside Mika as freshmen likely to contribute significantly are Frank Bartley IV and Luke Worthington.
The task gets even more complicated when you glance at the roster by position. All but five players are listed as guards, though the 215-pound Collinsworth played a few minutes of power forward as a freshman nearly three years ago. Only Mika, who stands 6-foot-10 and 230 pounds, is a veritable center — with Austin backing him up and Worthington potentially seeing spot duty in certain lineups. The latter two are more likely to see time at the power forward spot, however, where they can showcase their offense.
Mika is used to playing all over the court, though. As a senior at Utah 5A state champion Lone Peak, he averaged 16.4 points on 67 percent shooting, 11.2 rebounds and 1.7 blocks per game. ESPN and Scout.com rated him the no. 3 center in the Class of 2013, and MaxPreps designated the Knights as its 2013 mythical National Champion.
That versatility and big-body athleticism led to scholarship offers from Weber State, Utah State, Utah, Stanford and Boston College before Mika ultimately signed with the Cougars. BYU's system and coaching staff played equal roles in the signing, though off-the-court factors (such as helping him serve a mission) also contributed to Mika's commitment.
Hanging around with Collinsworth and Haws, both of whom played a freshman season before leaving for missions, helps Mika prepare for the future — in a BYU uniform and the iconic missionary uniform of a white shirt and tie.
"They've given me a lot of tools and advice on my game, and off the court as well," Mika said of Haws and Collinsworth. "That's helped a lot."
And off the court is what Mika is looking forward to the most this year. The Knights traveled plenty during the high school standout's senior year. Lone Peak played teams from Maryland to Florida to Illinois to California. Seeing different parts of the country, as well as the West Coast Conference, will help Mika grow as a basketball player — and future missionary and representative of his faith.
"Last year, I had the opportunity to travel a lot with my high school team," Mika said. "That was the funnest part: hanging out with the guys on the road, going to cool places; it's always fun."
Traveling back to the NCAA Tournament after BYU's one-year absence would be the biggest fun of all.
Want more hoops action? Get your fix by reading more player profiles from our 2013-2014 season preview:
The cerebral Kyle Collinsworth
Next Level: Cougars need polarizing Matt Carlino to make 'the leap'
BYU newcomer Frank Bartley knows the importance of family
Non-traditional Anson Winder a perfect fit for BYU system
The Tyler Haws Offense: Can BYU's star scorer carry them alone?
What's Cooler Than Being Cool: Nate Austin and the 3-point shot
Josh Sharp: Come for the dunks, stay for the dirty work
Skyler Halford: More than just a deep threat
Happy Days: Luke Worthington and the power of fun