Cougar Tipoff: 7 things we learned from the scrimmage
Updated: October 23, 2013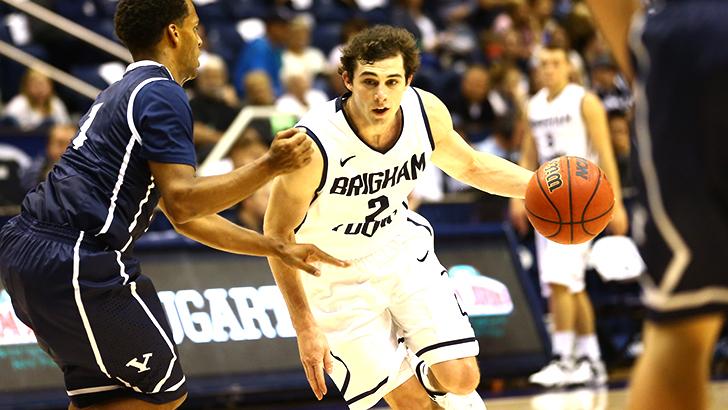 Wednesday's Cougar Tipoff may have been nothing but a scrimmage — but that doesn't mean there weren't valuable lessons to be learned.
College basketball is back. Well, kind of.
BYU unofficially kicked off their season with their annual Cougar Tipoff intra-squad scrimmage on Wednesday, showcasing coach Dave Rose's new look team to fans for the first time.
The results aren't particularly notable or important. The coaches divided up the squad evenly for the first half, before wiping the scoreboard at halftime and pitting the full squad against the scout team to get a better sense of how the team would operate in a more standard, game-like atmosphere.
There's not much use in dwelling on outcomes at this point. This was still a scrimmage, after all. The final scores and the game narrative don't really matter, so I won't bother much with them here. But that doesn't mean this exercise wasn't worthwhile — it was. There was much to be learned about the team and its progress collectively, as well as the players on an individual level. And those are the things fans should take away from Wednesday night.
So without further ado, here's a (by no means exhaustive) list of seven things we learned from the Cougar Tipoff:
1. This very well may be The Year of Carlino
Full disclosure: I am a Matt Carlino apologist. But I have a hard time imagining what even his most ardent detractors could find wrong with his performance in the scrimmage. Carlino finished with 31 points on 11-for-21 shooting (including 4-for-8 from deep) between the two halves, while also grabbing 5 boards, dishing out 3 assists and turning the ball over only a single time.
He relentlessly pushed the pace in transition and aggressively looked to break down the defense through penetration in the half-court. His shot selection and decision-making were excellent. Sure, he probably could have racked up more assists — but his relatively low total seemed to be more directly attributable to his teammates missing open looks than Matt failing to create opportunities. Overall, a very strong performance that should encourage all Cougar fans.
2. Tyler Haws is still a machine of basketball destruction
Nothing changed over the summer. Haws is still the same smooth yet ruthlessly efficient scorer that he was last season — and it didn't even seem like he was trying all that hard. Tyler finished with 28 points on 8-for-12 from the field, and conducted his own personal free throw parade, going 10-for-12 from the stripe.
All in all, a very Tyler Haws performance — and another very good sign for the BYU faithful. Perhaps the only surprising part of the night was when he threw down a powerful baseline jam as the first half wound down — a high-flying play that will no doubt make his father very proud. I suggest future opponents just stay out of his way.
3. Eric Mika did not look like a freshman
Nineteen points. Thirteen rebounds. In only 31 minutes. Does that sound like a true freshman to you? Sure, it was only a scrimmage, part of which was played against the scout team — but that doesn't change the fact that Mika looked very impressive in his first minutes as a Cougar.
The young big man moves extremely well around the basket and simply inhales rebounds with his broad shoulders and long arms. He's not Kevin McHale in the post yet, but he showed some promising offensive moves on the block, including a sweet baby hook over his left shoulder.
Oh, and he can jump really high. Carlino, Haws and Kyle Collinsworth all targeted him repeatedly for lob passes — with Carlino and Mika connecting in the halfcourt for an especially highlight-worthy two-hand slam. His athleticism gives BYU a new look they haven't had before down low, and if he can stay out of foul trouble and on the floor, Mika should be an immediate contributor.
4. But Luke Worthington and Frank Bartley did
Neither Worthington nor Bartley ever really seemed to find their groove in this one. Both made bone-headed turnovers in the backcourt and looked tentative on both sides of the ball. Worthington even airballed a free throw. That kind of stuff is to be expected — after all, this was their first time suiting up in a college uniform. It will almost certainly take time for both guys to get comfortable in Rose's system, and that's OK. They are freshman who look like freshman, and that's not a problem right now. It's really only notable because Eric Mika was so obviously not.
5. Kyle Collinsworth isn't quite there yet
I don't think anyone expected Collinsworth to return from his mission and play like Haws did last season. That would be unrealistic and unproductive. Haws was the exception, not the rule. It's hard to excel in basketball after spending two years away from the game, and we saw a little of that from Collinsworth on Wednesday.
It's not that he was bad, because he wasn't. He rebounded the ball very well, pulling in 10 boards, and also found his teammates for 7 assists. Those are all good things. But he struggled to find his own offense, scoring just 4 points on 2-for-7 shooting, and often looked passive on the offensive end of the floor.
That shouldn't be a major cause for concern right now — Kyle deserves to be given time to get back into the flow — but he will eventually need to provide more offensive punch if the Cougars are going to return to the NCAA tournament. Opponents will have to respect his ability to score in order to pull attention away from Haws. I believe Kyle can and will do that — but we'll just have to wait a bit while he regains his form.
6. Matt Carlino is your point guard (so far)
After much offseason discussion about whether or not Rose would really turn the lead guard role over to Collinsworth and move Carlino off the ball, it appears (at least from Wednesday's action) that no such change has been made yet.
When the two shared the floor, Matt served as the primary ball handler and signal-caller (with a few exceptions), with Kyle operating mostly in one of the forward positions. This balance seemed to work well, as it kept the ball in Carlino's hands, giving him the opportunity to push in transition and initiate the offense with his penetration in the halfcourt, while also allowing Collinsworth to use his passing ability to find cutters and open shooters within the flow of the offense.
When Carlino took a seat, Collinsworth assumed point guard duties with some mixed results. As mentioned above, Kyle looked a bit passive in his role, often content to simply pass the ball to the wing and screen away rather than putting pressure on the defense to open holes for himself or others. In fact, BYU went scoreless for five minutes against the scout team at one point, largely with Collinsworth at the helm and Haws and Carlino on the bench — possibly indicating that one of those two scorers may need to be on the floor at all times this year for BYU to remain potent offensively, at least until Kyle finds his rhythm.
7. The defense still looks pretty porous
BYU scores a lot of points. That's not likely to change this year or any time soon. But the Cougars have also given up quite a few points the last couple seasons, which led Rose to announce that the team's preseason focus would be on shoring up the defensive end of the court. Based on Wednesday's performance, progress appears to be slow in that regard.
In the second half, the regulars gave up 39 points to the scout team in 20 minutes of play. That would be good for an average of nearly 80 points over the course of a full game — a number that would have put them in the top 10 nationally last season. And this was BYU's scout team. Clearly there's still some more work to be done.
The problem continues to be the team's inability to stop penetration from the perimeter, setting off a chain reaction that requires interior defenders to rotate to the ball, which frees other players for open looks from long- and mid-range spots. If the scout team can move the ball quick enough to exploit those holes, you better believe a Division I-caliber team will, too.
None of this is new. Rose knows and understands the problem, and that's why he's dedicated the preseason to improving on it. At this point, the boys just aren't there yet — and that's OK right now. After all, there's still a few weeks left until these games count.