Josh Sharp: Come for the dunks, stay for the dirty work
Updated: October 25, 2013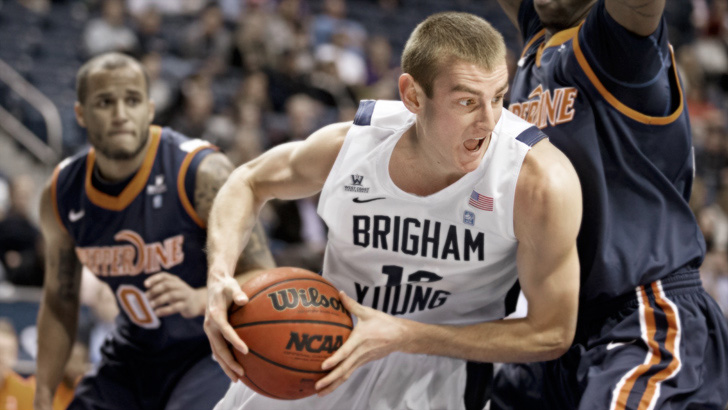 Most fans probably know Josh Sharp more for his high-flying dunks than his consistent rebounding — but the latter may be more important for BYU this year.
I'm not sure who first coined the term "role player." I doubt many players aspire or like to call themselves by that term. It sounds limiting and could be perceived as a bit of a put-down, but the game of basketball only puts five guys out on the floor at a time and it seems that nearly every professional or college team gets slimmed down in crunch-time to a seven- or eight-man rotation, and usually with one to three headlining stars.
I don't know anyone who expects Josh Sharp to lead the team in points this year. I'd be really surprised if he even lands in the top three, but playing alongside Tyler Haws, Matt Carlino, Eric Mika and Kyle Collinsworth, BYU basketball probably needs defense and rebounds more than points from Sharp this year.
Sharp can score, obviously, and the 2011-12 highlights compiled by BYU show one steal, one outside shot, one block and six dunks. Rebounds don't really make a highlight reel, but a player who cleans up a missed shot for a putback, gets open occasionally for an easy dunk, hustles on defense and cleans up the glass is probably what BYU coaches are hoping to see from Sharp this year. It's not pretty, but that's the kind of dirty work that a player can do to carve a role out for themselves.
Sharp is still probably best known for transferring to BYU from the University of Utah after his mission. (Although perhaps someday he will be known as the first BYU to player to jump over his wife for a dunk and then kiss her on national television, as he did at the Boom Shakalaka preview.) At the time of his transfer, Sharp said that he was influenced by not hearing from new Utah coach Larry Krystkowiak after he was first hired there. Krystkowiak accused BYU of recruiting Sharp as a missionary, saying, "There is an unwritten rule that players cannot be recruited by other schools while they are serving missions. To do so is not only inappropriate, but it creates an atmosphere of ill will."
As a freshman just off his mission, Sharp was only able to make minor contributions, playing seven minutes a game and averaging just over one point. He was better as a sophomore, with 4.4 points and 3.9 rebounds per game on the season. Not only did he end up playing an average of 18 minutes — despite missing the NIT run with a strained Achilles — but he also became more efficient, going from .17 points per minute to .24 points per minute.
If Sharp can bump up his playing time again as a junior to 25 or even 30 minutes a game, with those kinds of per-minute numbers, fans could perhaps see 7 or 8 points and rebounds a game, which is right in line with what former forward Noah Hartsock did as a junior. Hartsock, however, outweighed Sharp by nearly 50 pounds, so how Josh is able to match up with larger opponents may be something to watch this year.
It appears BYU fans can at least count on another year of fun dunks, either off quick cuts to the basket or cleaning up missed shots. That's not a bad deal. While few people likely expect Josh Sharp to be a big, headlining star on this team, he's doing pretty well so far for a guy without a single Division I offer coming out of high school. With a good foundation down from his first two years, it will be interesting to see what he can squeeze out of his last two years for the Cougars.
Want more hoops action? Get your fix by reading more player profiles from our 2013-2014 season preview:
The cerebral Kyle Collinsworth
Next Level: Cougars need polarizing Matt Carlino to make 'the leap'
BYU newcomer Frank Bartley knows the importance of family
Non-traditional Anson Winder a perfect fit for BYU system
The Tyler Haws Offense: Can BYU's star scorer carry them alone?
What's Cooler Than Being Cool: Nate Austin and the 3-point shot
Freshman Eric Mika expected to fill big shoes
Skyler Halford: More than just a deep threat
Happy Days: Luke Worthington and the power of fun