BYU sprints, then cruises past Boise State, 37-20
Updated: October 25, 2013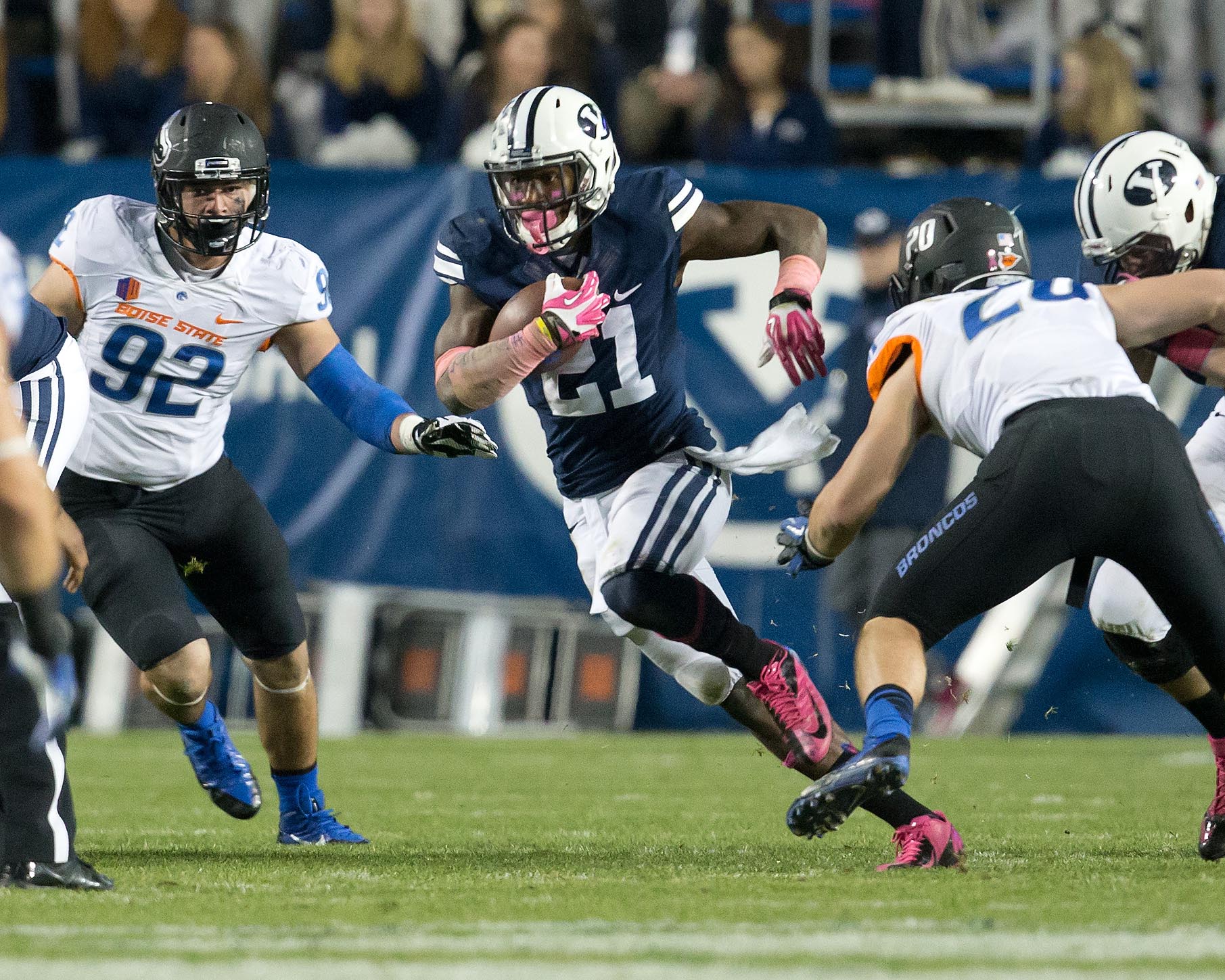 After dump-trucking Boise State's defense in the first half, Taysom Hill and the Cougars cruised to a three-score win.
The BYU Cougars came out mashing the gas again on Friday night, taking a 24-3 halftime lead and maintaining it for a 37-20 victory over the Boise State Broncos in Provo.
Despite a red zone trip that yielded zero points, BYU (6-2) still built a three-touchdown lead as Taysom Hill and company were firing all cylinders. Robert Anae dialed up a diverse attack, hitting screen passes, tight ends, and downfield shots as the Cougars approached 200 yards of offense in the first quarter. Scoring began with 6:46 left in the first frame when Hill ran untouched for a 20-yard score.
BYU took a 17-3 lead on consecutive big throws from Hill to some of his tall targets. A 37-yard pass to Cody Hoffman over the top of the defense set up the next play, when Ross Apo found enough separation to pull down a 35-yard touchdown from Hill.
Craig Bills forced the first turnover of the game on the next Boise State (5-3) possession when a dancing Shane Williams-Rhodes tip-toed for a little too long. Bills hit him from behind near the sideline to force the turnover. BYU made quick work of its midfield position, using six plays to score another touchdown on a four-yard fade to Cody Hoffman, giving the Cougars a 24-3 halftime lead.
The score made Hoffman BYU's all-time career leader in touchdown receptions with 31, surpassing Austin Collie. Hoffman now holds the receptions and touchdowns marks, and is now just 14 yards away from passing Collie for BYU's all-time receiving yards mark.
After racking up 376 yards in the first half, the BYU offense started running the ball more and failed to completely put away the ailing Broncos. Despite forcing three more turnovers, the Cougars scored only 13 more points — though Hill's 40-yard on-a-rope strike to Mitch Mathews with 8:50 left in the third quarter did essentially put the game away at the score of 31-6.
It wasn't all good news for BYU, especially for the defensive secondary. Daniel Sorenson was knocked out cold after taking an inadvertent knee to the head during a tackle attempt. Then, Mike Hague seemed to hurt his shoulder, later returned to action, and then was forced out of the game with an apparent head injury of his own. Skye PoVey moved from corner, to safety, and back to corner as BYU managed the injuries, with Blake Morgan and Dallin Leavitt seeing lots of time in the second half.
The defense played well again, stopping scores in the first half and really only giving up points with the game in hand and with a banged-up secondary. Uani 'Unga recorded 15 tackles (one for loss), 1 pass break up, and 1 forced fumble, leading a BYU defense that held Boise State to 2-for-10 on fourth downs over the last two contests. Boise State went more than 100 minutes without scoring a touchdown on BYU's defense.
Taysom Hill finished the game throwing 27-for-41 for 339 yards and 3 touchdowns. After a horrid three-game start in which Hill didn't surpass a 38% completion rate in any game, he is now at 52.9% completion for the season. Jamaal Williams racked up 107 yards on 21 carries, while Hill added 69 yards on the ground.
BYU now prepares for a road game against Wisconsin with a bye week, hopefully allowing concussed players Sorenson, Hague, and Marques Johnson to return to action. Wisconsin is off this week and plays Iowa (4-3) next week, so we should be looking at a matchup of two 6-2 teams in what is hopefully a well-televised game.
Overall, the offense is really starting to come together, looking like the machine fans might expect from a high-tempo, explosive offense. The last hurdle for the BYU offense seems to be cashing in on red zone opportunities. An interception in the end zone last week prevented BYU from a 31-point quarter against Houston. This week, two drives stalled in the red zone due to three false starts on 3rd down. One resulted in a field goal, the other, no points. BYU left 11 points on the field during its first quarter steamrolling.
Still, many things are going right. We're a far cry from a 1-2 start that left some fans wondering if BYU could even be bowl eligible this season. The defense was as suffocating in the first quarter as the offense was powerful. BYU ran 91 offensive plays with zero turnovers. Taysom Hill is a player, receivers and tight ends alike now seem reliable, and the hope of winning a game like a road contest against the Wisconsin Badgers is as high as it ever could be.