Haws, Carlino and Collinsworth power Cougars past Weber State
Updated: November 8, 2013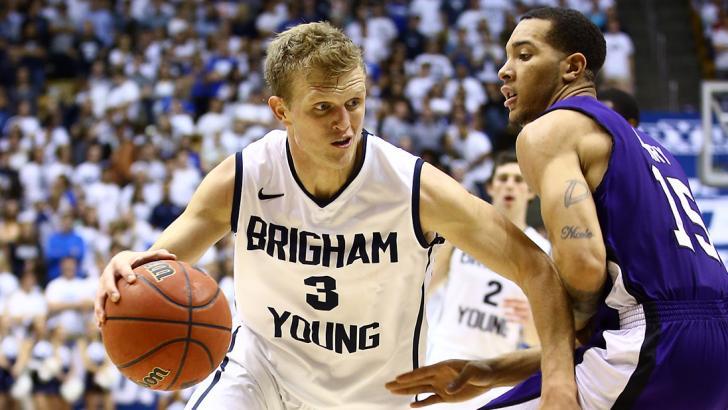 BYU started hot and held on late to dispose of a pesky Wildcats squad, 81-72, in the season opener.
It started with a bang.
The BYU men's basketball team roared out of the gate in their first game of the year, catching a nervous Weber State squad off-guard in front of a respectable crowd of 15,696 at the Marriott Center on Friday. The home team's lead ballooned to as many as 19 points during the opening stanza, before the Wildcats made a valiant effort to close the gap — eventually falling to the Cougars by a 81-72 margin.
Dave Rose's boys were paced all night by what appears to be an updated incarnation of "The Big Three." Tyler Haws led BYU in both scoring and rebounds, finishing with 28 points and a career-high 13 rebounds, while Matt Carlino added 22 points, 6 rebounds and 6 assists of his own. Kyle Collinsworth was also steady, chipping in 11 points, 10 rebounds and 6 assists in his first official game since returning from a two-year LDS mission.
Outside those three pillars, the offensive production was spotty. Rose used every scholarship player on the roster, trying to give his guys more consistent breaks as they continue to adapt to the Cougars' preferred breakneck pace. And boy do they play fast — the average BYU possession lasted only 14 seconds, the result of relentless fast-breaking off opponents' misses and a new halfcourt approach that places a premium on quick dribble penetration.
But the focus shouldn't be solely on the offense. BYU has never had trouble scoring points in the past, and it appears this year will be no different. What needed significant improvement was the Cougars' defense, a point of emphasis for Rose throughout the preseason.
The results? A mixed bag thus far. BYU started out great, holding Weber State to only 7 points through 10 minutes of first half play. There was a lot of good energy and aggression on the defensive end of the floor, with guys moving their feet, attacking passing lanes and rotating quickly in their new man-to-man system. But as the pace of the game began to take its toll, the Cougars became visibly tired and the defense became noticeably less crisp — closeouts weren't as disciplined, transition defense was somewhat half-hearted, and the Wildcat guards found themselves able to get into the paint much more frequently.
Ultimately, BYU gave up 72 points — a disturbingly high number considering how low their opponents' output was through the first quarter of the game. Something stopped working after the 10 minute mark (and to be fair, perhaps Weber just started making some of the good looks they were missing before), so there's obviously more work to be done. But the Cougars did show that they can play the type of man-to-man defense that Rose wants to see. The ability is there. Now they just need to find some consistency.
Overall, this was a solid way to open the season. Weber State will likely be the class of the Big Sky Conference this year, and a comfortable win over a talented opponent is never a bad thing in my book. As always, there's a variety of both encouraging and discouraging lessons to be taken away from the evening, but the most important one is likely the simplest to understand: 1-0 feels a whole lot better than 0-1.
Stray Observations
There's no question that Haws, Carlino and Collinsworth are going to have to carry this team on the offensive end. Sure, it's possible that guys like Eric Mika or Anson Winder will chip in 5-7 points per game, and perhaps even turn in a breakout performance every once in a while — but the lion's share of the scoring and shot creation will have to come from one of those three guys. Based on what we saw tonight, it appears the new "Big Three" is up to the challenge.
Haws continued his strange shooting slump through the first 30 minutes of this one. Following in the footsteps of his exhibition performances, the All-America candidate struggled to hit shots early on and was a dismal 4-for-13 at one point in the second half. However, because Tyler Haws is still Tyler Haws — namely, he's really awesome at basketball — he flipped a switch and went into destroyer mode down the stretch, going 3-for-5 for 10 points to close out the game when the Cougars need him most. He was also an animal on the glass throughout, grabbing seemingly every rebound known to mankind. So even when Tyler struggles, he still scores 28 points, grabs more rebounds than he ever has before, and is just generally awesome. Yeah, he's that good.
If the world were a just and reasonable place, Matt Carlino's line of 22-6-6 would shut up a lot of the boobirds who make it their life's work to criticize his game. However, this is not the way the world works, so I am yet again doomed to be disappointed. Nevertheless, we cannot go on without mentioning just how fantastic Matty was in this one. He got to the rim at will, often finishing through contact. He passed the ball well, setting up his teammates for open looks and only turning it over twice. And he provided his trademark spark in every facet of the game, especially in moments when the Cougars' momentum hit a lull. It was a classic Carlino performance — and BYU's going to need a lot more of those going forward.
Underrated stat line of the night: Kyle Collinsworth with an 11-10-6 game. I believe we'll see Kyle notch a triple-double before the season is out. He's just such a balanced, skilled player. His shot-making isn't quite there yet (he avoids jumpshots like the plague, no matter how open he is), but he has the athleticism and size to exploit mismatches and get to the rim, and the court vision to distribute effectively. As he becomes more comfortable with the game and his role, look for him to continue to blossom.
Only 7 turnovers for the Cougars on Friday. Usually early season games get a little sloppy and the turnovers get out of control, but BYU really took care of the ball in this one. Here's to hoping this is the beginning of a larger trend.
Nate Austin, Eric Mika and Luke Worthington all saw time in the frontcourt — and you'll probably continue to see a combination of all three moving forward. Each brings his own unique strength. Austin is longer than life itself and provides great hustle and rebounding, but he's a fairly average one-on-one defender and got repeatedly exposed by Kyle Tresnak (who is admittedly very good) in this one. Mika provides more athleticism and a more polished offensive post-up game, but his understanding of where he can and can't put his hands while defending is still a work in progress, and he may struggle with foul trouble as he learns. Luke Worthington is probably the team's best interior defender — he's just so solid and he hardly ever fouls — but his offensive game is virtually nonexistent at this point, so Rose can likely only afford to use him in spurts. It seems like he'll stick with a "by committee" approach for the foreseeable future, and that's probably the right call.
If BYU's problem in the past has been shooting too many threes, even if they weren't very good at actually making them, it appears that issue has been ameliorated for at least one game. The Cougars attempted only nine deep balls against Weber, a marked difference from the nearly 18 a game they took last year. If this was by design, I like where Rose's head is at. This BYU squad may not have a ton of great outside shooters (and neither did the last one, but I digress), but it does have a surplus of good athletes. Using that extra quickness to re-focus on dribble penetration and getting to the rim for easy baskets seems like a good shift in strategy. We can only hope it continues.
The Cougars got only 11 points from their bench on Friday. Yikes. Hooray for depth?
I was surprised to see Frank Bartley, Skyler Halford and Josh Sharp all get fewer than five minutes apiece. Granted, when they did get in, Weber seemed to seize the opportunity and tighten the score to the point where Rose felt he had to go back to his starters. They were all negatives in plus-minus on the night, and Bartley managed to rack up three fouls in his five minutes — he really can't be a fan of the new emphasis on hand check fouls — so there's obviously ample room for improvement. It will be interesting to see how Rose handles the bench at Stanford.
Haws, Carlino and Collinsworth are going to carry this team, but I'm curious to see if and/or how Rose will police their minutes moving forward. They played 36, 36 and 37 minutes respectively against Weber — a huge number that is fine for one game, but may not be sustainable over the course of a long, grinding college basketball season, especially for a jump-shooter like Haws. Just something to keep an eye on.
As has become customary following the conclusion of each home game, BYU has released the team's next lip-synced hype video. The latest edition features Eric Mika rapping The Notorious B.I.G.'s "Mo Money Mo Problems" in front of expensive cars and a very committed troupe of background dancers, while Josh Sharp adds the requisite awkwardness by silently lurking like a velociraptor who really loves cargo shorts. What more could you want out of life?