BYU's Big Three powers Cougars in sprint past Stanford, 112-103
Updated: November 12, 2013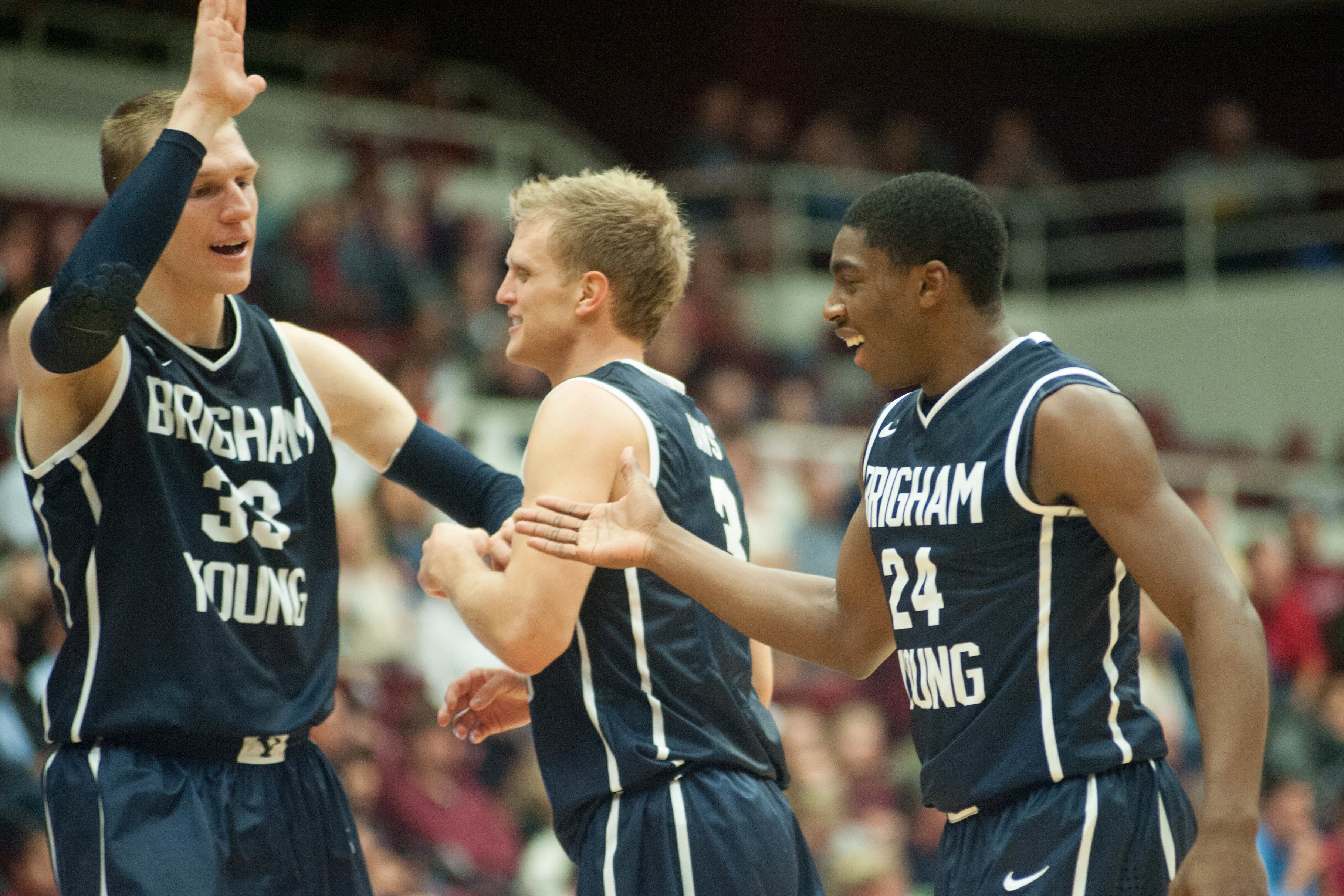 BYU outpaced Stanford on its home floor from wire to wire, turning in an impressive road win.
On 31 points from Tyler Haws, the BYU Cougars showed off a high-powered offense in a 112-103 road win over the Stanford Cardinal on Monday night.
Quick microcosm play: There was this play with six minutes left in the first half, when after a long rebound, BYU hit the break. Kyle Collinsworth found himself with a couple of options in, if I remember correctly, what was a 3 on 2. He looked left, saw Frank Bartley IV in the far corner, launched a pinpoint pass that, in one motion, Bartley turned into a calm jumper. He nailed it. Stanford called a timeout. We went to commercial.
As Steve mentioned in his recap of the Weber State win, this team will live and die with the success or failure of BYU's current "Big Three" of Matt Carlino, Tyler Haws, and Kyle Collinsworth. Other players definitely contributed to this win–Nate Austin and Anson Winder shot the ball well, and Eric Mika looked as great as I imagined he would, both on the glass and on defense–but this win was a Haws-Carlino-Collinsworth triumvirate win. Check it:
Tyler Haws: 31 points, 8 rebounds, 3 assists, 3 steals
Matt Carlino: 26 points, 5 rebounds, 3 assists
Kyle Collinsworth: 14 points, 9 assists, 7 rebounds, 3 steals, 1 block
What's that? All you really wanted from this recap was for me to aggregate those numbers into a pretend line for a Transcendent, three-headed SuperPlayer? Well guys, you know I've got this:
Hawrlinosworth: 71 points, 20 rebounds, 15 assists, 6 steals, 1 block.
First, on Haws: You take a couple days off from watching Tyler Haws, and you forget that he's really not an athlete. So then, you spend the first few minutes of a game wondering how he's going to get his shots off, how he's going to get his 30 points, or even how he's going to help BYU at all. But then, what you've also forgotten is that Tyler Haws' entire game is built around getting shots off, clean jump shots, regardless of who is guarding him. Then they start coming, like the roll-off-the-screen-back-cut fadeaway in the deep corner that he drilled over two guys in the late second half or the fastbreak, pull-up jumper that he drained on a dime a couple possessions later, and then you remember: Tyler Haws is the end of your lifelong journey for a Basketball Soulmate.
Second, on Carlino: This was some relentless rim attacking from Matt, ALL GAME LONG. He just kept pounding at Stanford's interior defense, and pounding, and pounding. It was a determined, powerful, effective assault on the basket, and all game long I kept thinking to myself: "There is no one else on this roster that could do this for us." Matt Carlino was our perimeter-defense shattering artillery line, our rage-powered avatar.
Third, on Collinsworth: At halftime, I was convinced we were watching the most complete game Kyle Collinsworth has ever played, and it's only his second regular season game back from his mission. He was intelligent as a passer, diligent as a rebounder, and effective as a scorer, getting into the paint and to the line.
Other notes:
The final score–BYU: 112, Stanford 103–was not only a ridiculous obliteration of the Over/Under (155), but also somewhat deceiving. After an 11-11 tie, BYU led this thing from wire-to-wire, and the last 10 minutes of the second half weren't nearly as close as the score suggests. (It was an 18-point game with five minutes left.) This was a more dominant win than just 9 points.
A quality win against a Pac-12 opponent only two games into the season portends a lot of great things for this season. If Stanford has even a decent season, and I think it will, BYU has already gotten a resume-building win.
In the interest of prioritizing good process over good outcomes, I should say that as well as Carlino and Collinsworth played tonight, they both missed a wide-open Tyler Haws on multiple trips into the key. When the defense collapses on them, I hope those two will find Haws, who's an excellent off-the-ball mover, when he's open. Again, Carlino and Collinsworth played lights-out ball tonight, and even scored on some of those possessions where they missed an opportunity to dish out to Haws, but again, process over outcomes.
BYU sits at a clean 2-0 and prepares for a three-game home stand: Mount Saint Mary's on Nov. 15, Colorado Mesa on Nov. 16, and Iowa State on Nov. 20.