Stricter rules, whistle-happy referees will benefit BYU
Updated: November 14, 2013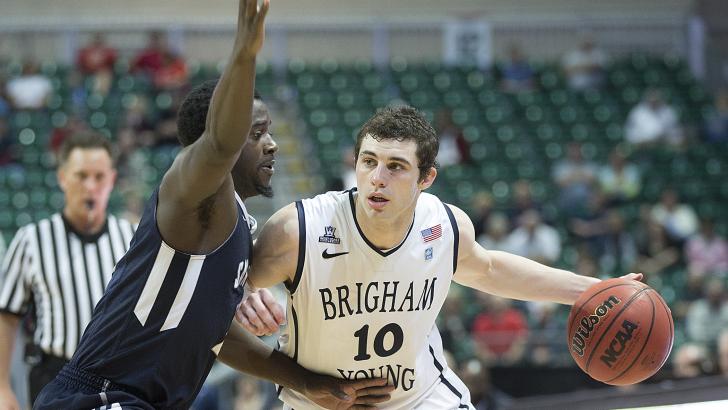 The referees are blowing their whistles more frequently this season — and that's a very good thing for the Cougars.
As anyone who has watched a college basketball game this season has seen, the NCAA has instructed referees to start calling games much more tightly than they have in the past. College basketball had been getting more and more physical in the last decade or two and scoring was getting lower and lower as a result.
Slow, low-scoring slugfests aren't all that appealing to most basketball fans, and losing fans is not good for any of the stakeholders in college hoops. So the NCAA decided to try a novel approach — start enforcing the rules already on the books. Whereas defenders were allowed to beat the tar out of their opponents last season ("no blood, no foul"), referees have been instructed to call fouls every time they occur this year.
Of course, the change in rule enforcement has led to a lot more fouls being called early in the 2013-2014 season than last year. And, of course, many fans are irritated about the fouls. Cries of "let them play!" were inevitable. But BYU fans should be thrilled about the new emphasis. Refs actually calling fouls is a significant benefit to a fast-paced, good-shooting team like BYU. This emphasis change will help BYU win games that they might have lost if the old, rugby-style enforcement were still in place.
Remember Jimmer Fredette's junior season? That was the year BYU finally, after decades of futility, made it past the round of 64 by beating Florida. In the next round, BYU faced Frank Martin's Kansas State team. Martin had his aggressive guards mug Jimmer for 40 straight minutes. Had the refs called all the fouls against Jimmer that day, he would have shot hundreds of free throws — but instead the ref "let them play" and KSU advanced while BYU was sent home.
Similarly, once our opponents figured out how good Tyler Haws is, he was mugged every night in the WCC last season. Opposing coaches knew the refs were going to "let them play," so those coaches made sure they had their guys all but tackle Haws every time down the floor. If the new rule enforcement holds up, Tyler Haws and other great shooters like him will be set free. No more "chucking" Haws as he cuts without the ball. That means Haws will get more open looks and that he'll get more free throws. With the new emphasis, Haws has a shot at averaging 30 points a night this season.
And Haws isn't the only BYU guy who will benefit from the new emphasis. Matt Carlino, Kyle Collinsworth, Anson Winder and Skyler Halford can all fill it up from the field and from the free throw line. All of them will benefit. If BYU hits free throws consistently, nights in which the team scores 100-plus points might become common this season.
So three cheers for the new whistle-happy refs! It's all good for BYU.