Travel Guide: Visiting Notre Dame
Updated: November 19, 2013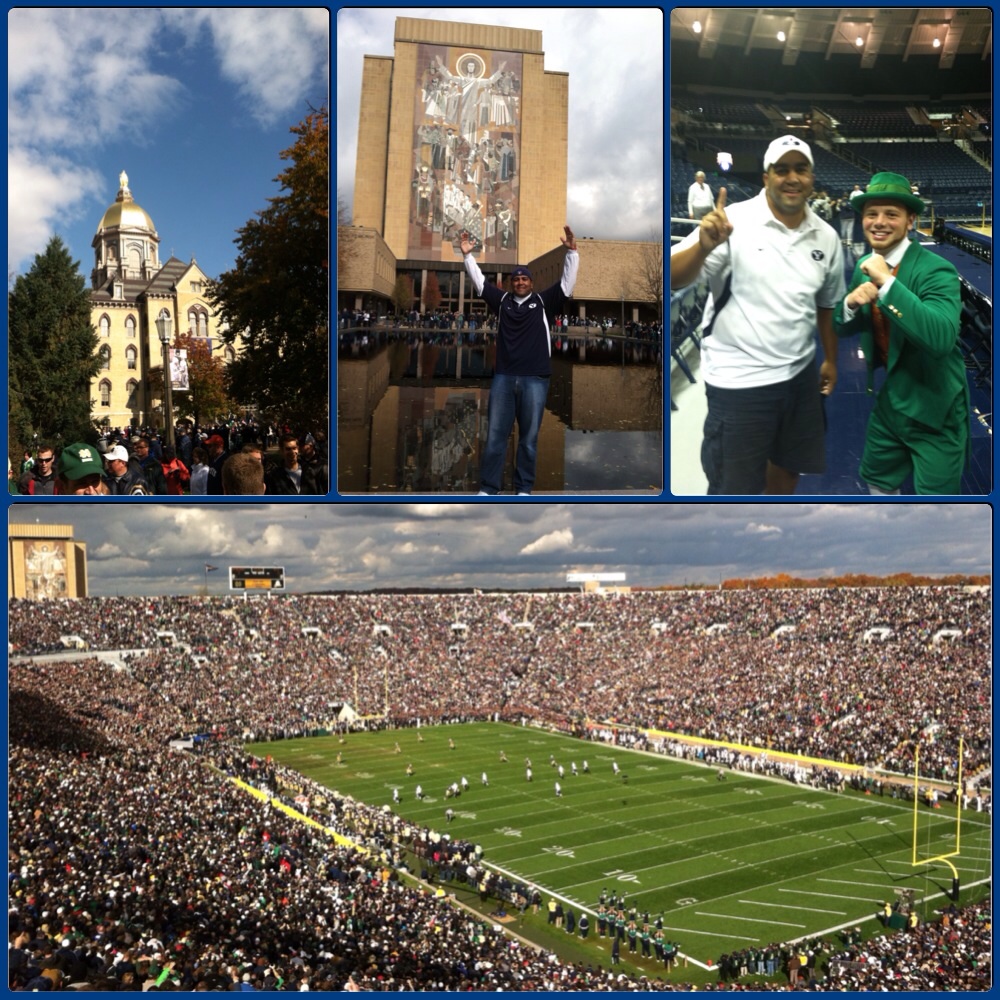 The Cougar Roadie helps BYU fans get the most out of their trip to South Bend this weekend.
I've been to a lot of campuses and stadiums across the nation over the last seven years, and I can easily say none of them come close to the atmosphere and experience of going to a game at Notre Dame. A fall visit to South Bend should be on any college football fan's bucket list. Pictures and videos don't do it justice, you've got to experience the sights, sounds, smells and traditions in person.
Getting There:
There are a few decent options to get to Notre Dame; none are convenient. Contrary to what I had previously envisioned, South Bend is a very small town located in the middle of nowhere. It has a regional airport, but that's a pricey option for those who choose it. Most will fly into Chicago, Detroit or Indianapolis and drive from there. Warning to those driving from Chicago, either get a toll pass from the rental car place, or be prepared with lots of one dollar bills and quarters. You'll pass 7-8 toll booths on the 115 mile drive from ORD/Midway. Some of which, require COINS ONLY. After fighting the toll battle last year, I'll definitely be getting the toll pass this year.
I didn't receive many good food recommendations from locals for this trip, so I'll omit that section as there's plenty of other info to cover. The only thing I'd suggest to any flying into Chicago, is to take the extra time to stop somewhere for authentic deep dish pizza (I loved Gino's East). You may think you know what "deep dish" is, but I assure you it's nothing like what Chicago makes. It will take 45-50 minutes to get your pie after it's been ordered, but it's worth the wait.
The Notre Dame Experience
To get the full ND experience, you have to get to South Bend on Friday, if not Thursday. There's way too much to see and do on Saturday alone, and some events are only available Thursday and Friday. Also, the crowds on campus Saturday will be like none you've ever seen, so don't expect to be able to cram everything in on Saturday…you can't. Rather than listing a day to day plan of what to do and see, I'll list out the many options that are available in South Bend. Just know in advance, the earlier you go in the week, the easier it will be to get around and spend time at each. Naturally, crowds will grow as it gets closer to kickoff.
Stadium Tours: If you want to take a full stadium tour, you must be there by noon on Thursday. After that, tours are shutdown for game. For those who arrive on Friday, they still allow "Tunnel Tours" that let you walk down the tunnel to the field and take field level pictures. No tours are allowed on Saturday. For details, please see links at the bottom of the post.
ND Bookstore: One of the best college bookstores I have ever seen. They have two very convenient locations for travelling fans. The main campus
bookstore is HUGE. It's a gorgeous building both inside and out. The crowds won't be too bad Thursday and Friday, but on Saturday it becomes a zoo. There is also a satellite location just across the street from campus. It's a much smaller store, but carries lots of game day gear and even has some cool exhibits not available in the campus store. My recommendations: First, check out that week's freshly painted game helmet. The real gold flake used in the paint is amazing when seen up close, I never noticed how shiny the "golden domes" really are in person. Second, purchase a commemorative mini football for the BYU game. Each week ND produces game specific items for that week's opponent. It's a great keepsake you'll be glad you took home.
Trumpets Under the Dome: At 4:00 on Friday, the ND Band Trumpets will meet under the gold dome inside the Admin building to play the fight song. This is kind of the unofficial kickoff to ND Football weekend.
Pep Rally: One of the biggest events of the weekend is the Friday night football pep rally at Purcell Pavilion (B-Ball Arena) *this has been changed to the Compton Ice Arena — same parking as Purcell Pavilion/Joyce Center. The rally starts at 6:00
and doors open at 5:00. The event is general admission and reaches full capacity every week, so be sure to get there early or you'll be locked out. It will include performances by the band and cheer squad, short talks by coaches and players, as well as a guest speaker for the week. Previous speakers have included Lou Holtz, Joe Theismann, Rocket Ismail, Regis Philbin and Digger Phelps.
Drumline Concert: For those night owls looking to take in every last drop of Irish Spirit, the ND Drumline meets on the steps of the Admin building at midnight on Friday to play a concert for students and fans.
Sports Heritage Hall: ND's version of their campus hall of fame is located inside the Joyce Center on the 2nd floor, just steps from the stadium. You can access this from outside, or there's actually doors directly from Purcell Pavilion's concourse that connect to the Hall. It's a large open room that's surrounded by trophy cases and memorabilia displays. A cool sight for those who haven't seen it.
The Grotto: Many local fans say it's their favorite spot on campus. The Grotto is just a short walk down the path behind the Basilica. It's a peaceful area surrounded by trees where you can light a candle inside the protected rock walled cave.
GAME DAY!
Many of the activities listed above are also open and available on game day, they'll just be a bit more crowded. But some of the coolest events of the weekend are activities that only take place on Saturday leading up to kickoff. Unlike Provo, where football is an event that's 3-4 hours on a Saturday, in South Bend, football is an all-day event. I suggest getting to campus early as last year there were probably 30,000 fans on campus by 11 AM. It's an electric atmosphere and ND fans are some of the nicest and most accommodating I've met. If you're wearing BYU gear (which you better be), don't be surprised when many engage you in conversation about BYU, your hometown, their campus and football in general. They're great people.
Basilica of the Sacred Heart: Right next to the Admin Building (Golden Dome) is the Basilica. It is open to the public to enter at anytime. If you time it right, the ND players and coaches will all walk through the public and attend a pre-game mass about 3 hours before kick. I haven't been in many Cathedrals, but I'd imagine this one is near the top of the list in the US.
Notre Dame Experience: 10-3 in the Joyce Center. It's basically the same as BYU does in front of LES, but at ND they do it indoors. It's a bunch of booths with fan activities and stuff for kids.
Bond Hall Band Concert: The ND Band will play a full concert on the steps of Bond Hall on the edge of campus about 90 mins before kick. There's a large quad in front where a few thousand fans will gather to listen. It's a pretty cool event if you have already seen the rest of campus.
ND Player Walk: Easily the coolest player walk I've seen. The team takes a route that travels all through the campus on their way into the stadium. Fans will line up 5-10 deep on the pathways to cheer on the team over nearly a half mile route. Adding to the excitement, the team is led by the bagpipes and drummers of the Irish Guard. It's truly a spectacle that you need to see. I suggest lining up on the long walkway between Touchdown Jesus and the stadium. If you're there early, the end of the walk is at the same entrance where BYU's buses will drop off the boys in blue for the game. Last year we got to see both just minutes apart. Here is a link to a video I took of last year's ND Player Walk.
ND Stadium: The stadium itself at ND is hallowed ground for college fans. You'll notice quite early that many of the amenities and frills of newer stadiums are missing. It's a PA system, wooden benches and beat up green grass — period. But it honestly is a peaceful change that I quite enjoyed. One of the coolest features inside the stadium is that there is NO advertising allowed! No bright orange neon signs. No "3rd down conversions brought to you by ____." No scrolling ads across any neon video boards. None of that. It's just pure college football on a blank canvas.
My Personal Thoughts
I love Notre Dame — everything about it. I know many people love to hate the Irish, but after my trip last year, a piece of me took a rooting interest in ND Football. After meeting so many gracious fans and seeing the tradition, passion and support, it's hard not to like them. So if this will be your first trip to South Bend, head to town with an open mind. You might surprise yourself. After seeing all the sites around campus, pause for a moment before you head into the stadium and realize that for many, it's hallowed ground. I know the seats aren't exactly comfy, and it's going to be cold; but take the time to relax and enjoy a great game on the field without any of the distractions off it. After all, football is what brought you to South Bend, so you might as well take the time to enjoy it.
PS: Hoffman is *still* open. So this week, I'd expect him to finally catch the TD pass we've all been waiting a year for.
Useful Links from ND's Athletic Website:
Cell Phone Stations – On Football Fridays and Game Day Saturdays you will find cell phone stations located throughout campus to charge your phone.