Advanced Stats: BYU has good shot at beating Notre Dame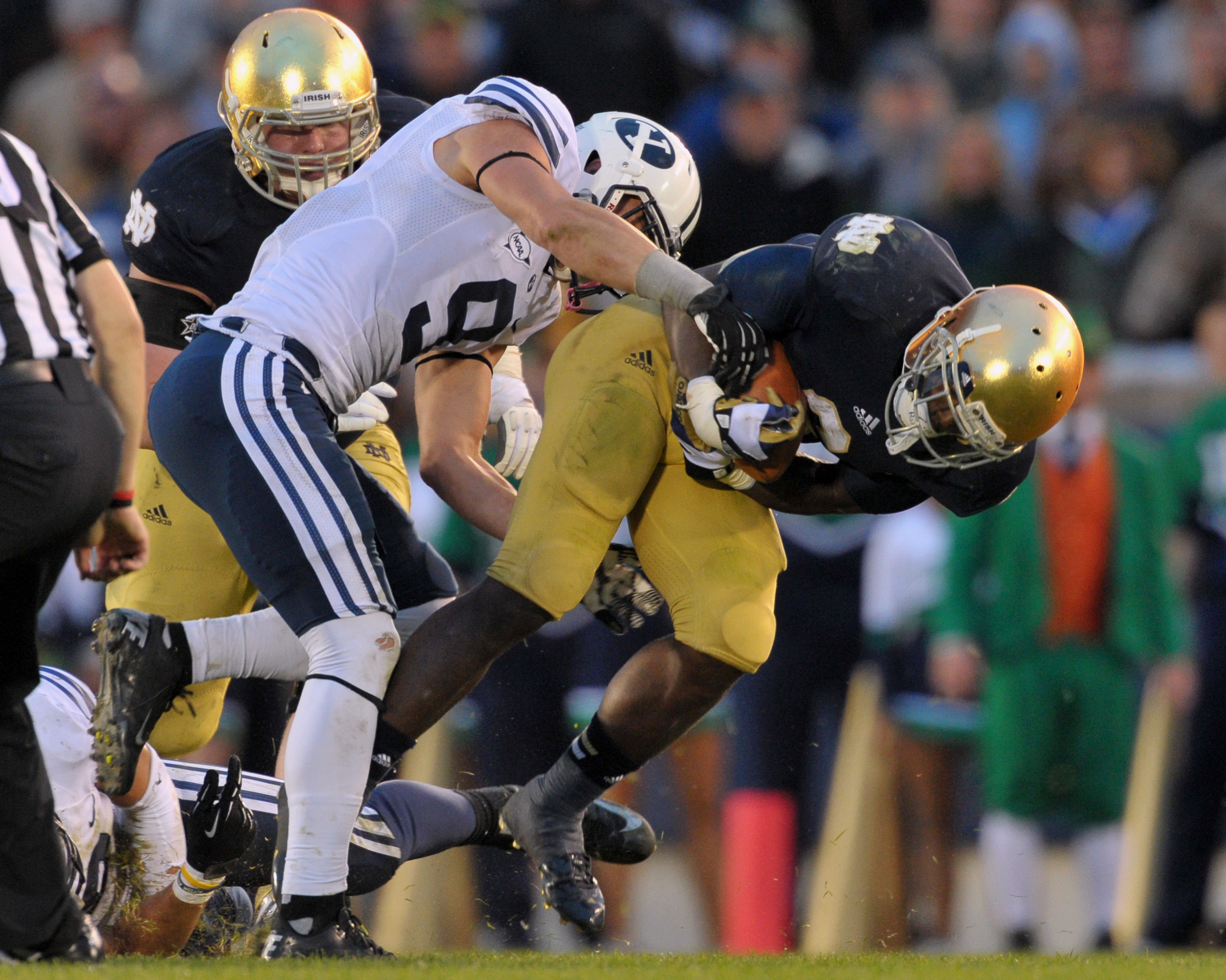 Greg Welch analyzes advanced statistics to pinpoint BYU's chances of a big win in South Bend.
After predicting that BYU would beat Virginia, lose to Texas, and beat Utah, I stopped making predictions before games this year. So this article isn't about making a prediction. However, after a nearly season's worth of data has piled up, there is good information of what is perhaps fair to expect in Saturday's game in South Bend. So I have compared the body of the work the teams have put on the field in other games this year.
The data below comes from Football Outsiders, whose S&P+ stats are based on analysis of the play-by-play data from each game. With more than 140,000 plays to look at, it at least draws from a wide source of information.
So, what is a reasonable expectation for BYU and Notre Dame fans this Saturday? The data won't tell us what will happen, but I think it's fair to ask how are BYU's offense and defense ranked? How are Notre Dame's offense and defense ranked? And most importantly, how has BYU and Notre Dame played when they have played other teams with similar rankings this year?
The charts and graphs below show this. Each logo shows a game. It shows how many points were scored (0-50) and how good the opponent is (1-125).  The gray dotted line shows a rough overall trend. The future opponents for each team and the ranking of each future opponents offense or defense is labeled.
The data does not take into account special teams or defensive touchdowns, which radically swing the results of games. Also, the data does not consider the improvement teams make over the year, or the loss of players to injury.
The first two charts compare BYU's offense against the defenses its has played, and Notre Dame's defenses vs the offenses it has played. Basically, the two charts on this page try to answer the question, how many points will BYU score on Saturday?
| | | |
| --- | --- | --- |
| Team | D Ranking | BYU O's points |
| Virginia | 34 | 16 |
| Texas | 79 | 40 |
| Utah | 22 | 13 |
| Middle Tennessee | 93 | 28 |
| Utah State | 26 | 24 |
| Georgia Tech | 73 | 31 |
| Houston | 54 | 47 |
| Boise State | 38 | 37 |
| Wisconsin | 7 | 17 |
| Notre Dame | 59 | ?? |
| Nevada | 106 | ?? |
Looking at BYU's first chart, there's a pretty clear pattern. The highly-ranked defenses (Wisconsin, Utah, Utah State, Virginia) are on the left and BYU's offense didn't score a lot of points against those kind of defenses. Notre Dame's defense is ranked 59th, which among BYU opponents compares to teams like Boise State's 38th ranked defense and Houston's 54th.
Fans may notice that more points were scored in the game by BYU against Utah State and Middle Tennessee, for instance, but points scored by the defense and specials teams aren't being counted here.
Also, a couple quick observations can be made about BYU's season in general. First, the Virginia loss isn't as perplexing in this context. A combination of an offense starting with a new staff and missing Cody Hoffman ran into a competent defense. Throw in a key injury late in the game on defense and an unfortunately timed turnover, and it's not that hard to figure out what happened.
Second, Taysom Hill has unquestionably gotten better as the season went along, but the mid-season's defenses were also not as good as the early-season's. Utah State could probably be called his best performance of the year, where he put up a 156 QB rating against the 26th-ranked defense on the road. Also, Hill's numbers weren't fantastic against Wisconsin, but they were better than against the good defenses he saw in September.
Moving back to next Saturday's game, how does BYU's offense compare to the kinds of offenses Notre Dame has seen?
| | | |
| --- | --- | --- |
| Team | O Ranking | ND D pts allowed |
| Temple | 87 | 6 |
| Michigan | 48 | 41 |
| Purdue | 112 | 24 |
| Michigan State | 82 | 13 |
| Oklahoma | 32 | 28 |
| Arizona State | 10 | 27 |
| USC | 66 | 10 |
| Air Force | 72 | 10 |
| Navy | 36 | 34 |
| Pitt | 67 | 28 |
| BYU | 49 | ?? |
| Stanford | 21 | ?? |
Again, it's not surprising that against highly-rated or even above-average offenses (Arizona State, Oklahoma, Navy) Notre Dame has given up more points than against a series of offenses whose ranking hovers around a comfortable room temperature. BYU is currently ranked 49th in S&P+'s offensive ranking.
Bottom line: When BYU's offense has played the kind of defenses that Notre Dame has, they've scored about 30 points. When Notre Dame's defense has played the kind of offenses BYU has, they've given up about 27 points.
On page 2: How many points will Notre Dame score …
Pages: 1 2