Notre Dame Q&A with Matt Fortuna of ESPN.com
Updated: November 21, 2013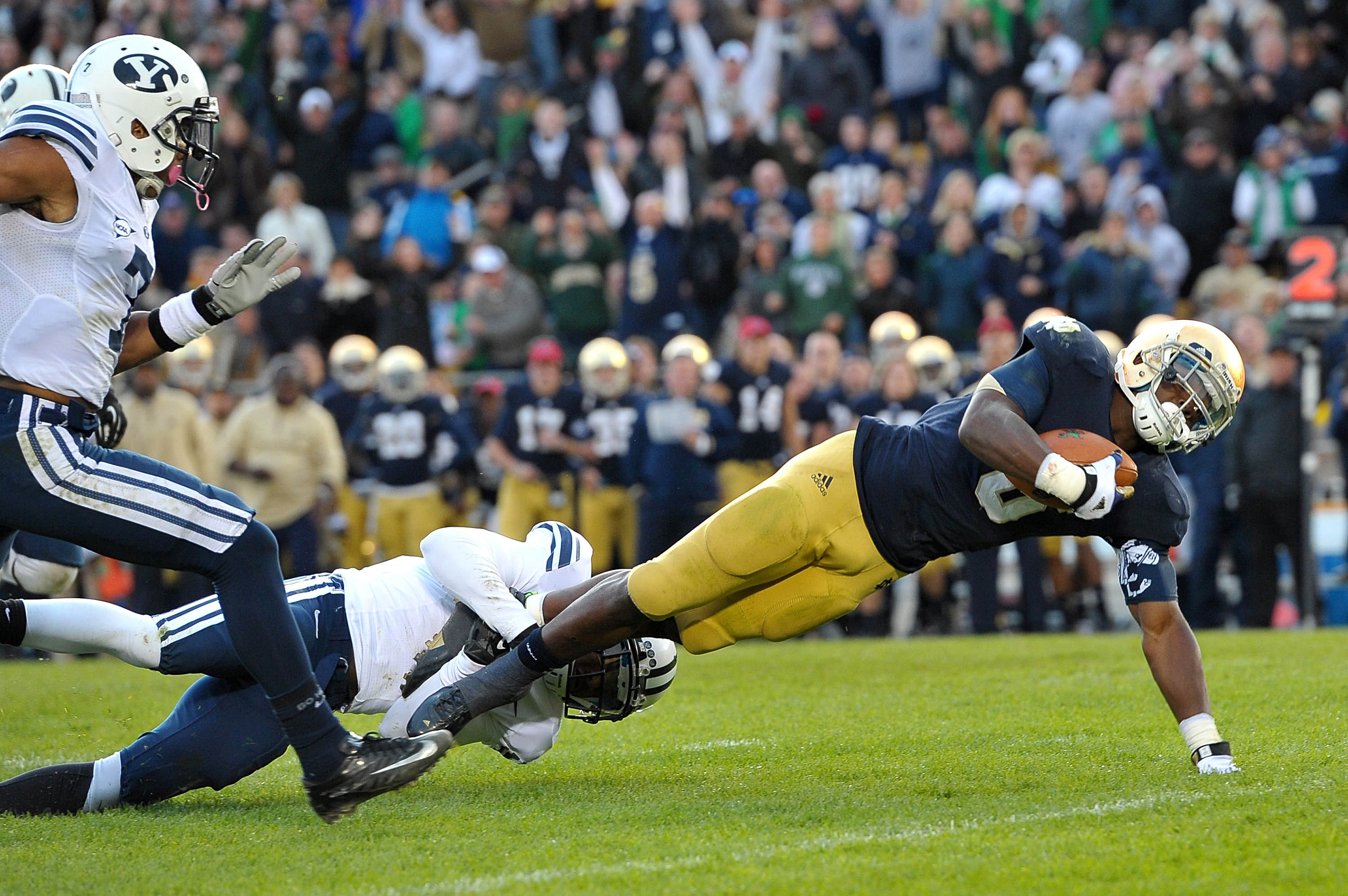 Opponent Notebook: A preview of Notre Dame with some help from Matt Fortuna of ESPN.com.
After a cake walk against Idaho State, BYU hits the road to face fellow independent foe Notre Dame. We were able to catch up with Matt Fortuna, Notre Dame writer for ESPN.com, and get his thoughts on this week's game.
LOYAL COUGARS: After a tough road loss to Pitt, Notre Dame's BCS chances were dashed. How has the team responded and what is their outlook on the rest of the season?
Matt Fortuna, ESPN.com: Notre Dame has a senior class that has been through a lot of ups and downs, and the players have at least said all of the right things since the loss at Pitt. Whether they come out and play great against BYU is really anyone's guess, as this team has been remarkably unpredictable this season. But with two good opponents remaining, and with that Stanford game Nov. 30 looking a lot less daunting, the prospects of a 10-3 season (with a bowl win) is definitely something worth shooting for.
LC: Teams with strong defensive fronts have given BYU trouble in 2013. Will the Irish front seven be at full strength this Saturday?
Matt: The bye week really could not have come at a better time for this Notre Dame team, which entered the season looking to rely on its defensive line but has really never had its first-team unit all healthy at the same time. Stephon Tuitt has rounded into form after dealing with the after-effects of hernia surgery and then a back issue. Sheldon Day has been bothered by a high ankle sprain for much of the season but is probably as healthy as he's been since September. And Louis Nix returned at Pitt and did what he could after missing two games with a small meniscus tear and tendinitis. Of course, right as the first unit gets back, several key reserves (Kona Schwenke, Isaac Rochell, Jarron Jones) are all dealing with ankle issues that may sideline them this weekend, though Kelly said all looked good Monday in practice. (Schwenke missed the Pitt game, too.) Still, the line remains very thin.
LC: BYU fans are thankful they don't have to see Theo Riddick, Cierre Wood and Tyler Eifert again this season. Tell us about the skill players who have stepped in for the Irish.

Matt: No skill player has delivered more than TJ Jones, who has probably been the team's MVP this year. Some of us looked at Brian Kelly a little funny this summer when he talked Jones up as the next Tyler Eifert or Michael Floyd of this offense, but he has certainly delivered despite his size, finding the end zone time after time and making plays big and small. Troy Niklas is another guy who has grown into his enhanced role, as the big tight end has proven difficult to cover 1-on-1 and continues to improve as a blocker. As for the running backs? Your guess is as good as mine. Freshman Tarean Folston delivered the best performance of any of them, against Navy, but Cam McDaniel has been the most consistent, with George Atkinson III showing flashes here and there. The Irish have simply not been able to gain any kind of consistency from their backfield, something they must fix moving forward next season.
LC: The BYU offense has established itself as one of the fastest in the nation. How are the Irish preparing for BYU's up-tempo offense?
Matt: By not practicing, of course! Kelly chose to not practice during the bye week for the first time in his 23-year head-coaching career, since the risk was not worth the reward given his depleted roster. Defensively, though, the Irish have been far from the dominant unit of last season. Part of that can be blamed on injuries, part of that can be blamed on missed tackles. As for Xs and Os this week, we in the media have not seen a single minute of practice since camp, though Kelly said Tuesday that the team worked on defending tempo Monday.
LC: The career of Tommy Rees has been one full of ups and downs. What kind of performance do you expect from Rees in his final game at Notre Dame Stadium?
Matt: For one, I hope he gets the loudest ovation of any senior in the pregame ceremony. The fans have been ridiculously harsh and unfair on Rees throughout his career. And, then, of course, many changed their mind during the second half of the USC game, when Rees left with a neck strain and Andrew Hendrix led them to a grand total of 30 total yards for the rest of the game. Rees is obviously limited physically compared to some other BCS quarterbacks, but he has certainly been reliable for a program that saw Everett Golson get himself suspended and Gunner Kiel transfer. And the locker room loves him. As for how he performs this week? There are always a few throws that make you cringe as a viewer, and we had thought he was past performances like the one he had at Pitt. Still, he has risen to the occasion several times before, most noticeably last year, and I'd expect a stellar home finale for the senior.
LC: How do you see the game playing out?
Matt: Notre Dame has underachieved this year. Notre Dame has also beaten three Top 25 teams. So yeah, the Irish have been consistently inconsistent, if nothing else. BYU is definitely capable of winning this game, but I see the Irish playing mistake-fee football Saturday and pulling out a close win to make it 4-0 under Kelly in Senior Days.
UPDATE via Matt's ESPN.com blog:
Prediction: BYU 23, Notre Dame 20. I was leaning in the Irish's direction earlier this week, but the loss of Nix — on top of some of the other guys at less than 100 percent — is just too much to overcome against this good, and this fast, of a Cougars team.