BYU struggles down the stretch, falls to Wichita State, 75-62
Updated: November 27, 2013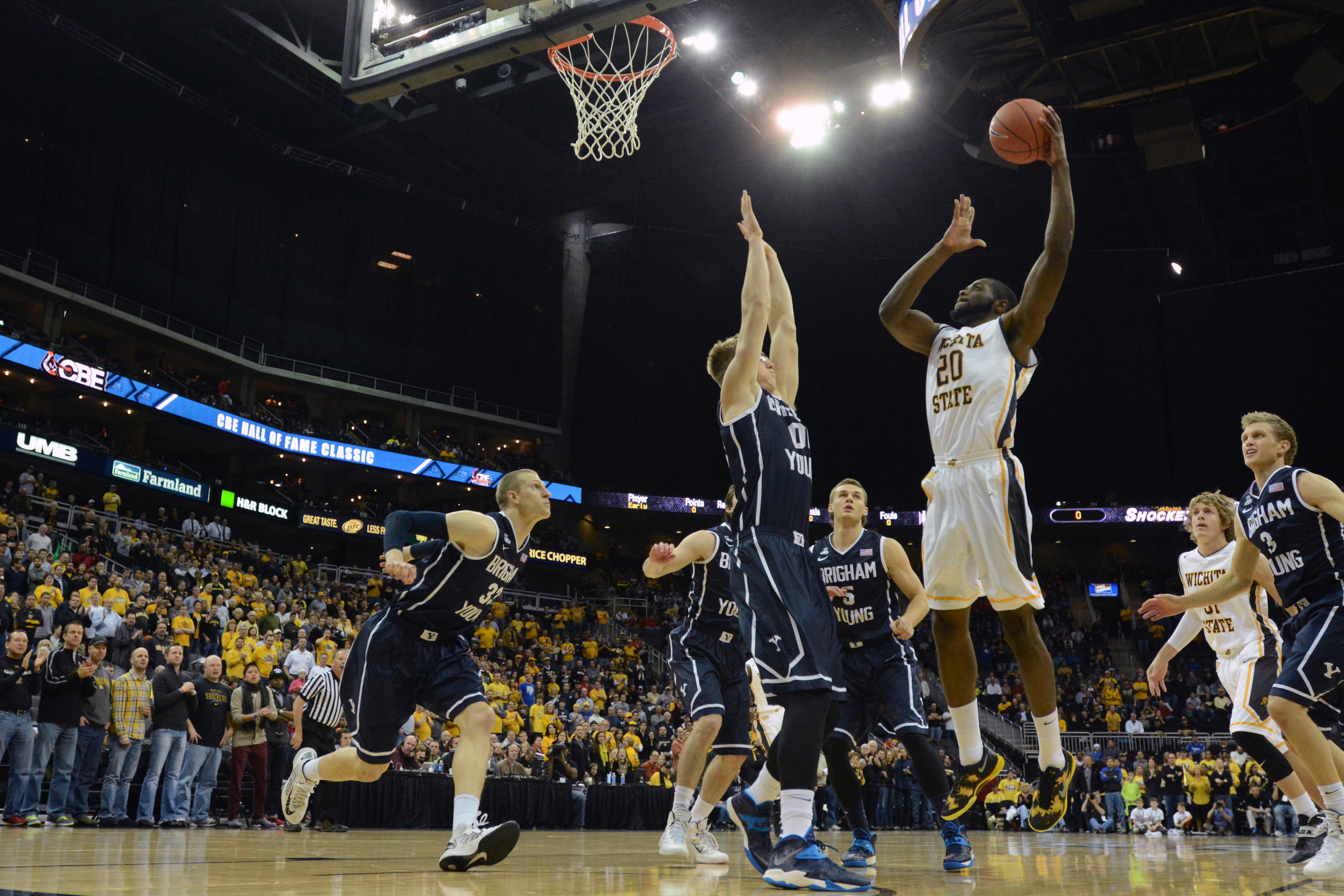 The Cougars put up a fight, but couldn't hold off the No. 12 Shockers in Kansas City.
Well, that was disappointing, but not altogether unexpected.
After seizing a double-digit lead behind Matt Carlino's first half fireworks, BYU slowly relinquished control to Wichita State and eventually lost it entirely, falling to the No. 12-ranked Shockers in the final game of the CBE Hall of Fame Classic on Tuesday, 75-62.
Much like the Iowa State game, this one is so frustrating because the Cougars clearly had an opportunity to notch a big win over a top opponent and just couldn't convert. Despite what the final score may say, the game was exceptionally close until the wheels came off for BYU with less than two minutes left, sending Wichita State to the line for a parade of last-minute free throws.
The Cougars' foils will be familiar to anyone who's watched more than a few games this year. They left a pile of points at the charity stripe, missing nine free throws — including the front ends of a couple crucial one-and-one opportunities. Their bigs got in foul trouble early, significantly depleting the back line of Dave Rose's 2-3 zone and resulting in the Shockers grabbing 17 offensive rebounds. And they didn't failed to get much offensive production from their star guard trio — Haws and Collinsworth struggled throughout, and Carlino went ice cold after a hot first half.
Nothing new. Nothing that can't be fixed. And that's what makes it so disappointing.
In a perfect world, Rose would have magically fixed these deficiencies by now and BYU would have stormed to a dramatic, cathartic victory over Wichita State, exorcising their Iowa State demons in the process. But we don't live in a perfect world. This is an exceptionally young team, and these things will take time — which, as it is merely November, is something the Cougars still have plenty of at this juncture.
Let's call this what it is: A missed opportunity. It's certainly not a bad loss — Wichita State is a very, very good team that played in a Final Four just a few months ago — and it's not without its positive lessons for moving forward. But like the Iowa State game, it is a missed opportunity for BYU to make a statement that demands the college basketball world's attention and respect.
But let's not get too hysterical here, as it seems some on social media and message boards are wont to do. It's one game. This isn't football, where a single loss can doom your entire season. The Cougars have at least 25 more games left to work out the kinks — a hefty handful of which will come against very good teams that should provide fertile fodder for statement wins. There's plenty of time, plenty of opportunities, plenty to look forward to.
So no, the sky isn't falling. Not even close. Was Tuesday's result disappointing? Yes, very much so. Frustrating? Definitely. But catastrophic? Let's all just take a deep breath.
Everything is fine.
Stray Observations
Matt Carlino came out of the gate piping hot, putting up 18 points in the opening stanza and single-handedly willing BYU to a halftime lead. Let's be clear: the Cougars aren't even in this game at all without Matt's contributions — they're done by at least 15 points at the break. Obviously, the second half was a different story. Matt looked passive and far too content to just pass the ball to the wing and screen away. He wasn't looking to create his own shot, and didn't take many until a frantic final few minutes when the game was slipping away but nobody else was really doing much offensively to prevent it from happening. Carlino went 0-for-8 after halftime, turning in a listless performance that contributed to his team's offensive ineptitude. To be fair, this was the second night of a rare back-to-back and Matty looked exhausted at the end, but in a game where neither Haws nor Collinsworth could get it going, BYU needed much better from its point guard down the stretch.
Tyler Haws just didn't have it. He managed to score 17 points thanks to a whopping 11 free throw attempts, but suffered through a paltry 3-for-15 performance from the field. Every time you thought he was starting to find his rhythm, he'd slip out of the groove just as quickly. It was frustrating to watch, and I'm sure it was even more frustrating for him. I don't know if his abdominal injury is still lingering or not, but Tyler hasn't looked like his usual dominant self in the last three games. One way or the other, Rose needs that to change for his team to be maximally effective moving forward.
Eric Mika struggled with foul trouble once again, finishing with 10 points and just a single rebound. The latter part is what's most concerning. The freshman will undoubtedly learn how to play better defense without fouling as he gains experience, but the lack of rebounds from your starting center — particularly when BYU so obviously struggles on the glass — is disconcerting. Mika has so much talent in so many other areas that I would caution against getting too worked up over this, but it's become a pattern worth watching. Hopefully he can reverse it.
Speaking of rebounding: Nate Austin has none of the natural ability with which Mika has been so richly blessed, but man, he certainly grabs a lot of rebounds. Fans loves to harp on Nate for all the things he can't do — and those criticisms are not unfounded — but let's take a minute to appreciate his team-leading 12 rebounds against the Shockers. He seemed to inhale missed shots when he was in the game (although his minutes were also limited by foul trouble), a huge plus for a team that struggles to rebound. He may have weaknesses, but BYU will need Nate's hustle in every single game this year.
Weirdly enough, Austin also got ejected in this one. He picked up a flagrant-2 foul after he caught Wichita's Ron Baker with a hard elbow on a box-out in the closing minutes. Baker said after the game that he didn't think it was intentional, and Austin immediately apologized, but the blow was significant enough to get him thrown out.
Surprisingly, Dave Rose also got hit with a technical foul while arguing a call in the game's waning moments. Rose rarely gets upset anymore (although he did have quite the temper when he first took his post in Provo), so it was strange to see him get really steamed and lose his cool.
This was not Kyle Collinsworth's best game: 6 points on 2-for-6 shooting (plus 2-for-6 from the stripe), 2 assists and 4 turnovers. Like many of his teammates, Kyle just looked out of sync, like he could never really get comfortable on the court. A lot of that could be due to the increased ball pressure the Shockers applied, making Collinsworth handle the ball under duress more than he may be accustomed to. Overall, just a tough night for Big Russia. The silver lining? He rebounded exceptionally well from his wing position, snaring 11 boards. BYU will need more of that moving forward.
Tyler Haws: 38 minutes. Kyle Collinsworth: 31 minutes. Matt Carlino: 39 minutes. Combine those numbers with the similarly heavy workloads asked of Hawrlinosworth on Monday night, and it's not hard to see why the trio's legs looked shot in the second half against Wichita State. Thankfully for Rose, his team likely won't see another back-to-back like this until the WCC tournament.
Wichita State held the Cougars without a field goal over the final eight minutes of the game. BYU only converted six field goals in the entire second half. That's not much of a recipe for success.
BYU missed nine free throws, several of which were the front end of one-and-ones. This is becoming an epidemic. Bad performances from the strip won't get it done against good teams.
Josh Sharp finally grabbed a few (read: two) minutes in this one, after what seems like months of not playing. Given that BYU struggles so mightily to rebound the basketball and win 50-50 balls, it seems to me that it might be time to give Sharp some more run. Sure, he's severely limited offensively, but if there's one thing he knows how to do, it's rebound and scrap for loose balls. I'm not saying you give him 30 minutes a game or anything, but at this point, Rose might as well give him a little bit more of a shot. (And yes, I am being completely serious with this suggestion.)
For the third straight game, Rose went almost exclusively with the 2-3 zone. It can be fairly effective on the first shot, and it showed tonight as Wichita struggled from the floor — but it opens BYU up to a rash of second chance opportunities as well, particularly when they go with a smaller lineup. Tyler Haw just isn't capable of out-rebounding opposing bigs from his spot on the backline of the zone, and those kind of mismatches are what resulted in Texas and Wichita State grabbing 17 offensive boards apiece. I don't know what Rose can do to fix this, given his personnel limitations, but look for adjustments to be made.
Not much rest for the weary: BYU plays in-state foe Utah State at EnergySolutions Arena in Salt Lake City on Saturday. The Aggies are currently slotted as No. 8 nationally in CBS Sports' latest RPI rankings. Another opportunity…