Three-Man Weave: What's wrong with BYU's defense?
Updated: December 11, 2013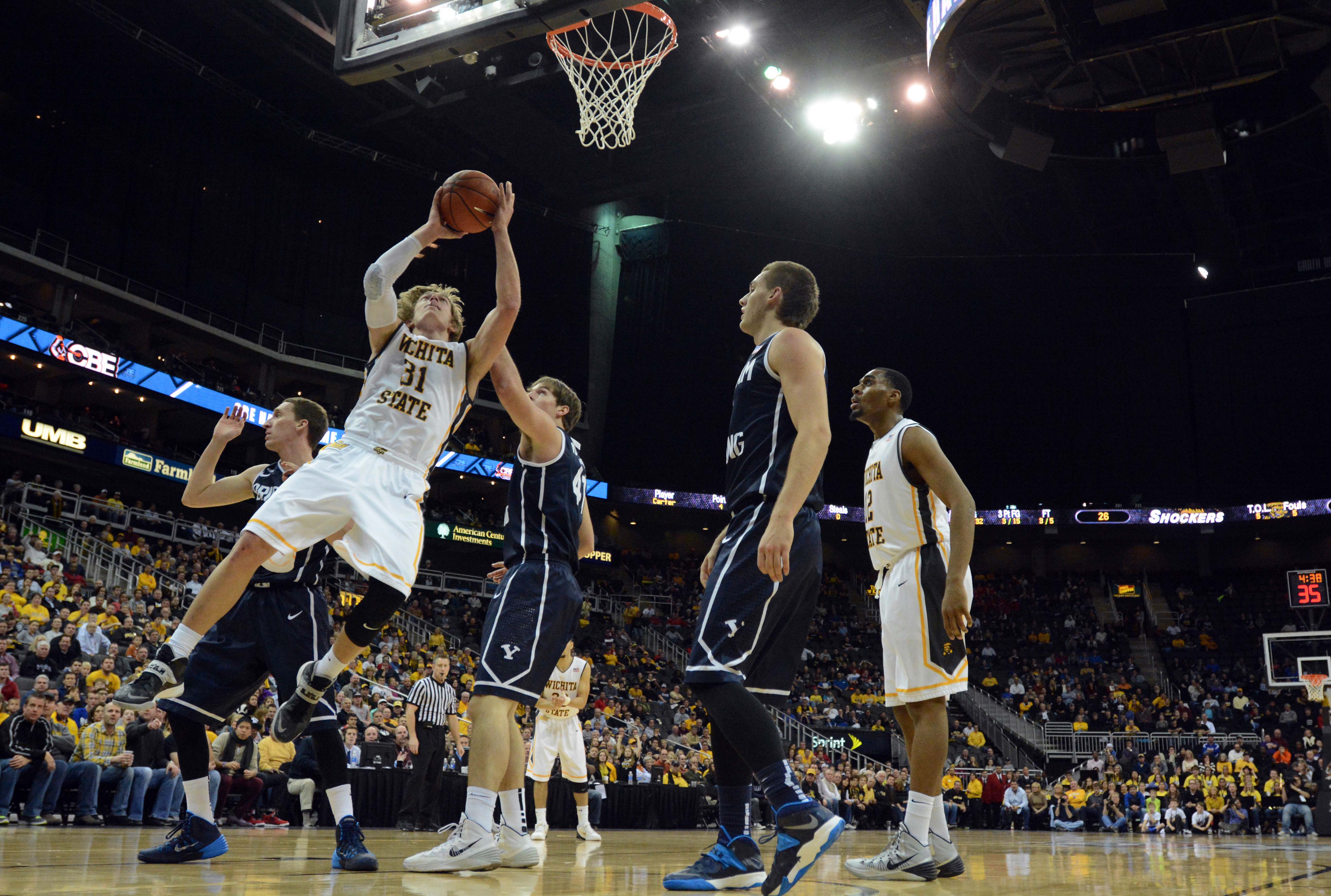 The Cougars' defense continues to struggle against top opponents — and our team has some ideas for how to fix it.
When BYU picked up a frustrating loss to No. 21 Massachusetts last week despite scoring 96 points, alarm bells went off in the collective consciousness of many Cougar fans. Soon enough, the questions started flowing: What's going on? Why can't this team defend anyone with even a modicum of talent? Are the players just physically incapable of keeping up, or is this Dave Rose's fault? Why am I here and where am I going? (OK, I made that last one up.)
The questions are valid. This is quickly becoming a thing. There's no doubt BYU can score with the best of them. They're currently averaging 89.9 points per game, good for 6th in the country — but they're also giving up 80.4 points per game, ranking them 321st nationally. Yikes. On most nights, against average competition with middling offensive power, this turns out OK. But against teams like Massachusetts and Iowa State, teams that have the talent to match you bucket for bucket and then some if the Cougars don't provide any resistance? Not so much.
BYU will need to win those kinds of games as the season progresses, which means their defense will have to improve. But how? That's the topic of our latest Three-Man Weave, in which three commentators offer their opinions and analysis on three roundball-related issues for your reading pleasure. For today's installment, I am joined by Ben Wagner and Evan Hall — both regular contributors to our hoops coverage on Loyal Cougars – to dish up some ideas for defensive improvement in Provo.
1. BYU has struggled defensively this season, particularly against elite teams. What is the source of the problem? Is it lack of athleticism or poorly designed schemes — or both?
BEN WAGNER (@ben_wagner): What I've noticed is that the perimeter players tend to over-pursue in the zone defense, and oftentimes two players over-pursue the same offensive player, leaving offensive perimeter players wide open. This is in some ways by design (this happened a lot last year), as the perimeter defenders are trying to force turnovers leading to fast break points. But this over-pursuit makes it really easy to get open threes against BYU's zone — it only requires one or two passes around the perimeter and someone will come open in the corner or on the wing. And when a BYU defender comes rushing at an open guy, it's really easy for smart offensive players to get penetration with hesitation moves and pump fakes — which of course collapses the zone, leading to easy plays at the rim, open threes and offensive rebounds.
EVAN HALL (@the20thmaine): I don't really think that it's scheme problems. I mean, Nate Austin is who he is, and we all knew who that was before BYU even played any of these games, so the fact that he can be abused in the low post by almost any big with any moves isn't surprising or disappointing or even frustrating. This is what you get when you play Nate Austin. And Nate Austin is mostly a microcosm of the team. Skyler Halford is going to get blown by a few times a game. Matt Carlino is going to gamble on defense, get rewarded sometimes and get punished other times. Tyler Haws is going to be oversized in the post. All that stuff is stuff we knew. And frankly, losing 105-96 to a Top 25 team is something I can live with. I'd much rather root for a team like BYU — who pushes the pace and sets the gym on fire, but who also gets eviscerated by smart offenses — than, say, a team like Wisconsin, who destroys any aesthetic value a game might have in the name of winning at all costs.
STEVE PIERCE (@PostJimmer): I'd say it's probably a little of both. BYU is certainly limited from an athletic standpoint — the lateral quickness just isn't there across the board. That makes it difficult for them to stay in front of quicker guards on the perimeter, begetting huge amounts of dribble penetration that would break down any man-to-man defense in a hurry. That's why you see the Cougars playing so much 2-3 zone. And don't get me wrong: the zone has been good for them — it covers a multitude of athletic limitations, providing several lines of defense to step up when a guy inevitably gets beat off the bounce. But the zone also has its limitations, its weaknesses that teams can learn to exploit over time. And when you play nothing but zone, good teams learn where those holes are pretty quickly — and then they make you pay for it. So I'd say it's a little of both: BYU's physical limitations create schematic limitations, which quality opponents eventually figure out and then exploit until the cows come home.
2. What do you think Dave Rose can realistically do to begin making defensive improvements now? Is there a change in personnel or scheme that might make a difference?
WAGNER: Thank goodness Matthew Dellavadova is gone, because he would have a field day breaking down this BYU zone. So what can be done to fix it? Personnel-wise, this team is who it is, and there really aren't many changes that can be made. The roster is simply too thin. At some point, Dave Rose needs to consider packing the zone in more and having the perimeter players stay home. Furthermore, whether it's due to a lack of coaching, experience or practice, the defense seems unsure of certain assignments — namely, who has responsibility when the ball is passed to the wings and to the corner, versus being dribbled there. Defensive assignments need to be more clear to avoid two defenders both shifting toward a single offensive player, freeing up other players along the perimeter as a result.
HALL: The addendum to my previous answer is that while most BYU players give Coach Rose basically what he expects them to, I can't imagine that he's not a little disappointed with Eric Mika's defense. Mika is big enough and athletic enough to be an above average defender, even in his freshman year, and while I think he'll improve and eventually become the anchor of BYU's defense, he makes way too many costly mistakes. He bites on pump fakes easily. He fouls too frequently. He sometimes doesn't rotate quickly enough. Again, Mika's going to be a great player, but I think BYU's defense improves as Eric Mika's interior defense does.
PIERCE: I think the easier fix seems to be schematic — and the tools are sitting right before our eyes. When the bigs get in foul trouble (as they almost always do), Rose sensibly counters by going with a small lineup. However, despite the change in lineup composition, the team's defensive philosophy doesn't visibly change. BYU just sits in that 2-3 zone like they've still got a couple lumbering big guys holding down the back line. But with the smaller lineups, that is no longer the case. There's extra speed on the floor, and Rose should use it. Perhaps mix in more of the 1-3-1 halfcourt trap or make a point of trapping the wings and corners out of the 2-3 zone more consistently — anything that exploits the Cougars' temporary speed advantage, puts extra pressure on the offense and creates more turnovers. They used this approach in the second half against Massachusetts, and the Minutemen struggled to grapple with the constantly changing defensive looks. It helped BYU keep the game reasonably close down the stretch. Imagine if they used it earlier and more often?
3. Eric Mika and Nate Austin have struggled to defend the post physically without getting into foul trouble. With the paucity of depth behind those two, do the Cougars need Bronson Kaufusi to come over after football season? Can he make any kind of impact?
WAGNER: Could the team use Bronson Kafusi? Absolutely. My guess is Dave Rose put out the Kafusi signal long ago. Unquestionably this team could use his five hard fouls a game, defense and rebounding. The real question is would he come back, or even should he? Bronson's basketball ceiling is pretty low — being a bench player on a mid-major team is where his basketball career will peak. However, Kafusi has NFL-level football talent and has a chance to be playing on Sundays a few years from now. As much as I'd love to see Bronson back in a basketball uniform, it doesn't make much sense for him to risk a future pro football career to play 10 minutes a game in the WCC. And my guess is Bronco Mendenhall feels the same way.
HALL: Bronson Kafusi would probably help BYU's defense and rebounding. I think that's pretty obvious. But at what cost? Again, I'm for visually appealing basketball, so I can't approve of Bronson Kafusi's "five hard fouls" approach. Sure, BYU has three losses, but none of those will show up on the resume at the end of the season as bad losses, and there's no reason to believe, based on what we've seen, that they won't still compete for a WCC title. So given the fairly static possibilities for the outcomes (BYU will probably come in first or second in the WCC, they will probably make the tournament, etc.) of the season, wouldn't you rather root for a team that admits its defensive weakness but refuses to compromise its offensive prowess? Points, guys. Points are fun and interesting, and hacky low-post play that evokes words like "toughness" and "old school" is less fun, and less interesting, and certainly less beautiful.
PIERCE: "LeBronson" could certainly provide some much-needed rebounding help down low — he grabbed 14.4 percent of all available rebounds while he was on the floor last year, second on the team behind Brandon Davies. And he will of course provide five more hard fouls for Rose to work with, which can add value in some context. But let's not oversell his impact. Outside of his ability to crush people (which, last I checked, is still against the rules), he's not a great one-on-one post defender nor is he particularly nimble on help defense rotations, and he's still a big zero on offense — so his presence can only give you so much. If he wants more size, I'd be more interested in seeing Rose give Josh Sharp a little more run — perhaps slotting him in on the back line of the zone to provide additional length and rebounding acumen. (Sharp is leading the team in total rebounding percentage this year with an eye-popping 26.4 percent.) That idea also comes with a downside, namely Sharp's inability to contribute any type of offensive production whatsoever. But if we've conceded that BYU doesn't really need to worry about scoring enough points to win, it's possible that Sharp's length and athleticism could provide a new dimension on the defensive end.