Notre Dame committed to play BYU, but when will it happen?
Updated: December 24, 2013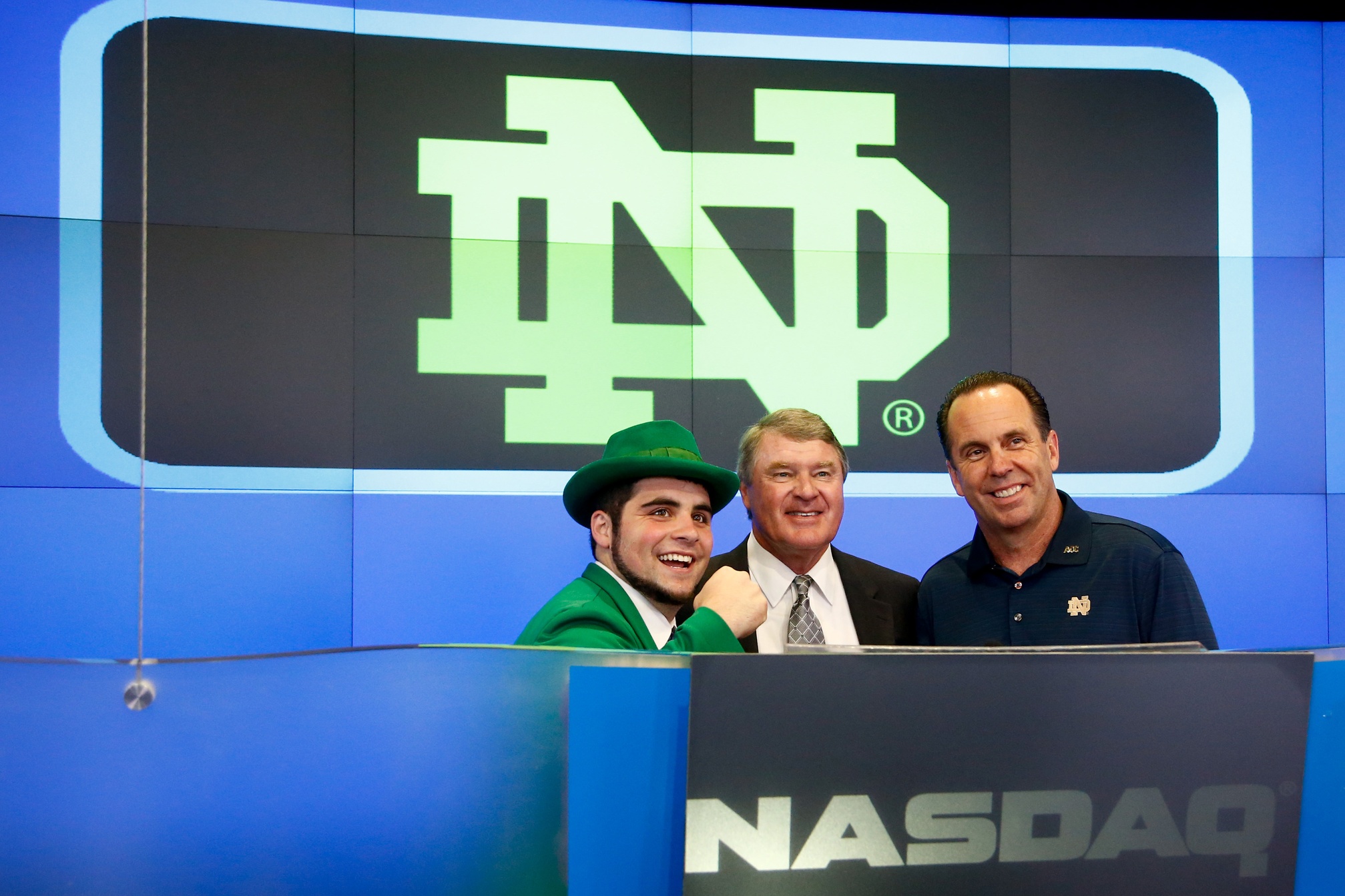 Notre Dame released lots of future schedule info. Where exactly does BYU fit in ND's future?
Notre Dame athletic director Jack Swarbrick held an in-depth press conference last Friday to spell out his football team's schedule for the next three years and lay out a vision for the program moving forward.
Swarbrick directly addressed BYU and the contract Notre Dame have to play six games between 2012 and 2020 at the end of the press conference:
"Nothing has changed about it at this point. It was two three game groupings, two Notre Dame home games, one at BYU. We've consumed the two Notre Dame home game portion of the first three game set. We've got to get out to BYU, then we have another three games. It's conceivable the dates of those may be modified, but we just haven't frankly thought about it or addressed it. We've been focused on this three year [2014-2016] window."
Notre Dame now starts its schedules with eight games booked every year. Starting in 2014, the ACC will provide five games per year. In addition, Notre Dame will play USC annually because they want to, and Stanford annually because it helps balance the USC game for the Pac-12. Finally Navy is the eighth game, a long-standing series that both schools enjoy.
While most major conference schools intend to play seven home games and five road games, Notre Dame intends to play six home games, five road games and one neutral game that they call the Shamrock Series.
This release focused mostly on the 2014-2016 seasons. It took some considerable shuffling to make these games happen. The ACC was able to accommodate the Irish by moving Wake Forest's 2014 game to 2015 to help the Irish fit in Arizona State and Boston College moving a home game to Fenway Park for the 2015 Shamrock Series game.
Where does BYU fit into all this? That remains to be seen. Notre Dame put up the following long-term graphic as part of their press conference. Note where BYU is (or isn't).
Notre Dame's eight booked games are in blue. The Shamrock Series is in green. That leaves three other games per year to schedule. One game per year will be booked with teams that won't expect/get a return game (Rice, UMass, Nevada, Temple) and the final two of those three will be booked on a home-and-home basis (Michigan State, Texas, Purdue).
Swarbrick explained: "The thing really to focus on here is scheduling dynamics going forward in that we don't have away game inventory right now to offer anybody as part of a home and home until effectively '22."
You may notice that in 2018, Notre Dame put a 2 on the board for their away game. Swarbrick said that is "because we still have two contracts."
I would guess BYU is one of those two contracts and if that's the case it appears BYU has a 50/50 chance to see Notre Dame play in Provo in 2018. It looks like the other team would host the Irish in 2021, which means BYU AD Tom Holmoe sure wasn't kidding when he said, "we might take a big break until we play them again."
BYU isn't the only team with a contract with Notre Dame that the Irish need to reevaluate. Speaking about at the general upheaval in college football, where many teams have had to change long-standing schedule relationships, Swarbirck said, "I can't think of a higher form of flattery for Notre Dame football, that people got so upset at the prospect of losing games with us."
Since Notre Dame was focused on finishing the 2014-16 schedule, it seems reasonable that they have not taken a serious look at solving the next set of overbooked years until the immediate future was solved.
It looks like BYU's ability to host the Irish in Provo sooner rather than later will depend on their "piece of work" lawyers. Swarbrick said for the other contractual situations they've faced, it wasn't matter of how they personally viewed school A verses school B, but "the sequence of these were dictated by the way the contracts were. As you're resolving them, working with your colleagues, you're dealing with liquidated damages in contracts, how long the term was." Michigan's contract was legally very simple to cancel, so it was.
So, getting back to Swarbrick's statement on BYU, he said that nothing has changed "at this point." That sounds good, but looking at the schedule, things almost certainly will change. Swarbrick also said it's "conceivable the dates will be modified" and that seems likely given the lack of space of road games in Notre Dame's future plans.
At least he seems committed to traveling to BYU in the future saying "We've got to get out to BYU." Swarbrick also said that a priority of Notre Dame's was to "play like institutions." He specifically referenced Northwestern as a school they were happy to be able to keep, but it remains to be seen how much BYU fits into this category for Notre Dame.
It seems to me BYU has two choices which depend on what they want more and what the Irish are willing to offer—playing the games in the years they were played or playing the games in the venues they were scheduled in.
Option 1: Stick to the calendar
BYU and Notre Dame could play four times between 2017 and 2020 as originally scheduled, but it would require moving one of the Provo games to a neutral location. If the 2017 game was played in a Western NFL or other major venue (BYU would probably prefer Levis Stadium, University of Phoenix Stadium, or maybe the Rose Bowl, while Swarbrick mentioned Reliant Stadium as a target of his). A game like this would still be accessible to many BYU fans, but it's not a home game and it means BYU is playing 4 road games for 1 home game and 1 neutral game. It's not ideal, but in this scenario the priority is sticking to the calendar. This would finish easy with a 2018 Provo game and 2019 and 2020 road games. A game in California would probably most accessible for BYU fans, but with USC and Stanford on the schedule, the Irish make plenty of trips there already.
Option 2: Stick to the venues
This could take a while, but they could play the games where they scheduled, just not when they were scheduled. Whether the first game in Provo is in 2018 or 2021, Notre Dame eventually comes to Provo. Then BYU travels to Notre Dame two more times, say 2022 and 2023. And finally Notre Dame makes their second visit to BYU in 2024 or so. That would mean the series took twelve years instead of eight.
Update: Tom Holmoe responded on twitter to this article saying, "Some things in life, and scheduling, are worth waiting for. I trust Jack and Notre Dame to work out a good solution with us."
It appears it will come down to how BYU's contracts are written and how they compare to the other contracts teams have with Notre Dame. Also, it will depend on what BYU values more—playing the games sooner, or playing the games in Provo. And if it's going to be a negotiation, it will also depend on what BYU can get if they agree to do either of those things? BYU is certainly interested in a long-term series, so they're likely interested more games, but with eight games a year booked, space will be at a premium for the Irish.
It's an extremely tough market to get teams to travel to play true road games. With many conferences moving to 9-game schedules, it's only getting harder. Notre Dame also feels this as Swarbrick notes, "there were quite a few schools as I reviewed last year's schedule who out of conference never played an away game."
BYU and Tom Holmoe certainly understand that need to get good teams to Provo and will need to balance that need with the need to have good teams on the schedule. Even with both teams coming off losses in 2013, the NBC game was the highest rated of the regular season for BYU.
It appears that some tough choices and tough conversations with lawyers lie ahead.