BYU lays another egg, loses ugly to LMU, 87-76
Updated: December 28, 2013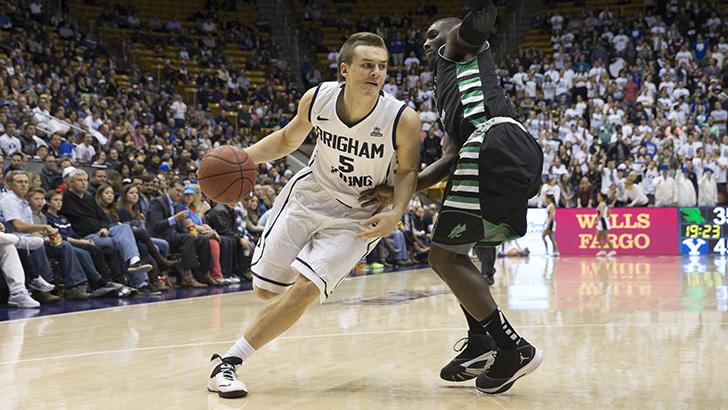 The Lions pounded the Cougars wire to wire in both teams' WCC opener.
BYU hoops laid another egg on the road at LMU on Saturday. This rotten egg was similar to the Utah game a couple of weeks ago. At this rate BYU will soon have enough eggs for an unpleasant omelette.
Like with the BYU loss to Utah, LMU jumped out to an early 14-point lead and BYU was only able to essentially match the Lions' scoring the rest of the way. The home team went into the half with a comfortable 15-point lead and the Lions extended their lead to more than 20 points in the second half before coasting to an easy 11-point victory in the end.
After what seemed like an inspired effort against Oregon last week, BYU played possibly their worst game of the season today. This was a terrible start to the WCC slate of games.
The Cougars' current problems are numerous:
Uncertainty at the point guard spot
Big men who get in early foul trouble
Virtually no 3-point threats
Sub-par team free throw shooting
Consistently porous defense
BYU fans were feeling confident a couple weeks ago after an encouraging overall non-conference performance, with several close losses to top teams and a few impressive wins. Three straight losses later, including two where BYU was favored, it is starting to feel like the wheels are coming off for this BYU team. Coach Dave Rose and his staff are going to need to figure out how to stabilize things quickly if BYU wants to avoid missing the NCAA tournament for the second straight season.
Stray Thoughts
Matt Carlino is seemingly either in the doghouse or not healthy. He played just 22 minutes today with Skyler Halford, Frank Bartley and Anson Winder getting several of the minutes Matt would normally play.
Kyle Collinsworth had the best game of any of the Cougars. He led the team in scoring and rebounds, and was second to Bartley in assists.
So many missed layups and close range shots. BYU shot 44.4 percent from the field today, but missed a lot of shots and put backs right at the rim.
So many missed free throws. BYU shot 65 percent from the free throw line. Sadly, that was an improvement over recent games.
Halford remains BYU's best 3-point shooter. He went 1-for-1 from three today. I hope we see more plays to get him and Tyler Haws open threes.
BYU doesn't have a lot of time to fret about today's weak performance. The Cougars play again Monday evening at Pepperdine. As with the game today, that game will be available for viewing at TheW.tv.