S Courtland Sutton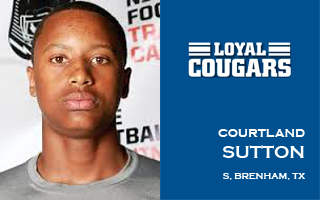 COURTLAND SUTTON
SAFETY | 6'2.5″ 190 lbs | Brenham, TX | 3-star – 83.26 rating
STATUS: Signed with SMU
Any time BYU coaches can catch the interest of a speedy defensive back from Texas, they need to be willing to offer a scholarship. That was exactly the case with Brenham High School's Courtland Sutton. Sutton made his official visit to BYU last September to witness BYU's victory over the Texas Longhorns.
Things remained relatively quiet on the recruiting front for the past few months for Courtland. His Twitter feed detailed an in-home visit by BYU coaches Mendenhall, Howell, Holliday, and Beck on January 16. His account also seemed to indicate a visit to Colorado two weeks ago, but as of last Thursday, he was still uncommitted. A Monday evening article from Total Blue Sports reported that Sutton had narrowed his college choices to two, reportedly BYU and SMU.
Sutton also holds offers from Colorado, Rice, Texas State, Tulsa, and Washington State.
VIDEOS
Hudl | Senior highlights | Junior highlights