OL Damien Mama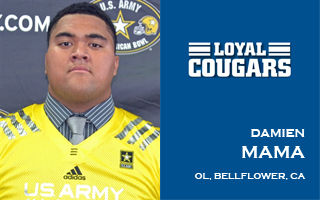 DAMIEN MAMA
OFFENSIVE GUARD | 6'5″ 340 lbs | Bellflower, CA | 4-star – 98.08 rating
STATUS: Signed with USC
The crown jewel of BYU's 2014 recruiting class would be consensus #1 offensive guard Damien Mama. After eliminating UCLA from consideration last week, Mama is holding a Signing Day press conference this morning (televised live on ESPNU) from St. John Bosco High School to pick betwen BYU, USC, and Alabama. Damien has announced his plans to serve a mission before enrolling.
There has been talk of how Robert Anae's go-fast-go-hard offense might affect Mama, a mountain of a young man, in his decision to play at BYU. But days ago, he told MaxPreps "You always want to get better. Mainly for me it is dropping weight and getting stronger … I feel like I can get faster."
Mama seemed to enjoy his trip to Provo last weekend. A decision to play at BYU would come as a shock to most fellow recruits and prognosticators who have predicted he will sign with USC. It sure would be nice to see a recruit put on a BYU hat in a Signing Day press conference. Heaven knows it's been a while.