DL Earl Mariner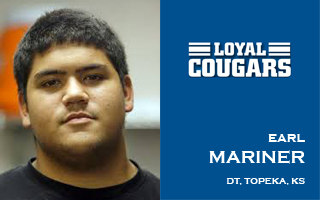 EARL MARINER
DEFENSIVE TACKLE | 6'4″ 300 lbs | Topeka, KS | 2-star – 78.16 rating | #134 DT
STATUS: Signed with BYU
Earl Mariner accepted BYU's scholarship in June 2013 and has been a solid commit ever since. Mariner joins his cousin Travis Tuiloma on the team. He was an Honorable Mention D-lineman in Kansas's Class 6A in 2012. He caught the eye of BYU coaches at BYU's Junior Day in 2013.
Mariner is excited to join the Cougars this fall in the battle to replace graduating senior Eathyn Manumaleuna as a 2-gapping Defensive Tackle — or, he could play the big-bodied Defensive End position when a Linebacker slides up to the line of scrimmage (Bronson Kaufusi's new position a la Ziggy Ansah).
Mariner is a member of the LDS faith, but has not announced definitive plans to serve a mission. BYU's Signing Day press release should provide some good insight on his plans. He may choose to serve immediately and join the team for the 2016 season.