DE/LB Isaiah Kaufusi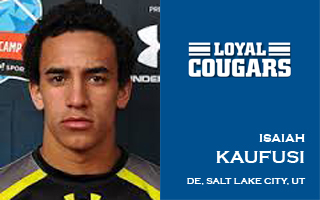 ISAIAH KAUFUSI
DEFENSIVE BACK | 6'3″ 175 lbs | Salt Lake City, UT | 3-star – 82.00 | #124 ATH
STATUS: Signed with BYU
The name is certainly familiar to fans of college football in Utah. Isaiah Kaufusi is the son of Jeff, who played defensive line for Utah in the '90s. He calls Steve his uncle, which means Bronson is his cousin.
But Isaiah will have plenty of time to make a name for himself. Initially interested in BYU the most, his father counseled him to keep his recruitment open and let things play out. After visits to Utah and Utah State, Kaufusi was convinced BYU was the place for him after staying up until 5:30 am talking with his fellow recruits about life during his official visit to Provo.
Kaufusi will serve a mission and then return to compete for a job at outside linebacker, according to the Deseret News article linked in the previous paragraph. According to the DNews, Kaufusi recorded 92 tackles, 4 sacks, and 2 interceptions in 14 games his senior season for Brighton. He also played tight end, catching 33 passes for 609 yards and 6 touchdowns.