S Kavika Fonua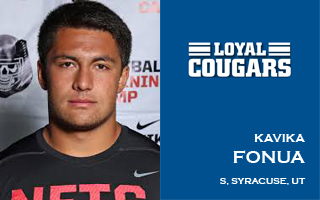 KAVIKA FONUA
SAFETY | 5'10″ 170 lbs | Syracuse, UT | 3-star – NR
STATUS: Signed with BYU
For a while, Fonua was a player who was an example of the faults of the star system — but having been recently upgraded to three stars on several services, Fonua is being recognized for his talent and athleticism.
Fonua played both running back and safety for the Syracuse Titans. Loyal Cougars watched Fonua play this past season against 2015 BYU commit (and Scout four-star) Dayan Lake, and the talent level was impressive. On defense, Fonua displayed a keen knack for the ball. On offense, he made plays when the ball was put in his hands. Fonua looks and acts like a good football player when in action — so even though his recruitment remained very regional, both Utah and BYU knew Fonua would be a catch.
In 10 games his senior season, according to the Deseret News, Fonua recorded 74 tackles and one interception. On offense, Fonua rushed 103 times for 740 yards and 13 touchdowns, and also catching 9 passes for 214 yards and 3 more touchdowns.
Hudl: Senior highlights | Junior highlights