TE Matt Bushman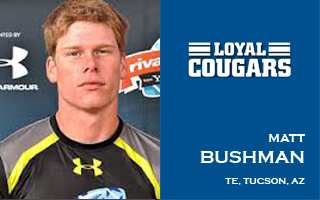 MATT BUSHMAN
TIGHT END | 6'5″ 200 lbs | Tucson, AZ | 3-star – 85.19 rating | #34 TE
STATUS: Signed with BYU
Bushman has been widely-regarded as one of the best pass-catching tight ends in the country. The two-sport athlete committed to BYU in October 2013 nearly a year after the Cougars offered. He also held offers from Arizona, Colorado, Utah, and Duke. Bushman is also an outfielder with plans to play baseball at BYU for Mike Littlewood. He hit .438 with an on-base percentage of .479 in recorded games as a junior. He plans to serve a mission immediately out of high school.
His high school coach, Jay Campos, said "He's simply exceptional in his ability to run great routes and simply make plays. He's going to break every receiving record we have here, and he's truly one of the finest kids I've ever coached with how he conducts himself on and off the football field."
His combination of height, speed, good footwork, and "soft hands," as they say, should make Bushman a menace to opposing defenses.
Bushman racked up 1,583 receiving yards in 12 games, hauling in 26 touchdowns on only 63 receptions for his Sabino Sabercats, who were 9-3 his senior season.