DB Michael Shelton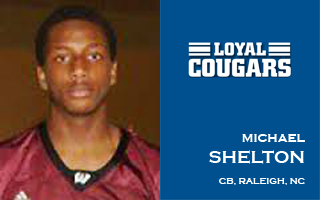 MICHAEL SHELTON
CORNERBACK | 5'8″ 170 lbs | Raleigh, NC | 2-star – 79.54 | #170 CB
STATUS: Signed (Enrolled in January)
Michael Shelton definitely qualifies as an under-the-radar pickup for BYU. The only other offer listed for Shelton on any recruiting service is on his Rivals page, which lists Auburn as having offered the speedy cornerback. (But hey, if you're going to have an offer, how about from an SEC team that has played for the national title twice (and won once) in the last four years. ESPN has him as a three-star recruit, everyone else: two stars.
What makes Shelton so intriguing despite such relative anonymity? Speed. The 5-foot-8 talent, who played both receiver and corner for his Wakefield Wolverines, simply makes plays with his speed. As it was for his high school, this could be especially beneficial to BYU in the kick-return game. It seems unlikely Shelton would overthrow Trammell or Johnson at starting corner in 2014 — though his depth there will be greatly appreciated (see injuries, 2013 season) — but he could make an immediate impact if coaches can trust him to return kicks. Time will tell.
Shelton is a talented track athlete as well, holding a Gold Medal in the 800-meters at the U.S. Track & Field Junior Olympics.
Hudl: Senior highlights | Junior highlights