WR Nick Kurtz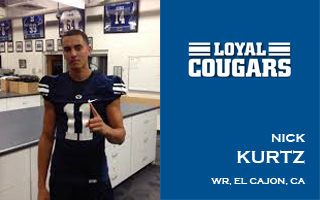 NICK KURTZ
WIDE RECEIVER | 6'6″ 205 lbs | Grossmont College / El Cajon, CA | 3-star, 87.05 rating | #6 WR
STATUS: Signed (Enrolled in January)
Kurtz, a highly-sought-after junior college receiver, garnered a lot of attention over his recruitment. He had interest from Oregon. His interest in Texas Tech led to the famed incident with Wes Welker. Then, Kurtz garnered a late offer from USC.
Through it all, Kurtz has stayed true to BYU. "I was in love with the program months before I even visited," Kurtz told us in September. "You're not going to find a place like [BYU] anywhere else in the country."
Unlike others on Signing Day, Kurtz is signed and already attending classes in Provo.
Presumably, Kurtz will step in right away and start in the absence of graduating star Cody Hoffman, though he does have three years to play two. Despite his height, Kurtz reportedly runs a 4.5 40-yard dash. He hauled in 18 touchdowns and 1,301 yards in 18 games at Grossmont College.
Freshman highlights:
Sophomore highlights: Hudl