DE/LB Sione Takitaki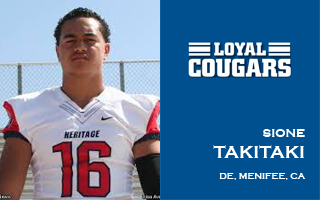 SIONE TAKITAKI
LINEBACKER / DEFENSIVE END | 6'2″ 235 lbs | Menifee, CA | 3-star – 85.10 rating
STATUS: Signed with BYU
Takitaki committed to BYU in June 2013 after ultimately turning down second-choice Wisconsin as well Arizona, Washington State, and San Diego State.
Different recruiting services list Takitaki at different positions because he played linebacker and fullback for his Heritage High Patriots (13-1) in 2013. However, he told Total Blue Sports just before committing that he believes BYU wants him to play defensive end. So Scout lists him as the 50th-best DE in the country. 247 Sports has Sione as the 4th-best fullback, ESPN as the 24th-best linebacker, and Rivals as the 47th-best "athlete" — a top-50 player at any of those positions.
Needless to say, the Cougars are getting a versatile player. Given how Bronco Mendenhall has used similar players recently, like Ziggy Ansah and now Bronson Kaufusi, it's possible we eventually see Takitaki play a combo of outside linebacker and defensive end.
Takitaki was competitive acquaintances with now-fellow BYU commit Tyler Cook, a linebacker from neighboring Murietta and a player just percentage points from making BYU's top five commits.
In 2013, Takitaki recorded 81 tackles in 14 games, with 3.5 sacks, one interception, and one blocked punt. He also tallied 823 yards and and 14 touchdowns on 99 carries, an 8.31 yards-per-carry average.
VIDEOS
Hudl | Senior highlights | Junior highlights
ESPN | Highlights