DL Teancum 'Tico' Fuga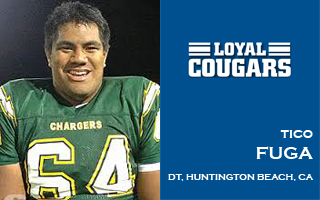 TICO FUGA
DEFENSIVE TACKLE | 6'2″ 320 lbs | Huntington Beach, CA | 3-star – 81.76 | #88 DT
STATUS: Signed with BYU
If I told you BYU could get another Romney Fuga, but this time he'd be faster and carry the name of a Nephite assassin and war hero, would you be excited? Well you should be. Teancum "Tico" Fuga committed to BYU in June of 2013 and has been rated highly by recruiting services. Familiar name aside, the Cougars are getting a good player:
Teancum is almost a carbon-copy of his brother when watching his film, but may have better burst and is bigger than Romney was in HS
— Brandon Gurney (@BrandonCGurney) June 25, 2013
Upon his commitment, Fuga said "I know that Coach (Bronco) Mendenhall thought very highly of Romney, and it's a lot to live up to, but I'm anxious for the opportunity."
Fuga was also offered by Arizona, Boise State, Utah State, and San Diego State. He plans to serve a mission immediately after high school.