OL Tejan Koroma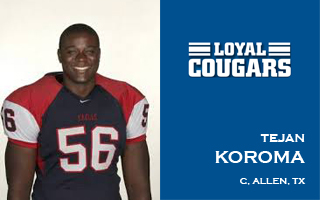 TEJAN KOROMA
CENTER | 6'0″ 250 lbs | Allen, TX | 2-star – 77.19 rating | #43 C
STATUS: Signed with BYU
Tejan Koroma received a scholarship offer from BYU in September 2013, after the season had already begun. Such timing is uncharacteristic of a Bronco Mendenhall program that routinely wraps up recruiting classes before the season begins. But, with new recruiting coordinator Geoff Martzen on board, the Cougar coaches are able to fill needs through the season and all the way up until Signing Day.
Koroma committed to BYU soon after receiving an offer. Though undersized for a typical offensive lineman, Koroma's strength speaks for itself in his highlights, earning him offers from Air Force, Arkansas State, Army, New Mexico, and UTEP.
Koroma is a member of the LDS faith, but has not announced definitive plans to serve a mission. As of now, we expect him to come in immediately and compete with Terrance Alletto and Edward Fusi for playing time at Center. The coaches may also decide to shift him to a different position, such as Defensive End or Middle Linebacker.