WR Trey Dye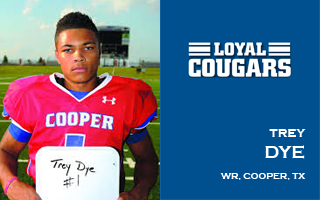 TREY DYE

WIDE RECEIVER | 5'9″ 175 lbs | Cooper, TX | 3-star – 81.20 rating | #198 WR
STATUS: Signed with BYU

It's always a good sign when legacy recruits choose to come to BYU. It's an even better thing when one comes along who fills the void left by the graduation of JD Falslev and whose father happens to be one of the best punt returners in BYU history.

Trey Dye was offered by BYU coaches back in February 2013 and accepted almost immediately. He has definite plans to serve a mission. Though initially planning to leave immediately after graduation, he has now modified his plans to come to Provo for a season before his mission. This is a wise decision for Trey as he will be able to compete immediately for Falslev's vacated slot receiver and punt return positions.

Dye totaled some impressive stats in his senior season (13 games) at Abilene Cooper: 1,485 yards and 25 rushing touchdowns on 195 carries, with another 468 receiving yards with 4 touchdowns on 24 receptions.