The Ballad of Matt Carlino: Why BYU needs its point guard back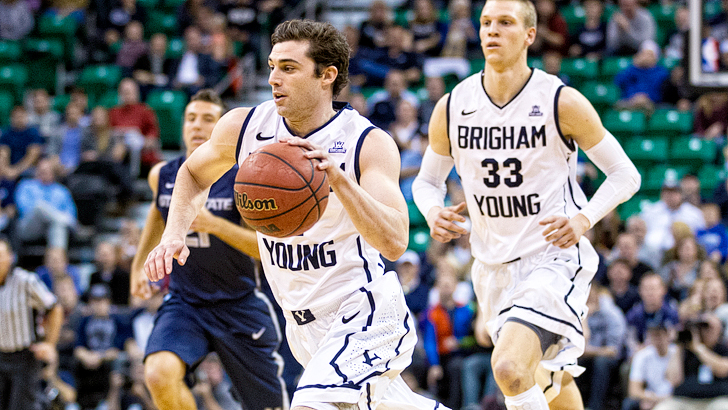 With the Cougars' season threatening to spiral out of control, Steve Pierce believes there's one move Dave Rose must make: Free Matt Carlino.
If you've read anything I've ever written, you know I generally think Dave Rose walks on water. Nevertheless, it's getting hard to deny that, as good a coach as he is, Rose has mishandled this year's BYU basketball team something fierce — and that mishandling begins with the toxic point guard situation, which has gone a long way toward poisoning the team's chemistry as a whole.
When Rose initially floated the notion of playing both Kyle Collinsworth and Matt Carlino at point guard last summer, I immediately hated the idea. Not only did I think it was tactically foolish to move Collinsworth (a talented player and voracious rebounder who lacks any semblance of a consistent outside shot) further away from the basket, but I'm also a firm believer that when you pit two of your captains against each other for one of the team's most important roles, bad jujubes are sure to follow. It's a variation on the old "When you have two quarterbacks, you have no quarterback" saying — a principle that should hit very close to home for fans of the 2010 BYU football team.
The experiment worked fine for a while. BYU came out of the gates hot, earning an impressive road win over Stanford in their second game and playing a number of top ranked teams tough. Carlino started at the point, with Collinsworth occupying his natural role at small forward most of the time and filling in as lead guard when Carlino went to the bench for a rest. For a time, everything was wonderful — everyone played a lot of minutes, the team scored a ton of points and BYU won a lot of games. Things were good in Provo.
That is, until they weren't. Eventually the tough slate of opponents and the disproportionate number of road games began to take its toll on the Cougars. Good teams watched film (as good teams are wont to do) and hypothesized that you could stop BYU from scoring if you relentlessly focused on getting back in transition — forcing them into a half-court game where their execution is not nearly as crisp. Those teams were right.
As more and more opponents sent three or four players back on defense as soon as a shot was launched on their offensive end, the Cougars complacently complied by walking the ball up the floor, half-heartedly cycling through a smattering of half-court sets and settling for more difficult shots than they might otherwise be comfortable with. As the offense stagnated (and the defense remained porous), the Cougars began to lose and frustrations began to mount — and the dark underbelly of the dual point guard experiment began to rear the ugly head that had always been there, content to hide just beneath the surface so long as the team remained successful.
The shivs were sharpened. The backbiting began. Many blamed the team's problems on Carlino and called for Collinsworth to replace him as starting point guard. Carlino shot too much, they said, and he was shooting a very low percentage. He turned the ball over too much and didn't pass enough. Only Collinsworth could restore the proper balance. The mobs had found their scapegoat — and he was a familiar target.
It took a good old-fashioned beatdown at the hands of rival Utah, featuring a frustratingly inefficient performance from Carlino, to push Rose toward the change. He ultimately made the switch in advance of the subsequent game at Oregon, installing Collinsworth as the team's primary ball handler and moving Carlino to shooting guard — a position he has hardly ever played at the collegiate level.
What transpired next is well known. BYU played pretty well but ultimate lost in overtime to the Ducks, before proceeding to drop their first two West Coast Conference games to perennial bottom-feeders Loyola Marymount and Pepperdine. After losing his job to Collinsworth, Carlino saw his minutes drastically slashed against the Lions and Waves, as he pressed hard to make plays in his limited opportunities but floundered, missing a vast majority of his increasingly difficult shots. Meanwhile, Collinsworth continued his stellar individual effort on the boards, but struggled to handle the ball against pressure defenses and failed to jumpstart the team's struggling offense. Things were ugly. The offense was a mere shadow of the high-octane outfit it had been just a month prior. And one of the team's captains and most talented players languished on the bench as his team imploded around him.
Observers could see the team turning inward on itself, the chemistry souring as the losses piled up and the atmosphere growing tense as the point guard situation descended to new lows. The Cougars had lost five of their previous six games, including four in a row, and had quickly played themselves to the very far edge of the NCAA tournament bubble. Suddenly, a once promising season was spiraling out of control.
And that's where we find ourselves today — between the metaphorical rock and the hard place. Dave Rose needs to find something that can right the ship. Anything. A home loss to San Diego on Saturday would likely make the season seem irredeemable. So what should he do?
The short answer: Put Matt Carlino back at point guard.
The fact of the matter is, BYU is currently 0-3 in the Kyle Collinsworth era — and that's not a knock on Kyle himself. He's been a satisfactory point guard, even if he does struggle against pressure, and he has turned in some really nice individual statistical performances even during this bad stretch of games for the Cougars. But the team simply doesn't respond to him offensively like it does when Carlino's got the reins and he has the offense purring.
Nobody pushes the ball faster and harder up the floor — off a make or a miss — than Matt. He's constantly flying up the floor, looking for holes to attack as the opponent slowly settles back into its defensive shell. That's where BYU makes its living — that's the approach that helped them notch quality wins over Stanford, Texas and Utah State. And that's something that Matt Carlino uniquely brings to this team.
Collinsworth doesn't possess that same sense of pace, particularly off made baskets (something BYU seems to give up a lot of lately). He's more inclined to walk the ball up the floor, pass to the wing and instigate an offensive set. That's a perfectly fine temperament for a point guard to have — but is it the right temperament for the point guard on a BYU team that must play in transition as much as possible to be effective and struggles mightily in the half-court? I'd argue that the answer is no.
The added benefit to such a switch is that you don't lose any of the really great things that Collinsworth brings to the table. By shifting him to the small forward spot — or even playing him as a small-ball power forward — BYU can free him up to attack the glass even more voraciously for rebounds, put him in spots where he can succeed at getting to the rim (where he's most comfortable) in transition more often for easy baskets, and still maintain his keen passing ability within the flow of a half-court set. And you get all of this while restoring Carlino to the role where he feels most comfortable, where he's spent three years learning to play, where he had this team playing its best offensive basketball just a month ago.
To be sure, Matt Carlino has his fair share of weaknesses, and his shooting is by far the most problematic at the moment.[1] His shot selection can be highly suspect at times, and he's in the midst of a horrific shooting slump. Those things are not to be discounted (and there's likely a strong correlation between the two), but they're also things that can be continually refined. He can and should be coached to take better shots than he has recently, and when he does, those shots will start to fall. How do I know that? We've seen it happen before.
Through December of last season, Carlino was shooting an abysmal 22 percent from deep. (He's at a not-quite-so-bad-but-still-really-bad 28 percent so far this season.) What happened then? Rose told him to keep shooting (albeit smarter shots), kept building up his confidence, and eventually he came out of it. He shot a very respectable 37 percent from beyond the arc the rest of the way, almost single-handedly won a couple close games in crunch time, and played a huge role in BYU's run to the NIT semifinals.
But none of that happens if you don't stick with him through the tough times. Rose stuck with him once, and it paid off. Carlino pulled himself out of his slump and played really effective basketball in conference and postseason play. He needs to do it again. He needs to make it clear to Matt that he has confidence in him — not only for the rest of this season, but laying the groundwork for next year too.
Carlino is a player who thrives on confidence. He's at his best when he can play freely and naturally, feeling the game and feeding off emotion. When you take that away from him, it kills him. He questions himself and his role, he overthinks the game and plays tentatively, and his play quickly goes from bad to worse.
This is not a new phenomenon — it's true of a lot of players. So when Rose gave away Carlino's role (at a time when he was already dealing with a confidence-testing slump) and began drastically reducing his minutes, it only made Matt worse — something that has been born out in his despondent, truncated performances in the last three games. For all intents and purposes, whether he intended to or not, Rose's recent personnel decisions have helped strip Matt Carlino of his much-needed confidence — kicking off a cycle that will make it difficult for him to be productive so long as it remains in effect.
The happy flip-side to this equation is that, if Rose has the power to diminish Carlino's confidence, he also has the power to build it back up. It's a simple process and, as I've already mentioned, one the coach has already been through before. But it has to start with restoring his mercurial point guard to his natural role — if not because he necessarily believes that Matt's recent play deserves that distinction (although I think the tactical benefits highlighted above speak for themselves), then as a symbolic vote of confidence and trust in his ability to work hard and regain his previous good form.
It has often been said (including by yours truly) that BYU can only go as far as Matt Carlino takes them — that he's the X factor who can provide the perfect complement to Tyler Haws' offensive wizardry and Kyle Collinsworth's all-around excellence. When Carlino's good, the Cougars are very good. When he's bad, they can be pretty bad. And when he's virtually nonexistent? Well, we just found out how well that works over the past three games.
I know that Carlino can be frustrating, particularly when he's in a slump. Sometimes he takes difficult shots that make you want to pull your hair out. Sometimes he pushes too hard to overcompensate for a crisis of confidence and makes silly mistakes. And sometimes he just straight-up misses a boatload of shots. But we have to remember, in those dark times when the slump monster is raging, that there is light on the other side. We've seen it before, and it is glorious.
Because when Matt Carlino is good, he's undeniably, wickedly good — and so is everyone around him. BYU played their best basketball of the season with him at the helm, and they can do so again. But not unless they ride with him through the tough times, tell him they still believe in him, and help him emerge stronger on the other side. They can't lock him away on the bench and hope he'll magically fix himself — that's not how it works. He needs to feel the ball in his hands. He needs to get those slaps on the back from his teammates and coaches. He needs to hear the roar of his home crowd's approval.
It's time to free Matt Carlino. The fate of this season — and perhaps beyond — depends on it.
---
The other primary knocks against Carlino — that he doesn't pass enough and turns the ball over too much — have always been overblown. In fact, if you adjust for the amount of time each player spends on the floor, he's actually assisting more often and turning the ball over less often than Collinsworth this season. Matt assists on 27.3 percent of BYU's baskets when he's on the floor, while Kyle assists on 23.7 percent; and Carlino turns the ball over 14.9 percent of the possessions he plays, while Collinsworth commits a turnover on 17.3 percent of his possessions. All of these numbers are respectable from both players — but the idea that Carlino is somehow a less effective passer or more turnover-prone than his teammate is patently absurd.  ↩