Player Power Rankings: Don't mess with Tyler Haws
Updated: January 15, 2014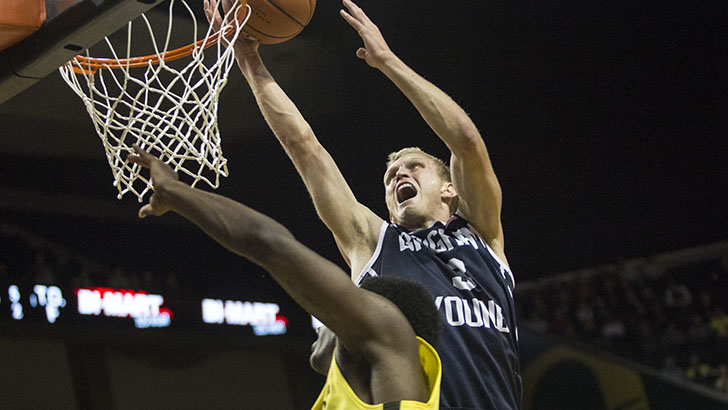 Our staff ranks the BYU hoopsters' performance in their big wins over Pepperdine and Loyola Marymount.
Welcome to the Player Power Rankings, the weekly feature where we rank each member of the BYU basketball team based on how they're playing right now — and coming off a week where the Cougars rebounded to claim two much-needed home wins, it should be interesting to see how the rankings shift.
As a reminder, here's how it works: Each member of the Loyal Cougars staff is given the opportunity to rank each player on the roster, in order of performance, from 1 through 10 — although this week we ranked them 1 through 9, due to Eric Mika's injury-related inactivity. Each ranking is worth a descending number of points. For example, this week a first-place vote is worth 9 points, a second-place vote is worth 8, a third-place is worth 7, and so on. With 12 staff members voting, that means each player could potentially earn as many as 108 points (if he received all of the first-place votes) and as few as 12 points (if he received all of the ninth-place votes). We tally up the points for each player, rank them in order, and then I add some commentary and recent statistics to fill it all out.
Week two, here we come!
1. Tyler Haws (107 points)
Last Week: 2nd (+1)
This Week: 33.0 PPG (47.6% FG / 57.1% 3P / 95.6% FT), 2.5 RPG, 0.5 APG, 2.0 SPG, 1.5 TO
Our supreme leader has been restored to his proper place atop the power rankings — and with good reason. Needless to say, when you average 33 points per game, you're probably going to find yourself at the top of a lot of charts. Haws was simply sensational in both games this week, including a personal 11-0 run in the second half against Pepperdine that single-handedly pushed BYU across the finish line. The man can just flat-out score the basketball, and when he gets that look in his eye — something we hadn't seen in quite some time prior to this week — watch out. He becomes a one-man Basketball-Scoring Death Machine that mere mortal opponents cannot hope to contain, let alone stop. It's probably best to just get out of his way — for your own safety.
2. Kyle Collinsworth (98)
Last Week: 1st (-1)
This Week: 17.5 PPG (60.0% FG / —% 3P / 68.7% FT), 9.5 RPG, 7.0 APG, 2.5 SPG, 3.0 TO
Look at that stat line. I mean, 17.5 points, 9.5 rebounds, 7 assists and 2.5 steals. That's just absurd, especially for someone who hadn't really played basketball for two years as recently as a couple months ago. What Collinsworth is doing right now on the court is special, and when you consider that he's only a sophomore and likely to continue improving from here, you can't help but get downright giddy. Though I still prefer him at the power forward spot where he can really focus on putting his prodigious rebounding skills to work, Kyle has proven he can excel at whatever Dave Rose asks of him — and that's the kind of guy you want on your team.
3. Matt Carlino (80)
Last Week: 5th (+2)
This Week: 14.0 PPG (50.0% FG / 57.1% 3P / 71.4% FT), 3.0 RPG, 5.0 APG, 1.0 SPG, 1.0 TO
Is The Year of Carlino back on track? It certainly looked like it against Loyola Marymount on Saturday. The old Matt — the one that terrorized top teams in November — made his triumphant return against the Lions, scorching the visitors for 18 points and 4 assists while making everyone around him better. It was a beautiful sight for any Cougar fan. As good as Haws and Collinsworth are (and they are both great), this BYU team can only reach its full potential when Carlino gets rolling too. Opponents simply can't guard all three at once — as LMU quickly learned in the second half. When you have to account for all three deadly options, one of them is always going to have an advantage. That's what Carlino brings to the table. The question will be whether he has truly broken out of his slump and can continue to do so moving forward.
4. Skyler Halford (65)
Last Week: 4th (even)
This Week: 10.0 PPG (36.8% FG / 22.2% 3P / 100% FT), 4.5 RPG, 1.0 APG, 0.0 SPG, 2.0 TO
It was kind of a bipolar week for Halford. Fresh off receiving the WCC's player of the week award, he showed why he deserved it by dropping a cool 18 points on 50 percent shooting against Pepperdine. Sure, it wasn't quite on par with the pyrotechnics he set off against San Diego, but it was a very good performance. And then the bottom dropped out against LMU. Halford struggled early and often, going 0-for-5 from deep and never really establishing an offensive rhythm. At this point, we have to consider that stinker to be an aberration, as Skyler has shown the ability to be a very positive force for BYU — but Rose will need continued consistency from the sharpshooter moving forward.
5. Josh Sharp (63)
Last Week: 8th (+3)
This Week: 5.0 PPG (75.0% FG / —% 3P / 66.7% FT), 4.5 RPG, 1.0 APG, 0.0 BPG, 0.5 TO
Why is Josh Sharp ranked here, despite the fact that his stat line is pretty uninspiring? Because he is so much more than what can be contained on a stat sheet — and this week was a revelation in that regard. Starting in place of the injured Eric Mika, Sharp proved his value on the defensive end by repeatedly getting the fundamental plays right. He is masterful on the weak side of the defense — he's "on the wall" where he should be when the ball is on the other side of the floor, his head is always on a swivel between his man and the ball, his rotations are quick and effective, and his closeouts to the perimeter are low and under control. This may seem like basic stuff, but it's all stuff BYU really struggles with. They have exceptionally bad defensive habits. Sharp is better at those things, and it's a big part of why the team's defense has been so much better as a whole recently.
6. Nate Austin (56)
Last Week: 6th (even)
This Week: 4.0 PPG (66.7% FG / 0.0% 3P / 0.0% FT), 9.0 RPG, 0.5 APG, 1.0 BPG, 1.0 TO
As always, Nate Austin is a picture of consistency. He responded nicely this week with Mika out of the lineup, really picking up an additional share of the work on the boards. It would have been nice to see him show a little more offensive ability to help fill the vacuum left by his front-court mate's absence, but any such hopes were probably unrealistic. Nate is who he is. He's not an offensive powerhouse, and anyone harboring hopes that he will become one at this point in his career is probably wasting their time. He's a very good rebounder and reasonably sound defender who simply gives his all for the team every single night without fail — and we should celebrate him on those terms.
7. Anson Winder (34)
Last Week: 9th (+2)
This Week: 3.0 PPG (33.3% FG / 0.0% 3P / 0.0% FT), 2.5 RPG, 1.5 APG, 0.5 SPG, 0.5 TO
Winder makes a jump up the rankings this week after turning in a couple nice performances. He has obviously earned the minutes that once belonged to Frank Bartley (more on that in a minute), and Rose has begun to trust him in crucial spots in games. Even when he's not making his perimeter shots — which he certainly wasn't this week — his speed and athleticism can still add a new dimension to the team on the defensive end, particularly in small lineups. To be sure, he needs to hit his shots moving forward to continue to earn more time (if opponents can sag off him to double- or triple-team Haws, Rose can't afford to have him on the floor much), but Anson took a nice step forward in the rest of his game this week.
8. Luke Worthington (20)
Last Week: 10th (+2)
This Week: 1.0 PPG (—% FG / —% 3P / 100% FT), 1.0 RPG, 0.0 APG, 0.0 BPG, 1.0 TO
Luke Worthington is out of the basement! This move is probably more a function of Frank Bartley's struggles than it is Worthington's improvement, but he did look more comfortable out there this week. With Mika out, Luke was asked to step in and played increased minutes, and he acquitted himself relatively well. He still has a lot of work to do offensively (although he did make his first free throws of the season!), but his defense wasn't bad and he covered the pick-and-roll fairly well. Sure, there were a few botched rotations and bad turnovers, but what else did you expect? He's still a freshman and he still has a long way to go — but he seems to be moving in the right direction, albeit slowly.
9. Frank Bartley IV (18)
Last Week: 7th (-2)
This Week: 0.0 PPG (0.0% FG / —% 3P / —% FT), 0.0 RPG, 0.0 APG, 0.0 SPG, 0.5 TO
And moving down to the basement this week we have the curious case of Frank Bartley IV. You'll often hear commentators talk about the "freshman wall" that young players hit midway through their first season. (Ask Jabari Parker about this.) It seems Bartley is there right now. He doesn't look comfortable on the court and he's struggling to finish open looks that he was making with ease just a month ago. To be fair, Rose also hasn't given him much opportunity — he tends to throw him in there for a minute or two and then quickly pulls him once Frank makes a single mistake. That can be tough on a young man's confidence, and it may contribute to prolonging this freshman slump. But the fact is, Rose only has so many minutes to give and there's a lot of competition for them. Frank needs to find a way (whether it's in practice or in game action) to scale that wall soon, or he may need to get comfortable on the bench.
Inactive: Eric Mika
What would your personal power rankings look like? Let us know in the comments below!