3OT Heartbreak: Haws and Carlino can't save BYU a fourth time
Updated: January 24, 2014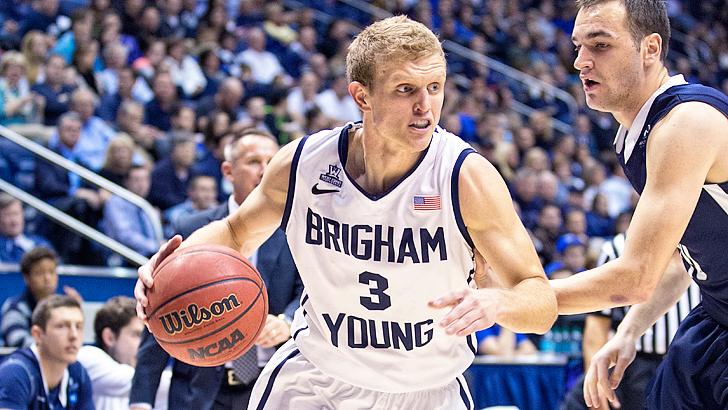 Tyler Haws dropped a career-high 48 points, but it wasn't enough to stave off a devastating road loss to Portland.
Sometimes there are games that you just can't forget — the ones so memorable that they're burned into your brain. They stay with you for years afterward. You remember where you were when they happened. You remember the roller coaster of emotions you felt as you sat transfixed by the events unfolding before your very eyes.
As a fan, you either love those games or you hate them. Because after all of that investment — all that time, all that energy, all the emotion — your team is either going to come away the conquering hero or the heartbroken loser. There are no other options.
On Thursday night in Portland, BYU experienced the latter of those two possibilities, finally falling to the Pilots after three overtimes and numerous ups and downs, 114-110. It was a harrowing game for Cougar fans, who saw their team struggle throughout much of regulation, rally to force the first overtime, ride Tyler Haws' heroics to a second one, go up big only to squander the lead and concede a third overtime, then completely run out of gas at the end. If you're exhausted after reading that mammoth run-on sentence, just imagine how it felt to watch it all.
As painful as it was to watch a win slip away, this was still a fantastic game. There's no other way around it. It featured the greatest offensive display of Tyler Haws' already storied BYU career, as the junior scorer exploded for 48 points, including a few absolutely ridiculous clutch shots to keep the Cougars alive when the light at the end of the tunnel looked dim. There are literally no words to do justice to what Haws did out on that court. It was beyond magnificent.
Similarly, Matt Carlino turned a virtuoso performance of his own, notching 25 points, 9 assists, 7 steals and, most impressive, zero turnovers. Continuing his recent breakout play off the bench, Carlino orchestrated the Cougar offense to perfection and even carried BYU single-handedly for long stretches, while terrorizing the Pilots on the defensive end. If the outcome had been different, his steal/tip to Haws for the game-tying bucket in regulation would have gone down in history as an all-time favorite Cougar moment.
Put simply, Haws and Carlino were absolutely fantastic in every way. BYU does not make it out of regulation without the contributions of either player, much less push the game to multiple extra sessions. A few may gripe about poor shot selection in the waning moments of the third overtime, but that's nothing more than nit-picking. Because when you consider the full body of the pair's work on the evening, it's hard to find anything to complain about.
Alas, the contest wasn't just about BYU's two stars — it also featured a pair of fantastic performances from the Pilots. Bobby Sharp simply refused to miss, and he pounded the Cougars with a merciless air assault from the perimeter again and again and again. It got to the point where I even jokingly requested that someone fly to Portland and cut off both his arms to prevent him from shooting anymore. Every time Portland needed a big shot, Sharp was there to answer the call — and he finished with a massive 27 points on 8-for-13 shooting from beyond the arc. Not bad for a junior college transfer who averages 7.4 points per game.
But as good as Sharp was, Pilots big man Thomas van der Mars may have been the player of the game for the home team. The Dutch national obliterated the Cougars' frontcourt, scoring 27 points and grabbing 18 rebounds — 10 of which came on the offensive glass. No matter who BYU put down there, van der Mars threw them all out of the way in his dogged pursuit of the basketball, creating crucial extra possessions for his team — possessions that ultimately swung the outcome of a very close game. It was a monster effort.
Not to take away from Portland's great performances, both individually and as a collective whole, but it's not hard to pinpoint the BYU-centric factors that led to the loss. There were many, and they were all familiar.
The Cougars gave up 18 offensive rebounds, meaning they gave Portland 18 extra possessions in a game where a single point in either direction ends it in regulation.
They missed 14 free throws, and that doesn't even include the points they left at the line by missing the front end of several one-and-one opportunities.
BYU failed to defend the 3-point line, allowing the Pilots to shoot 61 percent from beyond the arc. To be sure, Sharp made his fair share of amazing shots with a hand in his face down the stretch, and there's not much the Cougars can do about those. But what they could have done something about were all the wide open looks they gave Portland in the first half, six of which found the bottom of the net.
And in a strange twist, the visitors didn't get a single significant offensive contribution from anybody not named Tyler Haws or Matt Carlino. That dynamic duo combined for a mind-blowing 73 points, while the rest of the team managed to produce just 37 points. As terrific as Tyler and Matt were, they needed help — particularly as the game dragged on and their legs became visibly tired (and, in Carlino's case, cramp-inflicted). But no one came to the rescue. Kyle Collinsworth did his best to salvage a fairly horrific outing by showing up in spurts during overtime, but even his strong play in the extra frames couldn't fully overcome the disastrous effect of his six missed free throws and six turnovers.
If even one of those things goes marginally better — if Eric Mika or Nate Austin or Josh Sharp (or anyone, really) prevents van de Mars from getting just one of those offensive boards or if Collinsworth misses only five free throws instead of six — then the outcome of this game may have been very different. Our memories of this night may have been very different. Our outlook on the rest of the season would certainly have been very different.
But it didn't happen. BYU didn't get it done. And now they — and, to a far lesser extent, we — have to grapple with the aftermath of being on the losing end of one of those memorable, never-delete-from-your-DVR-ever games. And that feeling sucks.
This loss is a tough one, but it doesn't end the season for the Cougars. There's still a lot of games left — including a really big one on Saturday in Spokane. Who knows? If BYU manages to surprise Gonzaga in the Kennel, we may all feel a little bit better about what we just saw. Maybe not. Only time will tell.
Regardless of what happens next, one thing is certain: While BYU's tournament path didn't necessarily end in Portland on Thursday night, it definitely got tougher.
Spokane awaits.