BYU suffering from a style-of-play crisis, outgunned by Gonzaga
Updated: January 26, 2014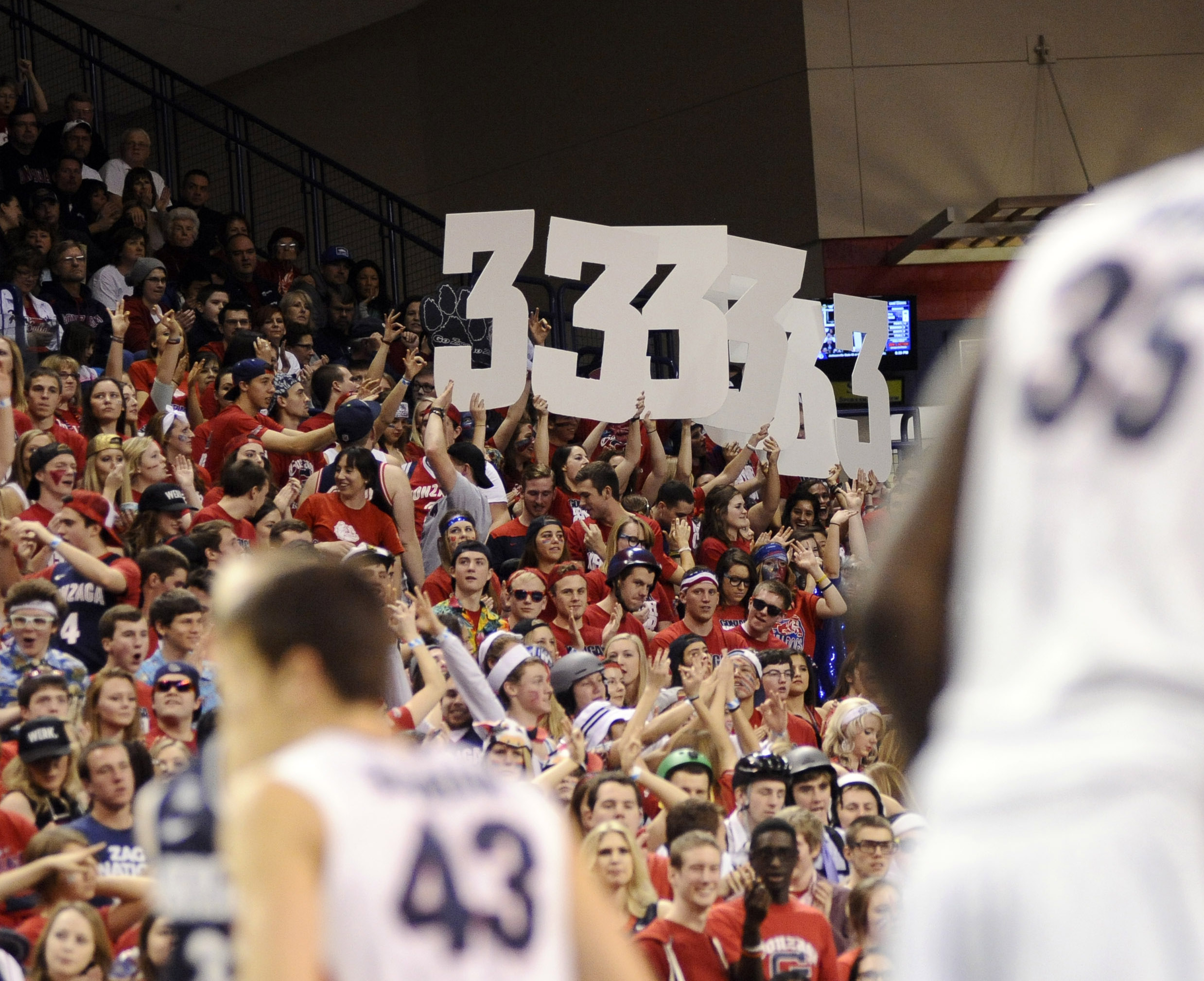 An 84-69 loss to Gonzaga highlighted how BYU's defensive limitations aren't overcome by the offense due to style of play.
Against Gonzaga on Saturday night, the Cougars were faced with a bevy of problems that ultimately resulted in a 84–69 loss in Spokane. Really, after losing that triple overtime heartbreaker to Portland, BYU was lucky just to be down two points at the half, and it was ultimately bad defense — a result of tired legs — foul trouble, and continued poor perimeter rotations that cost BYU the game.
None of this was particularly surprising. Gonzaga is a better team than BYU, and on the road, coming off a triple OT game just 48 hours before, the Cougars' chances of winning were slim. Anyone who expected any other result was deluded. The defense was bad, and BYU's defensive woes have to be fixed. But playing Gonzaga on the road with dead legs was never going to be the moment to fix them.
But while watching Gonzaga's David Stockton and Kevin Pangos pick BYU apart, it was hard not to wonder if BYU's larger issues aren't a philosophical, style-of-play crisis. The Cougars attempted just 11 three-pointers against Gonzaga, making two. Meanwhile, the Zags put up 22 three-pointers, making 10 of them. Despite grabbing 10 more offensive rebounds than the Bulldogs, and attempting 9 more free throws (although they only made 3 more than Gonzaga, more on that in a minute), BYU still lost by 15. By almost every metric other than three-pointers, BYU outplayed Gonzaga. But in the modern game, its just not possible to beat good teams without three-point shooting, and the once trigger-happy Cougars — in some sort of shooting slump PTSD — have abandoned the foundation of modern basketball, the three-point shot.
Over the last few years, the proliferation of advanced statistics into basketball has had a profound impact on the game. Advanced analytics proved that the most efficient offensive plays are drives to the basket and three point shots — drives to the basket produce layups (which are high percentage shots), passes to open shooters (also high percentage shots), or free throws (even higher percentage shots). On the other hand, the extra point that a made three-pointer produces significantly outweighs the only slightly higher degree of difficulty required (compared to a mid-range jumper). Thus, over the last few years — both at the professional and collegiate levels — teams have slowly shifted towards running offenses completely predicated on producing drives to the basket and three-point shots[1], while mid-range jumpers and post-ups are slowly being phased out.
A few years ago, during the real peak of the Dave Rose era, BYU could have been considered ahead of the curve. BYU's fast paced offense was built on getting buckets in transition through drives to the basket and three point shots. From the 2006–2007 season through the 2010–2011 season, the Cougars under Rose attempted 20.4 three-point shots a game, shooting above 37 percent in four of those five seasons. The only real outlier was the 2010–2011 season — Jimmer Fredette's senior season — when BYU attempted over 23 three-pointers a game, making 36.1%.
But something changed during the 2011–2012 season; the team was ice cold from three-point range during the back half of the season. That slump continued into last year, and BYU has put up Rose-era worsts in three-point percentage during the last two seasons, shooting 34.3 and 33.8 percent, respectively. (Surprisingly, BYU has actually improved that shooting percentage this year, making 36.2 percent of the team's three-point shots[2]).
Perhaps due to the poor shooting numbers the last two years, the BYU offense has declined every season in three-point attempts, and despite an improved percentage this year, the Cougars are currently attempting just 14.4 three-pointers a game, a Rose-era low. For context, that puts them somewhere in the 320's (out of 351 D-I teams) in three-point attempts per game.
Meanwhile, in the midst of the two-year shooting slump, Tyler Haws — a scoring machine — quickly established himself as the team's best player. While Haws can score from anywhere on the court, including the paint and the three-point line, his mid-range jump shot is his most effective — and most used — weapon, a throwback to an era of the game that now seems as far behind us as Larry Bird's short shorts.
Four BYU players entered Saturday's game shooting over 40 percent from behind the three-point line: Kyle Collinsworth, Tyler Haws, Skyler Halford, and Nate Austin[3]. Yet against Gonzaga, those four players attempted just 7 three-pointers. As basketball teams tend to do, the Cougars have taken on the identity of their best player — Haws, a selective three-point shooter who gets most of his points on mid-range jumpers and at the free-throw line. Kyle Collinsworth, Eric Mika, Haws himself, and the rest of the team are getting most of their shots at the basket or in the mid-range area. Unfortunately, most of this BYU squad doesn't have Tyler Haws' touch — especially at the free-throw line.
If you remove Tyler Haws' 87 percent free-throw shooting from the equation, the rest of the Cougars are shooting just 63 percent on the season, a dismal number. Even if you include Haws' free throws, BYU is still shooting just 68.8 percent from the free-throw line, which ranks the Cougars around 200 out of the 351 D1 teams.
In embracing Haws as the team's best player, BYU has taken on an identity as a team that gets their points at the basket and in the mid-range while being selective at the three-point line. But the team's poor free-throw shooting eliminates one of the most important benefits of attacking the basket, and the mid-range jumper remains (especially for players not named Tyler Haws) the most inefficient shot in basketball.
While the team is certainly plagued by a lack of depth and poor rebounding, in observing BYU's season woes, the question has to be asked: How good of a team can the Cougars really be if they're built around taking mid-range jumpers? Against weaker competition, the Cougars can easily compete, and even dominate, by outrunning teams. No one can stop Haws, and BYU's athleticism can overpower the weaker competition.
But against teams like Gonzaga, BYU has to be able to compete in every facet of the game. And by running an offense that gets BYU inefficient two-point shots, the Cougars have no chance of outscoring teams who match — or exceed — them physically. Well-coached teams have killed BYU this year by matching their pace while trading them a three-point bucket for the Cougars' two-point shots.
Moving forward, Dave Rose has to figure out how to get this team back to a brand of basketball in which mid-range jumpers don't take precedence over more effective three-point shots. The Cougars have to learn that outrunning a team doesn't mean anything if you don't outgun them. Modern basketball is built around the three-point line. Can BYU succeed if it's not?
Stray Observations
After what was probably his best game of the season against Portland, it was an extremely poor night for Matt Carlino, who scored just 2 points off the bench. Despite a poor shooting season, Carlino has attempted, and made, more-three pointers than anyone else on this BYU team. If he can't get going then they have no chance. Haws and Collinsworth tend to get theirs. But as Matt Carlino goes, so goes this team.
Eric Mika was fantastic in the first half, grabbing 8 rebounds (including 3 on the offensive glass). But Gonzaga adjusted well, Mika found himself in foul trouble, and thus only pulled down 1 rebound the entire second half. Still, his first half was certainly encouraging — a true freshman playing well on the road in a truly hostile environment is always impressive. There's big things ahead for this kid.
MISSING: 6-foot-1 shooting guard, blonde hair, answers to the name Skyler. If you have any information please contact your local BYU fan immediately.
Seriously, how many years has David Stockton been at Gonzaga? I think he may be like the Dread Pirate Roberts — when he's finally ready to move on, he leaves Spokane and retires while some other 5-foot-11 white kid puts on his jersey and takes on the mantle of David Stockton. The old one hangs around as a graduate assistant, calling the new David Stockton "David Stockton," which tricks Mark Few and the rest of the program. Someone investigate this.
Speaking of investigations, if I kickstarter a documentary investigating the WCC officials, who's willing to contribute? I think we could get two hours of just all the weird calls that have gone against BYU the last three seasons. What's the crew that did MITT up to?
---
Its also worth mentioning that the analytics demonstrate that drives to the basket and three-point attempts are more likely to produce offensive rebounds and second chance points compared to mid-range jumpers and post-ups.  ↩
However, it should be noted that this percentage is significantly bolstered by a few statistical outliers, like the Stanford game.  ↩
Although he's just 2-for-4 on the season. I've previously argued that Austin should abandon the three-point shot, and he all but has, although I didn't expect that to be accompanied with teamwide abandonment of the three-point line.  ↩