Tyler 'Mormon McBuckets' Haws leads BYU over Pacific
Updated: January 31, 2014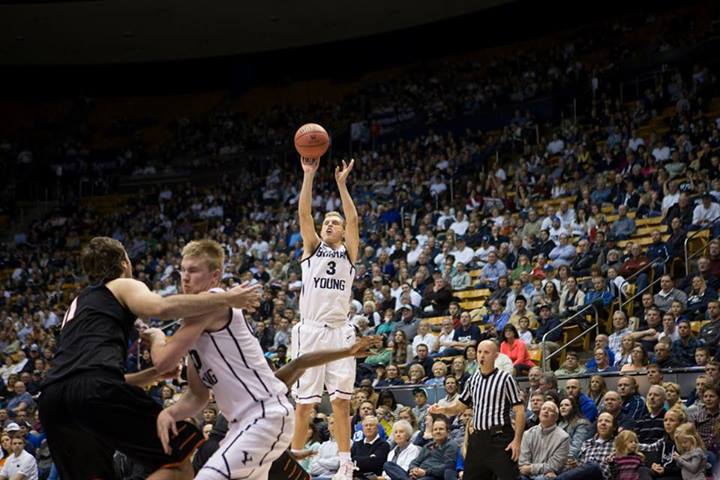 Some really good player scored 39 once the other night. *Yawn.* Haws' continued hot streak has him averaging as much after scoring 38 to beat Pacific.
There was a lot to like about Tyler Haws' great personal efforts last week, but as Haws himself said after the Portland loss, "it doesn't matter unless you win."
Even if a 48-point performance in a three-overtime loss isn't remembered the same way it would be if it came in a win, it still requires a lot of effort and skill. Haws showed plenty more of each on Thursday night, putting up a 38 points which fortunately for BYU led to an 88-78 victory over WCC newcomer Pacific.
Haws put on a scoring clinic from the opening tip, shooting 8-of-10 from the field for 21 points in the first ten minutes. "We're trying to get this thing rolling again and it's good to be back home," Haws said after the game. BYU had played eight of their last eleven games on the road, before tonight.
The performance turned Haws' strong efforts last week into an official streak, as Tyler has averaged 36.3 points per game over the last three contests. His three-game shooting totals are also 36-0f-69 (.522) from the field, 9-of-15 (.600) from three-point range, and 28-of-33 (.848) from the free-throw line.
It wasn't entirely about Tyler Haws, however. Eric Mika looked to be healthy again, putting in a strong 20-point effort–tying his career high–on an efficient 7-of-9 shooting and adding eight rebounds (five offensively), three assists, and three steals.
Nate Austin had a very strong opening half with six points, seven rebounds and one block, but was hampered with foul trouble in the second half.
Some of the same problems that have plagued BYU were still around Thursday, however. Pacific shot 41% from three lead by Tony Gill's 3-of-5. The Cougars were able to overcome that worrisome trend tonight by crashing the boards and forcing turnovers. BYU had eleven more rebounds, leading to 22 second-chance points, and had ten steals as a team.
Haws moved up two slots in BYU's all-time scoring list, passing Ken Roberts in the first half. In the second half Haws also outscored former teammate Brandon Davies for tenth place thanks to a nifty around-the-back pass from Matt Carlino on a fast break.
Haws was congratulated on Twitter by Ken Roberts, saying Haws was "Passing people right and left on any list that exists," and Brandon Davies added "Somebody stop @tyhaws3 from scoring before he… Oh… Too late!"
Pacific Head Coach Ron Verlin was asked at halftime what he could to stop Haws and joked, "I don't know. Do you guys know?"
Coming into the second half, BYU opened a 13 point lead, but then gave up a 9-0 run and appeared to be ready to let Pacific back into the game. But a pair of Haws threes were then followed up by a friendly fast break dish from Kyle Collinsworth set up a Carlino three to push the lead back to 16.
Carlino's three was his only bucket of the night and the only bench points for BYU.
Gabriel Aguirre was assessed a flagrant-2 foul and ejected for elbowing Mika after a made basket with just over two minutes left in the game.
BYU will likely be getting an angry St. Mary's team Saturday. The Gaels underperformed in an ugly 61-43 loss at San Diego on Thursday, shooting 1-of-14 from three. BYU is 0-4 against St. Mary's since joining the WCC.
BYU's football coaches are probably hoping for a great crowd to show the big set of football recruits coming to watch Saturday.
Looking forward to St. Mary's, Haws said simply, "we've got to defend."