BYU Football Early 2014 Prospectus: Part 5 – Safety
Updated: January 31, 2014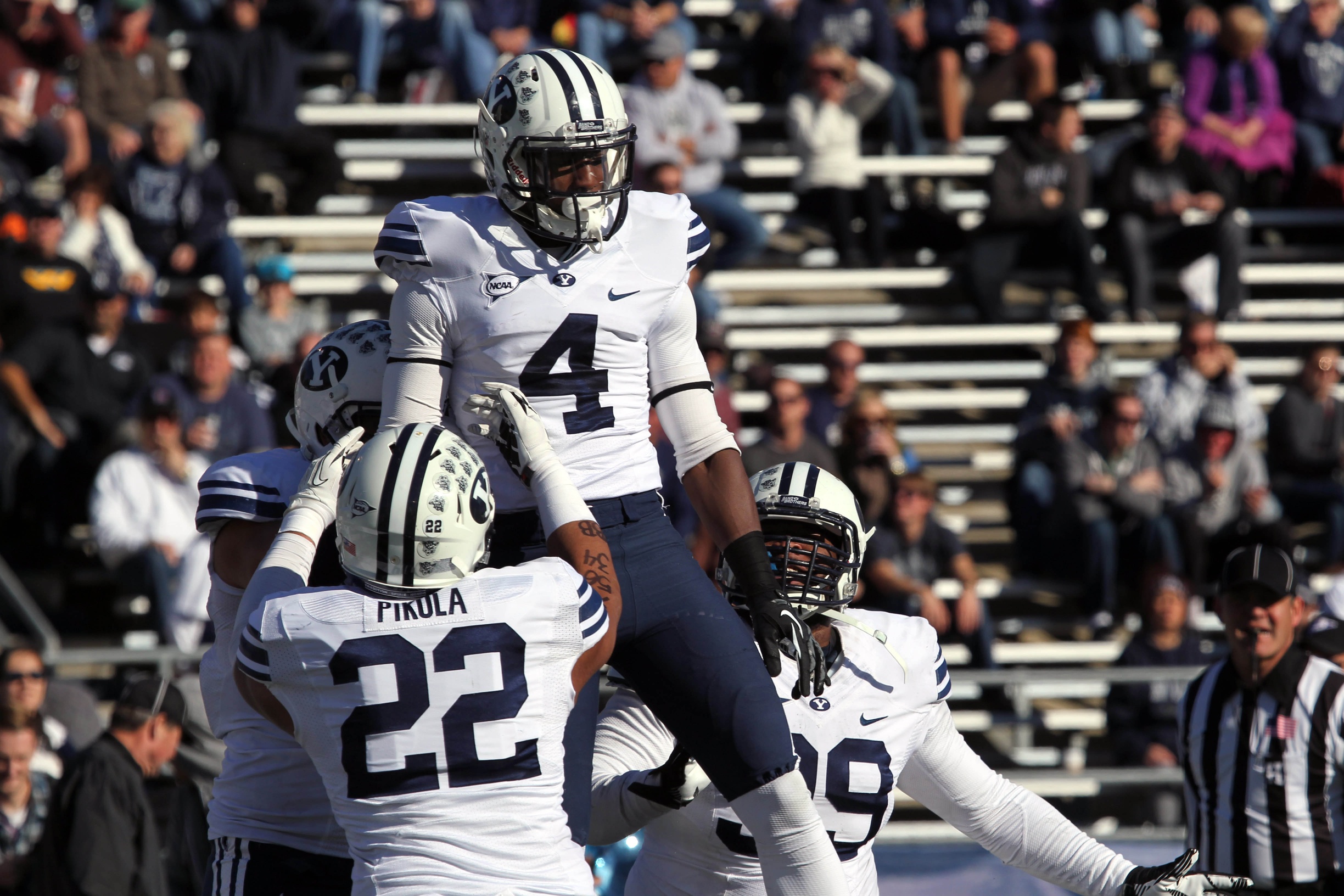 In Part 5 of an 11 part series, Brandon Jones examines the BYU safety position group heading into 2014.
Safety
In today's edition, I look at the position with the next-lightest offseason workload, the Safeties. The loss of Daniel Sorensen is huge, but should be mitigated as Craig Bills slides over to play the Kat position and Rob Daniel moves over from Cornerback to become the likely starter at Free. Just how much depth they'll have behind them depends on the mission plans of three scholarship players.
I should note that the choice to serve a mission is a personal one and that any information on players' mission plans is speculation until they actually have a mission call in hand. But, with so many missionaries coming and going at BYU, a certain amount of speculation is necessary in order to provide a Depth Chart with any level of accuracy. Dallin Leavitt stated his plans to serve a mission in April 2012, but was undecided in June 2013. He's made no further public statements on the matter so, for now, we're assuming he'll be back with the team in 2014. Spring practice should provide a good indication to his plans. If he remains at corner for Spring, I'd expect him to leave on a mission and move to safety upon his return. If he moves over to safety prior to spring practice, I'd expect him to remain with the team this year.
Kai Nacua has had mission plans since his recruitment and I haven't heard anything to the contrary. I assume he's working on his papers now and preparing for a summer departure. Jordan Preator is LDS, but did not have mission plans when he committed in November 2012. A post on CougarBoard indicates that he now plans to serve a mission, however, until more official news comes through the media, I'm planning on Preator also remaining with the team this fall.
The only additional scholarship safety guaranteed to be with the team this fall is Colorado State transfer Drew Reilly. Walk-ons Michael Wadsworth and Chris Badger saw some playing time in 2013 and will look to add further depth to the two safety spots. With the cornerback cupboard well stocked, sixth-year senior Skye PoVey could also shift over to his more natural position with the safeties in a Blake Morgan-type role. Walk-ons Garrett Juergens and Jake Ziolkowski will also look to climb up the Depth Chart in offseason practices. Returned missionaries Brett Adamson (Iowa Des Moines Mission) and Gavin Fowler (California Long Beach Mission) will rejoin the team in the Spring and Fall respectively.
Secondary coach Nick Howell has plenty of talent to work with among this group, but not a lot of safety experience aside from Bills, and even he will likely be learning a new position. And while a group comprised of Bills, Daniel, Reilly, Wadsworth, Badger, and PoVey could certainly do the job, additional quality depth (some combination of potential missionaries Leavitt, Nacua, and Preator) would unquestionably be welcome.
Departing Scholarships: 2 – Daniel Sorensen (graduation), Kai Nacua (mission after spring?)
Returning Scholarships: 3 – Craig Bills, Drew Reilly, Jordan Preator (mission after spring?)
Incoming Scholarships: 2 – Dallin Leavitt (likely move from CB, mission after spring?), Rob Daniel (likely move from CB)
Departing Walk-ons: 1 – Blake Morgan (graduation)
Returning Walk-ons: 5 – Michael Wadsworth, Chris Badger, Garrett Juergens, Skye PoVey (likely move from CB), Jake Ziolkowski
Incoming Walk-ons: 2 – Brett Adamson (Spring), Gavin Fowler (Fall)
Projected Depth Chart:
Kat: C.Bills/Badger/(Nacua)/Reilly/G.Juergens/Adamson
Free: Daniel/(Leavitt)/Wadsworth/(Preator)/Ziolkowski/Fowler
Click here for all Early 2014 Prospectus articles.