Five reasons why coaching at BYU is the 'toughest job in America'
Updated: February 1, 2014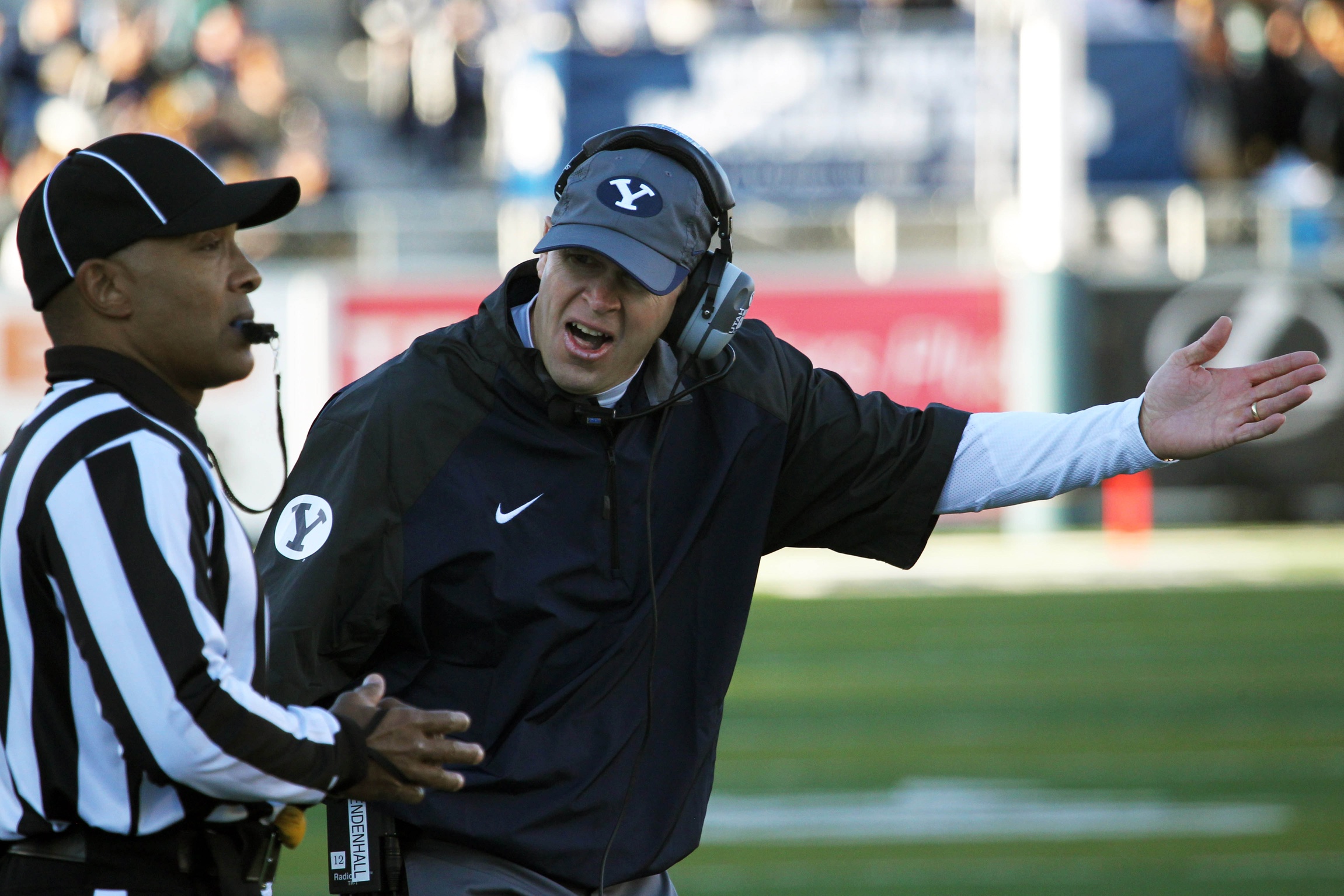 3) Honor Code
The fact the Honor Code puts a limit on the kind of athlete that BYU can bring into the school has been obvious for quite some time. It doesn't make it any less true. To Bronco's credit, he has embraced the fact that BYU is a very unique university and they are looking for a specific kind of person to be part of their program. Anyone who has watched a BYU football or basketball game knows the exact details of the Honor Code. It's not a secret, and the kind of football players Bronco is recruiting understand what it means. It's safe to say that the Honor Code itself isn't presenting the challenge — the enforcement and repercussions of the Honor Code are a different story.
BYU is a high-profile university. Sure, the athletic program might not rival that of Texas or Notre Dame, but the peculiar nature of the school and its mission — and its relative on-field successes — put it in the spotlight. That being the case, when a player is suspended from the team due to an Honor Code violation, more often than not it is national news. When Brandon Davies was suspended from the basketball team in 2011, it was a lead story on every sports program. Last season, when Spencer Hadley was suspended from the football team, once again the national spotlight returned to Provo.
Looking at both of these situations — specifically Hadley's in which his Honor Code violation was reported as opposed to self admission — people outside of BYU understand two things: One, people are watching. No, there isn't an Honor Code police that cuffs any undergrad who hasn't shaved in the last 24 hours. However, there are BYU students and members of the general public ("Darren Lucy") who are watching and willing to report. Two, if someone is suspended for violating the Honor Code, everyone will know about it (and some publications will go to great lengths to make sure of that). At most other schools, a night of bad choices is usually swept under the rug. At BYU, it's news.
With that perspective, it's understandable that a recruit would have second thoughts about going to BYU, even if they were committed to living the Honor Code. The thought of having your one mistake made into national news is terrifying.
4) High Expectations
Before you jump to "but every college football program has high expectations," understand that these expectations are much more than just winning percentages and postseason wins. At BYU, football players are idolized like professional athletes and fans expect them to live like general authorities. BYU has made it clear that its athletic programs help further the mission of the church. When you consider that, the football program is in a small way representing the church. So in addition to living the Honor Code, players and coaches are expected to be polite, well-spoken and humble. In any one instance in which they are not those things, opponents rain down criticism upon them. And the head ball coach need to be a temple recommend holding member of the LDS faith. It's a lot to live up to.
5) Independence
This is not to say BYU's move to independence was not a good decision. The challenge here for Bronco and his staff is the amount of work that is done with athletic director Tom Holmoe to craft a schedule. Granted, most of the work is done by Tom, but Bronco is admittedly part of the process.
Preparing a schedule that doesn't heavily rely on a conference is no easy task. They have to attempt to schedule tough opponents but not a schedule so tough that it is impossible. They have to get a balance of regional games to help establish recruiting but also want to serve the national fan base. They have to schedule high-profile programs but also make an effort to get those teams to play in Provo. So far, Tom and Bronco have been able to craft very good schedules. There is no doubt that it takes a considerable amount of time and effort.
Bronco's tough task with independent scheduling also includes preparing his team for travel unlike most any other team. For example, November 2013 had BYU travel to Wisconsin, then home, then back east to Notre Dame (and then at Nevada) in consecutive weeks. Next season, the Cougars open with road games at UConn and Texas, then later play at Boise State and Middle Tennessee in consecutive weeks. Perhaps only a geographical conference outlier like West Virginia has similar travels.
Pages: 1 2