Hoops Résumé Check: Bracketology, NIT-ology … and bubbles!
Updated: February 10, 2014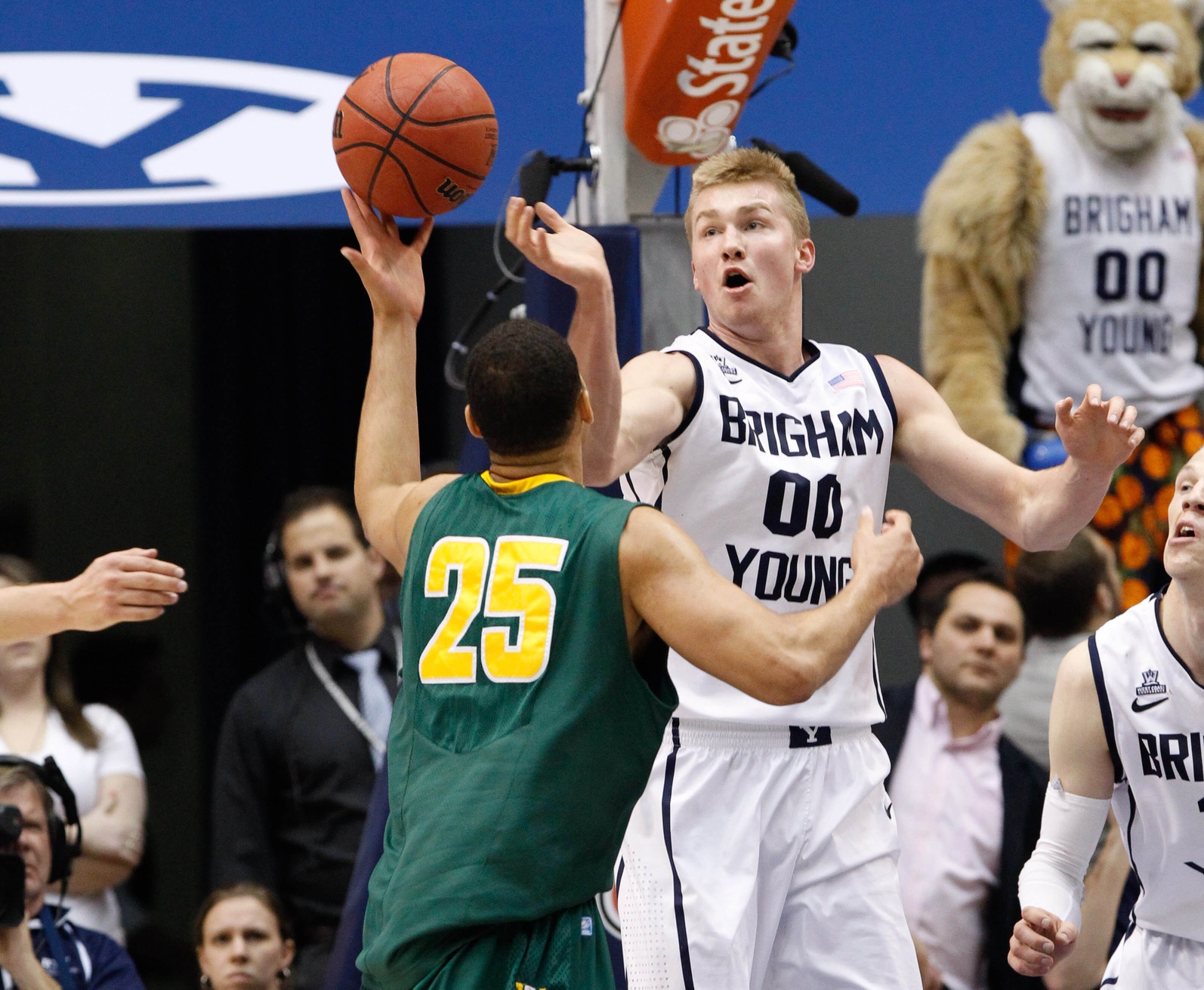 BYU's current tournament profile has the Cougars "on the bubble" for a third-straight year.
Things always feel better after four wins in a row, but has BYU's continued home success improved its NCAA Tournament résumé enough for the Cougars to be selected?
Two weeks ago, I surmised that any remaining at-large hopes for BYU rest on the prospect of winning out until the WCC title game, presumably against Gonzaga, and losing there — making BYU 14-4 in the WCC regular season and 24-10 overall. I don't believe anything has changed in that regard.
In previous résumé checks, I had yet to consider any bracketologist-type predictions, as any such exercise, while entertaining, seemed futile. But now, a week into February, it's time to start doing so. Experts couldn't put BYU more firmly on the bubble if they tried.
BYU'S PROFILE
Record: 17-9
Home: 12-1
Road 3-6 | Neutral 2-2 | Combined 5-8
RATINGS
RPI: 45 (+3)
KenPom: 50 (-)
Sagarin: 43 (+4)
STRENGTH OF SCHEDULE
RPI: 26
KenPom: 39
Sagarin: 38
BRACKETOLOGY
Right now, if your favorite bracketologist has BYU in, it's for another play-in round in Dayton. Hey, last time that happened BYU only mounted the biggest comeback in NCAA Tournament history. So it's been fun for us before.
Otherwise, BYU is firmly out. Here are a select few prognostications:
Joe Lunardi, ESPN
STATUS: IN
11-seed, First Four in Dayton vs. (11) LSU
Jerry Palm, CBS
STATUS: OUT
Not "First Four Out"
Michael Beller, Sports Illustrated
STATUS: OUT
Not "First Four Out"
David Ommen, NBC Sports
STATUS: IN
12-seed, First Four in Dayton vs. (12) Missouri
Chris Dobbertean, SB Nation (Feb. 7)
STATUS: IN
12-seed, First Four in Dayton vs. (12) Richmond
Those are just a small sampling of every single prognostication on the world wide information superhighway. Luckily, BRACKET MATRIX aggregates 74 bracket predictions and helps us see what average sentiment is toward each team. Not coincidentally, BYU is exactly the first team OUT of the NCAA tournament on the matrix. That's being "on the bubble."
For prognostications involving BYU being OUT of the NCAA Tournament, the man @nybuckets has you covered:
John Templon, Big Apple Buckets (Feb. 3)
NIT Bracketology
STATUS: IN
3-seed vs. (6) Boise State
Last season, BYU was 21-11 and was a 3-seed in the NIT. As detailed above, a scenario where BYU does not win out until the WCC title game would have the Cougars at 23-11 or worse.
So the Cougars still sit in a similar position. Upcoming games against Saint Mary's and Gonzaga should improve the profile enough with wins, again, barring other losses.
Otherwise, BYU could possibly be a NCAA tournament bubble special: counting as a top-50 win for other bubble teams while not itself being a tournament selection.
Page 2: Full team-by-team and top-50/100 breakdowns.
Pages: 1 2