BYU Football Early 2014 Prospectus: Part 6 – Offensive Line
Updated: February 13, 2014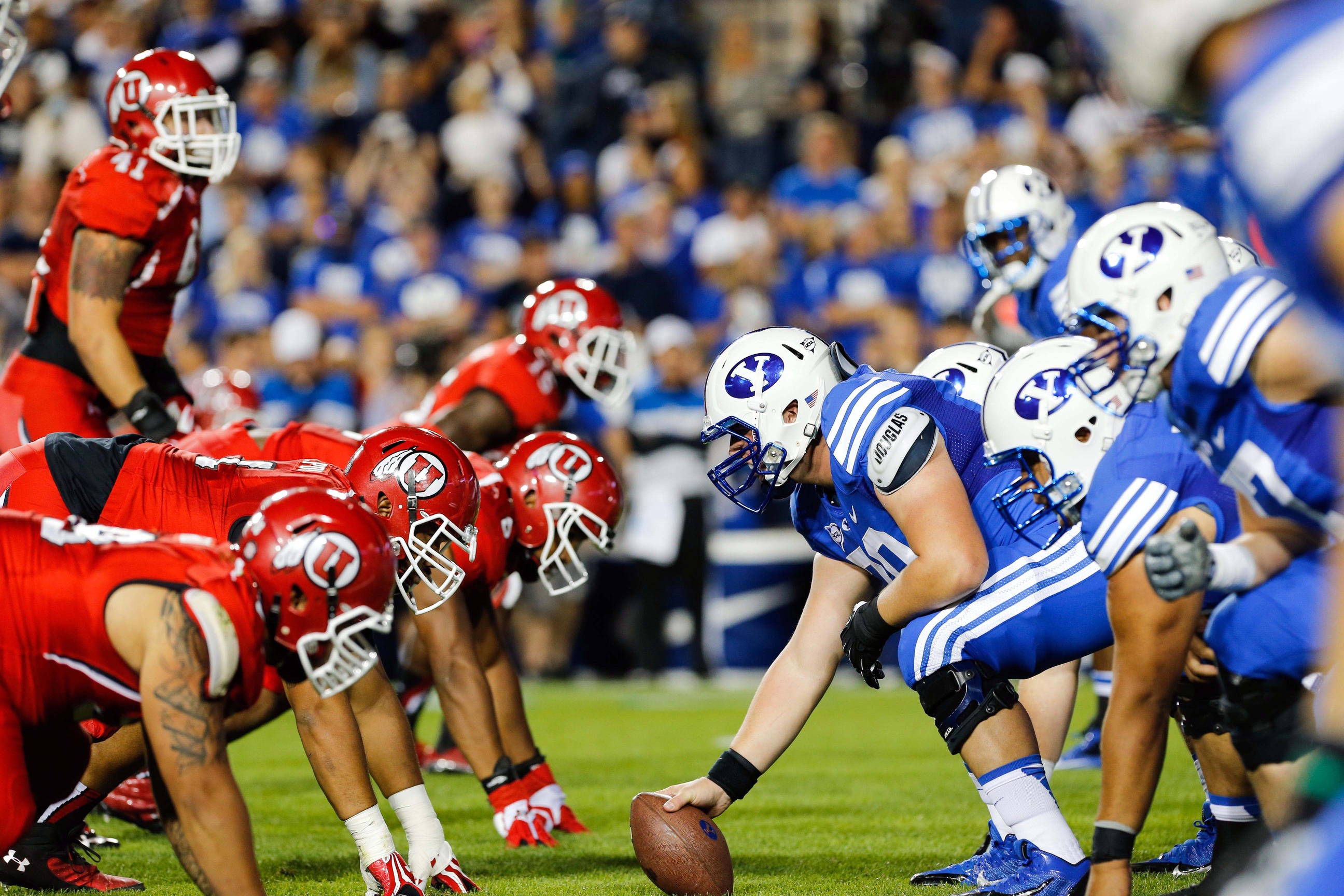 In Part 6 of an 11 part series, Brandon Jones looks at BYU's offensive linemen heading into 2014.
Offensive Line
We've reached the halfway point of our position-by-position breakdown of BYU's projected football personnel for the 2014 season. Having covered the five positions with the lightest offseason workload to prepare for the upcoming season, today we focus on #6, the Offensive Linemen. And while there won't be a high amount of personnel turnover (an incredible 13 scholarship linemen return in 2014, accounting for 97% of 2013's O-Line starts), Coaches Anae and Tujague still have their work cut out for them in training these players to perform better in pass protection and more consistently in run blocking.
The only departures from this group are graduating Senior Mana'aki Vaitai, walk-on Parker Dawe (who has been moved to D-Line), and 2013 redshirts Thomas Shoaf and Addison Pulsipher, who have left to serve missions. That's good news for a unit that only had 21 players rostered and 16 on scholarship in 2013- based on roster proportions, the coaches would hope to have closer to 28 players rostered and 19 scholarships to man five positions on the field.
With four returned missionaries joining the O-Line position (newcomers Ului Lapuaho and Brian Rawlinson and returning linemen Corbin Kaufusi and Manu Mulitalo), the number of offensive linemen on scholarship jumps to a more suitable 17 in 2014. It's little wonder that Offensive Line has not been a major position of focus for this year's recruiting class. Adding converted D-lineman Tuni Kanuch and lone 2014 O-Line signee Center Tejan Koroma pushes the scholarship count to 19.
The coaches will be faced with the decision of bringing in additional preferred walk-ons and also traditional walkons via tryout to further fill out the fall roster. They may also choose to cut some players loose whose performance has fallen short of initial expectations. Scholarship players possibly in jeopardy could be Josh Carter, Tim Duran, and Tui Crichton, while walk-ons Andrew Crawford, Quinn Lawlor, and/or Cole Jones may be dropped from the team to free up some roster spots for additional newcomers to get an opportunity.
Center
Terrance Alletto and Edward Fusi should be the primary contenders to man the Center spot this season. Tim Duran and Tejan Koroma should round out this group.
Guard
The top five guards are Ryker Mathews, Brayden Kearsley, Solomone Kafu, Tuni Kanuch, and Kyle Johnson. Some combination of those five will likely fill the two-deep, while Crawford, Carter, Crichton, and Lawlor (and in the fall Mulitalo) will add depth and fight for playing time.
Tackle
Jordan Black, De'Ondre Wesley, Michael Yeck, Brock Stringham, Ului Lapuaho, and Brad Wilcox are considered the top six tackles heading into spring practice. The talent level at the tackle position in 2013 was at an all-time low, so don't be surprised to see a completely different look from this group in 2014. Brian Rawlinson and Corbin Kaufusi will also look to work their way into the two-deep. Cole Jones and Dallas Doane will be the low men on the totem pole with 8 scholarship Tackles ahead of them.
Departing Scholarships: 3 – Manaaki Vaitai (graduation), Addison Pulsipher (mission to Uruguay), Thomas Shoaf (mission to Hawaii)
Returning Scholarships: 13 – Terrance Alletto, Jordan Black, Josh Carter, Tui Crichton, Tim Duran, Edward Fusi, Solomone Kafu, Brayden Kearsley, Ryker Mathews, Brock Stringham, DeOndre Wesley, Michael Wilcox, Michael Yeck
Incoming Scholarships: 6 – Tuni Kanuch (moving from D-Line), Ului Lapuaho (spring), Brian Rawlinson (spring), Corbin Kaufusi (fall), Tejan Koroma (fall), Manu Mulitalo (fall)
Departing Walk-ons: 1 – Parker Dawe (moving to D-Line)
Returning Walk-ons: 4 – Andrew Crawford, Kyle Johnson, Cole Jones, Quinn Lawlor
Incoming Walk-ons: 1 – Dallas Doane (fall)
Projected Depth Chart:
LT: Yeck/Lapuaho/Wilcox/Rawlinson/C.Kaufusi
LG: R.Mathews/Kafu/Crichton/Lawlor/Mulitalo
C: Fusi/Alletto/Duran/Koroma
RG: Kearsley/Kanuch/K.Johnson/Crawford/J.Carter
RT: Wesley/Black/Stringham/Jones/Doane
Click here for all Early 2014 Prospectus articles.