How stifling defense and a dose of luck resurrected BYU's bubble
Updated: February 15, 2014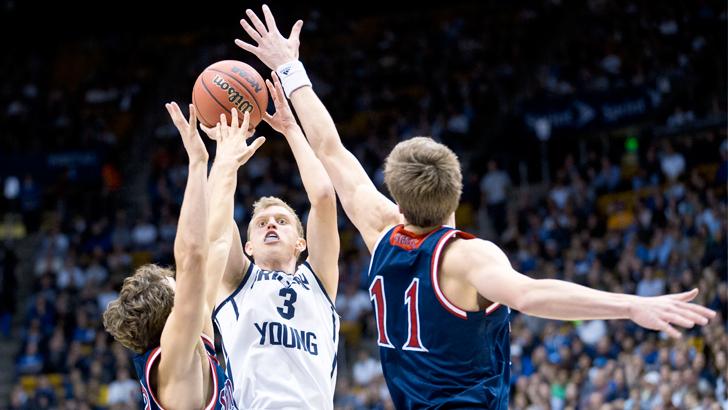 The Cougars used some unusual stinginess and a bit of good fortune to sail past the Gaels and back onto the tournament bubble.
"Find a way to win." That has long been Dave Rose's motto. His BYU team did just that tonight in a low-scoring slugfest in Moraga, Calif., against St. Mary's. BYU battled back from a second half deficit to pull out the 60-57 win.
The first half was generally a disaster for the Cougars. Not only were the referees calling fouls on BYU's big men for breathing too loudly, BYU shot a pathetic 1-for-6 from the free throw line. But despite all of BYU's troubles in the first half, the Cougars were only down 35-25 going into the break.
BYU has seen halftime scores like this before this season. The normal script this season is that the Cougars fail to cut into the lead in the second half — but not tonight.
On this night, BYU's much maligned defense somehow transformed into a juggernaut, holding SMC to just 22 points in the half. Matt Carlino and Skyler Halford then calmly drilled four clutch free throws in the waning seconds of the game to help seal the deal.
The win was BYU's best since beating Texas in December and getting the season sweep of St Mary's was especially sweet after the Gaels swept the Cougars the previous two seasons.
What happened to BYU's defense?
A couple of things changed in the second half for BYU. First, Coach Rose started Anson Winder over Skyler Halford. Anson is just as quick as Skyler, but he's bigger, taller and stronger. That size and athleticism helped as BYU stayed with its zone the entire half.
Second, it appeared that BYU basically started doing to SMC what teams have been doing to BYU all season: Daring their four-man to shoot the ball. As it turns out, the St. Mary's four-men (a.k.a. power forwards) were not at all interested in taking that dare. As a result, BYU's defense became more like a 5-on-4 defense. The scoreboard reflected just that. St. Mary's managed just 18 points in the first 18 minutes of that second half.
M.A.S.H. unit
BYU suffered two scary injuries in this game, neither of which ended up being as awful as they could have been.
First, Kyle Collinsworth took a nasty spill going for a rebound in which his knee and lower leg twisted at a gruesome looking angle. I thought his season was over when I saw it. But Kyle managed to walk to the locker room on his own and not much later he actually played again. He was clearly slowed by the injury, which is probably why he ended up fouling out, but the fact that he played at all is a tremendously encouraging development for him and BYU.
The second injury was what looked like a dislocated shoulder for big man Luke Worthington. Luke was clearly in pain after colliding with an SMC player, and reports from fans at the game said Luke was screaming on the sideline as BYU's trainers popped his shoulder back in to place. But Luke played after the injury again as well, so he and BYU dodged another bullet on that.
Stray Observations
Based on the Ken Pomeroy predictions, this was just the second upset victory for BYU this season. The first was at Stanford.
Dave Rose is going ten deep in his bench rotation still, and BYU needed all ten guys to get the job done tonight.
Kudos to Dave Rose for opting to foul when BYU was winning by three with a few seconds left. If BYU lost tonight it wasn't going to be due to another Dellavedagger.
In the second half, Matt Carlino didn't check in until about the 10 minute mark, but that was largely because the unit BYU started in that half had brought BYU back in the game. Matty then came in and helped BYU retake the lead and hold it until the end.
BYU was the victim of several atrocious whistles in the first half. Thankfully, the refs adjusted in the second half and the calls seemed less tilted to me (although my goggles are admittedly tinted blue).
Speaking of refs, BYU was the happy recipient of an SMC turnover dribbled off of a referee's foot in crunch time.
Don't be surprised if Anson Winder starts at the 2-guard spot next game over Skyler Halford. Anson was money for BYU on defense and added seven points and two assists.
Skyler Halford has been in a slump lately but the kid was clutch at the free throw line tonight.
BYU scored just 60 points and still won. Let that sink in…
Eric Mika got pretty jobbed by the refs in the first half but then came in and played aggressively in the second half anyway. His monster block was huge for BYU.
Having said that, Mika just can't allow himself go 17 minutes with no rebounds ever again.
Joe Lunardi has BYU squarely back on the bubble with this win. Many Cougar fans are skeptical of that. If the Cougars lose at home to Gonzaga next week the bubble talk will be off again. Beat Gonzaga, and the bubble talk will be in full swing. Thursday night in Provo will be a big deal.