Three keys to beating Gonzaga
Updated: February 20, 2014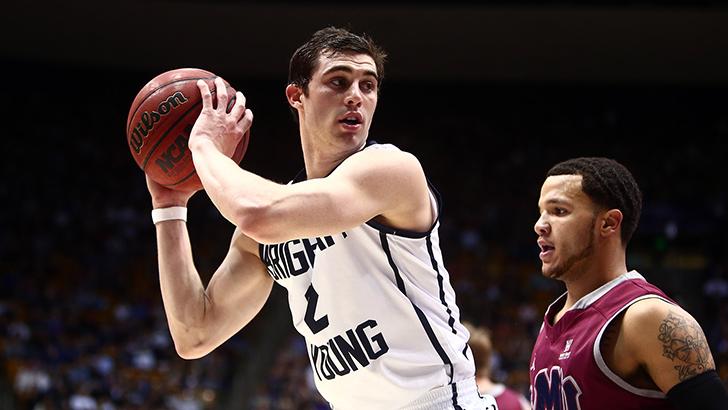 When BYU lost to Gonzaga 84-69 last month, it was deflating. After a triple overtime loss to Portland two days before, the loss was a crushing blow to the Cougars. A win would have put the Cougars in the proverbial drivers seat to the NCAA tournament as an at-large and given BYU fans hope that the Cougars could potentially win the WCC tournament and make all bubble conversations mute.
Fast forward almost a month, and things feel even bleaker. Despite beating Saint Mary's twice, another in-conference loss to a lesser opponent (this time Pacific) has Cougar fans and prognosticators viewing BYU as an NIT team. A season which started with promise and dreams of a WCC title have transformed into a big disappointment.
But not so fast my friends! Joe Lunardi at ESPN still has BYU as one of the first four out of the tournament. And what could bolster their resume? A win over a ranked Gonzaga team, that's what! And maybe a deep WCC tournament run. Can you hear me pouring a bunch of hope milk on my pessimist Cheerios? That's right you can!
So, with a ray of hope shinning into this little post, here are the three keys to BYU pulling off the upset tonight against Gonzaga.
Stop dribble-drive penetration
My guest on this week's podcast was Jay Drew of The Salt Lake Tribune. He pointed out that the Cougars don't have a three-point defense problem, they have a dribble-drive defense problem. That was evident in the first meetings against the Bulldogs, as David Stockton channeled his Hall of Fame father and had another better-than-expected game against BYU.
But the Cougars did better against dribble-drive penetration in the first half, and were only down two points at that point. In the first frame, Gonzaga was 4-13 from three point land and then hit 6-of-9 in the second half. The Cougars can and have been better at stopping penetration. They don't have a shutdown defender to put on Kevin Pangos, but a bigger dose of Matt Carlino and Anson Winder should help to slow down the Zags on the perimeter.
Go Fast, Go Hard
Two. That's how many fast-break points the Cougars had in the first game, none in the disastrous second half. Now I don't expect the Cougars to have 20 fast break points — they're not that kind of team, especially against a solid defensive team. But better defense will hopefully lead to more missed shots by the Zags and some easier baskets. If BYU can generate 6-10 fast-break opportunities, then they will have a chance to steal a win late in the second half.
Mas Carlino, Por Favor
In the first game, Carlino was mostly a non-factor. In 19 minutes, he  hit 1-of-6 shots and had only 1 assist. With Kyle Collinsworth potentially ailing physically, Carlino will need a big game. This is tied directly to my first two points: Carlino is the best perimeter defender the Cougs have, and he runs the fast break well. If he has another game like he had the first time, I don't think BYU can pull this one off. Yes, Tyler Haws, Collinsworth and Eric Mika need to play well. That's true every game. But those three combined for 48 points, 17 rebounds, 6 assists, 18-for-36 shooting the first time out, and BYU still lost by 15 points.
Carlino is the man who can provide the boost beyond the big three. The Cougs need him to hit a few threes, run a few good fast breaks, and slow up Pangos and Stockton on the perimeter. Yes, it's a lot to ask of him, but he's capable of it. If Carlino has one of his "wow, Carlino can be good" games, BYU's chances at an upset increase a ton.
Summary
This is not an exhaustive list. A Jimmer-like game from Haws would be nice. Mika needs to stay out of foul trouble. Collinsworth needs to be healthy and effective. But I believe if the Cougars can do better at stopping penetration, if they can get a half dozen easy buckets, and if Carlino can deliver a big game, BYU has a shot at an upset. And with an upset, we all may wake up tomorrow morning feeling a little more optimistic about March.